ASAE Names the 2017 'Power of A' Award Winners
July 18, 2017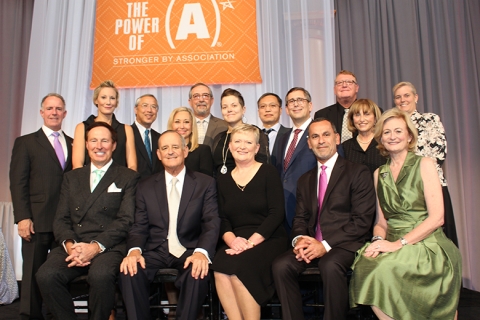 American Society of Association Executives will honor six associations with the 2017 Summit Award, which is the highest recognition under The Power of A Awards.
The six organizations will accept their awards on October 4 during the 18th Annual Power of A — Summit Awards Dinner at the National Building Museum in Washington, D.C.
The winners were selected by the Power of A Awards Judging Committee, and the committee received 149 entries.
The awards are part of The Power of A campaign, which ASAE launched in 2009 to increase awareness about issues that impact associations and to spotlight the expertise and resources available in the association community for policymakers and other key audiences.
"The Summit Award winners demonstrate how associations create unique programs that make a difference for not only the professions and industries they represent, but also for the global community. We look forward to celebrating these exceptional winners in October," said Sharon J. Swan, FASAE, CAE, CEO, American Society for Clinical Pharmacology & Therapeutics and this year's chair of the Power of A Awards Judging Committee.
This year's winners are:
Association of Equipment Management Professionals
Glenwood Springs, CO
Program: Advancing a Profession Through Technology
College of American Pathologists
Northfield, IL
Program: See, Test & Treat
National Auto Body Council
Boston, MA
Program: Recycled Rides
National Council for Behavioral Health
Washington, DC
Program: Be 1 in a Million
National Volunteer Fire Council
Greenbelt, MD
Program: Make Me a Firefighter
Soroptimist International of the Americas
Philadelphia, PA
Program: Dream It, Be It: Career Support for Girls
"Congratulations to all the 2017 Summit Award winners! Associations' impact society in so many different ways that inspire the entire community," said ASAE President and CEO John H. Graham, IV, FASAE, CAE. "ASAE looks forward to honoring your achievements at the Summit Awards Dinner."
In addition to the six Summit Award winners, the Power of A Awards Judging Committee selected 23 association programs to receive a Power of A Gold Award and 32 associations to receive a Power of A Silver Award.
ASAE's Power of A — Summit Awards Dinner will bring together association executives, industry partners and business and community leaders for an evening to celebrate the value of associations and their impact on society.