Colorado Convention Center Celebrates 3rd Annual Green Week Challenge
April 17, 2017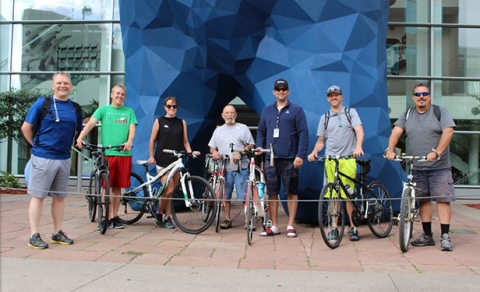 As one of the greenest convention centers in the country, the Colorado Convention Center couldn't just let Earth Day come and go without doing something significant. But reserving just one day of the year to honor the environment while bringing awareness to the importance of sustainability doesn't seem to be enough for the LEED Gold-EB-certified convention venue.
For three years in a row, the Denver-based facility has been taking an entire week to recognize Earth Day, while educating its employees in the process, via its Employee Green Week Challenge, taking place April 17-21.
CCC employees are invited to participate by choosing two sustainable activities from a list of six options, which include:
· Taking alternative transportation
· Participating in one of the volunteer opportunities offered by the CCC's CLIMB committee (which represents the coming together of the facility's sustainability, safety, wellness, employee relations and volunteer committees)
· Creating sustainability within their departments
· Committing to one behavior change in 2017
· Eating vegetarian for a week
· Creating their own challenge
In addition, participants must complete a Sustainability Quiz, which includes five simple questions to help raise employee awareness about the CCC's extensive sustainability program.
"Our Employee Green Week Challenge is a way to both engage employees in our programs at the center and encourage behavior change at home," explained Lindsay Arell, CCC sustainable programs manager and brainchild of the Green Week Challenge.
She continued, "The quiz is also an important component to help educate and gauge employees understanding of our programs. For example, this year we included a quiz about recyclables and compostables at the center. We also put (the Challenge) in 'action' for our volunteer program."
This year, convention center employees have three fun volunteer opportunities to choose from, including at the city's annual 9Health Fair, Cayleb's Kindred senior dog rescue and The Blue Trees Project, an environmental art installation about global deforestation.
Once participants submit their completed Green Week Challenge checklist by the May 1 deadline, they are then rewarded with a $10 Gift Card to Chipotle.
Each year, approximately 30 employees have participated in the facility-wide activity, although Arell said she hopes to involve at least 50 people this time.
But does just one week of more environmentally responsible behavior actually leave a lasting impression in the form of permanent healthier and/or greener habits?
"I don't ask participants to report that back to me, but I have learned some really interesting ideas from staff through the challenge, in fact, I had one person in the administration office take it upon herself to revamp some of the signage to include some items she saw going into landfill that could be recycled," Arell said.
She added, "The feedback has been very positive from employees and they love sharing their stories. In the past, the alternative transport (option) has been very popular (and) I also expect to see a lot of employees participating in the volunteer opportunities. It's just a great way to educate (staff) and do something unique to recognize Earth Day."
And for a convention center in a city like Denver, historically known for its love of all things outdoors, and now, for environmentally conscious trade shows and events, it just makes good green sense.
Want more green news? Sign up for TSNN's new Green News e-newsletter here.