Event Concierge Tool EventBots Wins SISO Event Battlefield Competition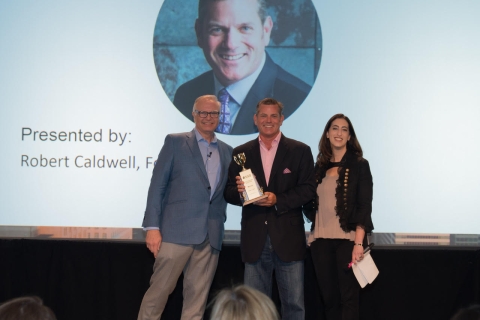 Aromatherapy, easier group transportation booking, language interpretation and a cloud-based event management platform were some of the meeting tools vying for the top prize at this year's Society of Independent Show Organizer's Event Battlefield.
The competition was held during SISO's Leadership conference, Aug. 1-4 in Philadelphia, at which just under 200 attendees voted for one of five companies.
The top company was EventBots by Sciensio, which is a technology that allows attendees at an event to text any question they have about it to the EventBot tool and receive an immediate answer.
"EventBots by Sciensio is proud to have been voted the SISO Innovation Battlefield winner for 2017," said Robert Caldwell, founding partner for Sciens.io.
He added, "All five competitors bring exceptional solutions to the Trade Show Industry and we were excited that the leaders of this terrific industry saw how our Chatbot solutions improve attendee experience, save time and money for show organizers, and drive incremental revenue."
David Audrain, SISO's executive director, said, "The Event Battlefield is an important motivational hub for innovation, ideas, talent, and products. It gives our members the ability to see what's on the drawing boards now that will drive our industry in the future."
He added, "We can also help incubate, develop and assist in the delivery of products and services to the market. It's a win-win-win which will advance the event industry."

This year the nominating committee chose five out of 50 considered organizations looking for breakthrough event technology or amazing new business models.
According to David Adler, CEO of BizBash and co-chair of the SISO Battlefield project, "We are excited to present organizations that will stretch the imagination, showcase forward thinking and encourage our members to raise the bar on innovation. The program itself is a version of American Idol meets Shark Tank where attendees will vote on their choice for the most innovative of the innovative for 2017."

Background on 2017 Nominees

Aromachology (myaromachology.com & perfumevent.com ) Aromachology studies the science and psychology of scent and its impact on consumer behavior. Aromachology executes creative Scent Solutions to enhance the customer experience. The company has scaled their Scent Mapping technology and applies it to temporary marketplaces, trade shows, and conference spaces, to influence attendees experience and intent to purchase.

Buster (buster.com) — Akin to Uber for the event industry, Buster as a way to make ordering transportation a breeze for all types of events from trade shows and conventions to events and conferences that have an off-site element.

EventBots by Sciens.io (sciensio.com) —Concierge EventBots (chatbots) are at the intersection of customer service, experience, and ROI for events. By creating personalized conversation on universal messaging platforms, its hybrid conversation design with structured menus supplemented by natural language understanding (artificial intelligence) will support free-form texting and change the way events communicate with their attendees.

Eventuosity (eventuosity.com ) Eventuosity improves the trade show exhibitor experience by offering the first cloud-based suite of project management, collaboration, and reporting tools designed specifically for event marketers. By standardizing and automating low-ROI activity your exhibitors will spend more time working creatively and strategically to achieve their own marketing and sales objectives while boosting the overall perception of your show.

Interactio (interactio.io) is a mobile system that fully replaces interpretation hardware for live events. An interpreter is interpreting from a booth, a computer is connected to the sound system and attendees listen to the translation in their phones or tablets via an app.