Global Exhibitions Day (#GED17) Will be Celebrated June 7
May 29, 2017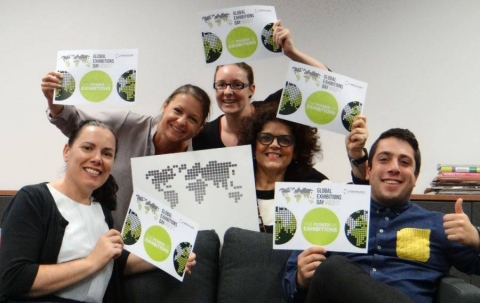 Kicking off in New Zealand June 7 and circling the globe to end in Hawaii, the exhibition industry will be celebrating the 2nd annual Global Exhibition Day (#GED17).
Global Exhibition Day, founded last year by UFI, the Global Association for the Exhibition Industry, was formed to shine a bright spotlight on the importance of the industry worldwide.
"UFI is calling on everyone working in exhibitions and trade shows to take part in Global Exhibitions Day on June 7 and share their initiatives loud and proud!" said Dr. Andreas Gruchow, president of UFI.
He added, "In 2016, the inaugural GED brought our industry together for the first time ever to promote the value of exhibitions worldwide. It created a real buzz, and GED17 will be even bigger: it's an exciting joint global effort that looks set to grow every year."
This year's theme is "Think Global, Act Local"; GED17 puts a special focus on the human side of face-to-face exhibitions. It will highlight the business and marketing opportunities, diverse jobs, inspirational exchanges and local investment created by the exhibition industry worldwide.
"GED is a truly global celebration of the exhibition industry, and all its highly-valued people!" said Kai Hattendorf, UFI's managing director.
He added, "I'd like to congratulate our amazing colleagues and friends who this week are joining forces everywhere to create a global buzz that, I am sure, will spread throughout our industry and beyond. Besides generating attention about our industry with stakeholders on the international, national, and local levels, this year's GED focusses on making well qualified young talents aware of the career opportunities our industry has to offer."
To show the value of exhibitions, UFI estimates that:
· More than million visitors – and 4.4 million exhibiting companies – attend exhibitions every year
· Exhibitions give generate a high return on investment for participants. On average, for every euro spent, exhibiting companies get two euros return before the end of the show – and eight euros return in total within three to ten months after the exhibition
· Visitors and companies spend around EUR 98 billion (US$109 billion) going to exhibitions each year
· About half of this expenditure benefits the exhibition industry directly (organisers, venues, etc.), and the other half goes into local tourism-related activities (accommodation, transport, etc.)
· The exhibition industry provides 680,000 full time equivalent jobs in sales, marketing, operations and other fields
These figures and other key messages about the exhibition industry are available on UFI's website – www.UFI.org - for all to share during the GED17 campaign.
It's not too late to get involved!
· Check the list of national associations to find your nearest GED17 event
· Find inspiration for setting up your own GED17 initiative.
· Use the GED17 promotional toolkit – logos and social media guides
· Follow GED17 latest developments and motivate your friends and colleagues to spread the word: twitter @GED_2017, GED Facebook group, LinkedIn and YouTube.
Here is a full list of activities already planned worldwide.
In the U.S., members of the trade show industry will head to Capitol Hill to talk with their representatives as part of #ExhibitionsDay, founded by the International Association of Exhibitions and Events four years ago. More news to follow on those efforts!