SmartSource Computer & Audio Visual Rentals Relocates and Doubles Size of Las Vegas Branch, Makes Staff Promotion
August 8, 2017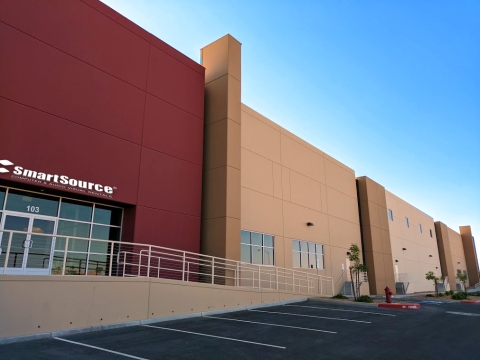 In response to growing customer demand, SmartSource Computer & Audio Visual Rentals has expanded its Las Vegas operations center. 
Designed to maximize productivity, efficiency and safety, the company's new 39,000 square foot space features a new production center with advanced information technologies to support upgraded internal networking and equipment configuration.
"SmartSource's Las Vegas location is doubling the size of its operation in response to steady growth in the local market, enabling the company to be more responsive in supporting our larger trade shows and events, as well as last-minute product needs and same-day service calls that occur," explained Mark Adam, SmartSource vice president of national field operations.
The company's Las Vegas branch continues to be one of the busiest of its 21 nationwide operations located in major metropolitan markets, supporting clients in some of the industry's most challenging integrated technology deployments.
With the help of its experienced team of technology professionals, SmartSource provides products, labor services and on-site support to a wide range of trade shows and conferences across diverse vertical markets, providing integrated IT, audio visual and software solutions to clients for breakout sessions, exhibit halls and general sessions, as well a variety of other meeting and event settings.
At the company's Chicago operations center, John Cuthbertson was recently promoted to Solutions Architect Group manager.
In his new role, Cuthbertson will oversee SmartSource's team of solutions architects responsible for providing technical expertise and working with clients across all aspects of an event's technology solution deployment.
Cuthbertson brings almost two decades of event industry experience to his new position that includes managing technology solutions such as video wall systems, audio visual/IT integrations, live event video switch systems and digital signage for citywide conferences, trade shows, software user conferences, corporate meetings and fundraising events.
"The role of the Solutions Architect was created with the client in mind in order to help them achieve the best integrated technology solution for their event," said Jeffrey C. Byrne, SmartSource vice president of sales.
He continued, "Our Solutions Architects bring a level of technical expertise across all phases of the project to ensure a high level of communications with the client, and our Operations team with high customer satisfaction a primary driver. John's experience and technical background are extremely well-suited for managing our Solutions Architects."
Prior to his promotion, Cuthbertson served as a solutions architect for SmartSource. He started at the company as a national account executive and additionally served as product manager-video walls. 
"Ideally, the Solutions Architect is brought into a new client project such as a large conference at the earliest stage – this enables us to help the sales executive discuss the client's expectations, scope the work and develop a proposal that meets the client's requirements," Cuthbertson explained.
He continued, "We then work with the Operations Team to ensure that the project is executed properly onsite from a technical perspective. We create peace of mind by providing cost-effective event technology solutions for our customers."
Founded in 1984 as Rent-a-PC, SmartSource was instrumental in pioneering the technology rental market and now boasts the largest national footprint in the computer and audio visual rental space.