Top 15 Ways to Go Green with Your Trade Show on a Budget
March 3, 2017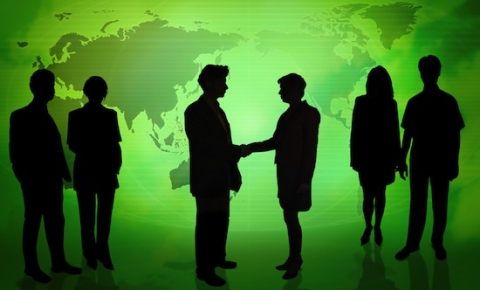 It goes without saying that trade shows and events are incredibly tough on the environment, producing massive amounts of waste and carbon emissions each year. According to MeetGreen, the typical conference attendee creates more than four pounds of waste and just under 400 pounds of CO2 emissions per day.
As a show organizer, you know you should do your part to help the planet by taking your events in a more sustainable direction, but you're concerned that going green will not only be more labor intensive, but also more expensive.
But what it if was possible to make big changes and decrease your environmental footprint without busting your budget?
To find out how, TSNN had the chance to sit down with some of the best minds in sustainability, including Lindsay Arell, lead strategist for Honeycomb Strategies; Naina Ayya, communications manager at the Moscone Center; Jessica Paige Glenn, sustainability manager at Freeman; Jenn Waters, assistant publisher and digital media manager at CustomNEWS; Karen Young, senior operations manager at Global Exhibitions; and Nancy Zavada, president of MeetGreen.
Here are their top tips for taking your events in a less wasteful and more sustainable direction:
1. Choose an environmentally-conscious convention center, particularly those that are LEED (Leadership in Energy and Environmental Design)-certified. LEED certification is not easy to attain, so this proves that the facility is committed to sustainability and has environmental programs in place to help your green your event.
2. Opt for eco-friendly hotels with third-party environmental certifications such as Green Seal, Green Key, Green Globe or LEED and that have clearly integrated sustainability into their culture.
3. Take advantage of pre-show exhibitor communication to educate attendees and exhibitors about your show's commitment to sustainability, get them excited about your initiatives and enlist their support.
4. Encourage exhibitors and attendees to participate in the facility's recycling program.
5. Provide exhibitors with guidelines for how to reduce their waste and explain why it's important to your show. This can help decrease the amount of dumpsters your event uses, which can really impact your post-event bottom line.
6. Ask the venue to reduce lights, power and HVAC during move-in and move-out, and only turn on escalators when attendees arrive onsite.
7. Replace plastic water bottles with water stations on showfloors, in hallways and meeting rooms, and serve beverages in pitchers at meal functions. Water stations can also double as great sponsorship opportunities!
8. Work with the venue's catering manager to plan environmentally conscious menus that are seasonal, local and organic whenever possible.
9. Swap out big and bulky laminated badge holders with simple printed badges and lanyards.
10. Go as digital as possible and re-evaluate your print needs, using environmentally conscious printers located in the host city to avoid the costs and carbon footprint of shipping.
11. Serve condiments in bulk containers.
12. Reuse and reduce show graphics and signage, use recyclable, eco-friendly substrates and leverage digital signage whenever possible.
13. Serve at least one vegetarian meal. Not only do meatless options help the environment, they're also cheaper!
14. Engage exhibitors to sponsor or participate in your social responsibility program, such as an e-waste or donation program that gives unused materials and supplies to local nonprofit groups. This helps publicly demonstrate your joint commitment to sustainability.
15. Donate any uneaten, packaged or wrapped food to local food banks. Many hotels and convention centers already have donation programs in place, so make sure ask!
For more great greening resources, go here.
Want more green news? Sign up for TSNN's new Green News e-newsletter here.