UBM Renames Show to Advanced Design & Manufacturing (ADM) Expo Toronto
May 22, 2017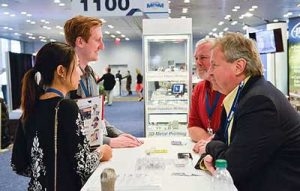 UBM is set to launch a newly branded show in its medical design show series - Advanced Design & Manufacturing (ADM) Expo Toronto, taking place May 16-18 at the Toronto Congress Centre.
This event originally launched in 2011 as five separate advanced design and manufacturing industry trade shows running alongside one another.
This year, under the new ADM Expo Toronto banner, UBM presents a cohesive brand experience throughout the customer journey. ADM Expo Toronto will bring together the region's five most popular industry trade shows – ATX Canada, Design & Manufacturing Canada, PACKEX Toronto, PLAST-EX, and Toronto Powder & Bulk Solids – into one event on a unified show floor spanning plastics, packaging, design engineering, automation, and processing.
With the new name comes an even greater emphasis on providing the sourcing, education, and networking opportunities attendees want.
ADM Expo Toronto will feature more than 450 top exhibitors showcasing the latest innovations, plus a full range of free event activities and education delivered through a flexible agenda of panels, presentations, group tours, speed networking, live demos, and more. More than 6,000 industry professionals from across Ontario are expected to attend.
Show highlights include:
· Panel Discussion: We Need to Talk About NAFTA– As the current U.S. administration moves forward on President Trump's pledge to renegotiate the North American Free Trade Agreement (NAFTA), we've convened a panel to discuss how this might affect Canada's plastics industry.
· Presentation: Cutting Back Food Waste Through Sustainable Packaging– Carol Zweep, Manager of Packaging, Food & Label Compliance, for NSF International, will provide information on the issue of food waste, reducing food waste through extension of shelf life and use of sustainable packaging solutions.
· Presentation: Trends in Manufacturing from Now to 2027 – James Anderton, Director of Content for engineering.com, gives his insights into how the manufacturing industry will evolve over the next decade.
ADM Expo Toronto features the support of key trade associations, including: IEEE Canada, NSF International, PAC, Canadian Plastics Industry Association, Ontario Society of Professional Engineers, Professional Engineering Ontario, Process Equipment Manufacturers' Association, and STIQ, among others.
More details on show floor activities and educational opportunities will be available in the weeks ahead at the ADM Expo Toronto website.