Vitafoods Asia 2017 Well-Poised for Successful First Run in Singapore
May 9, 2017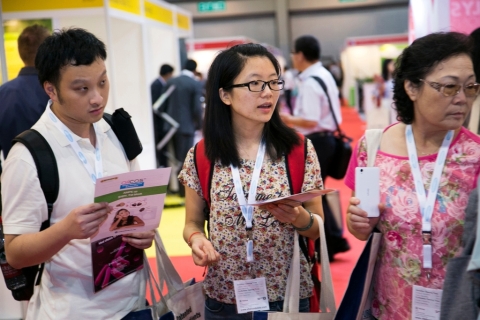 Vitafoods Asia, the only event dedicated to the nutraceutical, functional food and beverages, and dietary supplement industries in Asia, announces that its next edition now in Asia's leading food and nutrition hub – Singapore – is expected to be twice as large as before.
From Sept. 5-6, the 2017 event will take place in Singapore for the first time in the Sands Expo and Convention Centre at Marina Bay Sands, and will present more of the best innovations that the industry has to offer.
The Singapore government's efforts to grow its integrative research capabilities for food sciences, biomedical sciences, chemistry, and engineering industries in recent years have attracted investments from numerous multi-national corporations and international companies from the food industry to the island nation.
The industry's call to product innovation is keenly felt in Singapore, with top food companies – BASF, CP Kelco, DSM, Fuji, Ingredion, and Nestlé – having chosen to set up their R&D centres and regional offices in the Southeast Asian city.
Vitafoods Asia's strategic move to Singapore further strengthens the event's appeal, both worldwide and within the Asia Pacific region. As a well-connected global city, Singapore is accessible to 4 billion people within a 7-hour flight radius.
The organisers of the event expect to draw in new visitors from more parts of the world with this change in venue, catering to attendees that were unable to participate in previous editions.
The industry has responded positively to the move, and the event has attracted the participation of a strong portfolio of major manufacturers and service providers to date, including analyze & realize, AstaReal, Catalent, Gelita, Graminex, Ingredia, KSM, Lesaffre, Sabinsa, Troikaa, and Vidya Herbs.
Chris Lee, Managing Director at Informa Exhibitions' Global Health & Nutrition Network, Europe, said, "In the last few years, Singapore has become a prominent destination of innovation for the food industry, and moving Vitafoods Asia there puts us at the heart of these activities. We're excited that the event is garnering more interest from the nutraceutical industry this year, and attendees can expect to see a greater variety of quality ingredients, raw materials, finished products, and services from some of the best companies in the industry. The team is encouraged by the response so far, and we're committed to delivering a better event than ever before."
Attendees can look forward to viewing product and service offerings presented by a record number of more than 200 exhibitors from all over the world, as well as the most ever number of International Pavilions this year.
Visitors looking to source from specific countries can narrow their search by zooming in on the 10 pavilions – Australia, Canada, France, Germany, Hong Kong, Japan, Malaysia, Singapore, Taiwan, and USA.
Apart from gaining access to the latest innovations as well as networking opportunities, visitors can expect to learn about the latest industry trends and acquire new knowledge from experts at Vitafoods Asia through various attractions, such as the Vitafoods Asia Conference, Global Market Theatre, Inspiration Showcase, and Tasting Bar.
Lee concluded, "The relocation may be a significant change, but what will remain is the event's reputation as a quality platform with ample sourcing, networking, and education opportunities, all which the industry has come to expect and appreciate. We look forward to meeting the industry's best in Singapore this September."