4 Ways the Event Industry Can Move Forward Post-COVID
August 6, 2020
Right now, it's a challenge for many to simply visit the grocery store. What will it be like once things start reopening on a large scale? Will people immediately resume their pre-coronavirus behavior, or will they be wary about being in places with large groups of people? For the events industry, this is a crucial question to unpack, as it determines how they will approach business going forward. What steps will they need to take to ensure that people will continue to attend conferences, expos, panels, and the like?
Combining in-person and virtual events
With infection numbers on the rise in states in the process of emerging from lockdowns, it's unlikely that large-scale events will resume any time soon — at least in person. Some companies have shifted to events that combine physical and virtual elements, accommodating those who prefer to network in person as well as those who may not be ready to travel just yet. This could mean organizing an event to take place in one particular location, but also creating an online hub where people can watch the speakers and engage in virtual networking.
Hosting an event this way also reduces the possibility of having large crowds mingling in one space at the same time, which in turn would make it easier for event organizers to enforce safety protocols and social distancing.
Introducing new health protocols
With the threat of the coronavirus still very real, many event spaces have had to completely rethink how their space is used, as well as how best to maintain a high level of cleanliness without disrupting the event entirely. Marriott International, for example, has implemented several new protocols such as hourly cleanings of high-touch areas, providing packaged meals instead of a shared buffet and reducing the number of people allowed in an area at a time. 
Event organizers have also had to consider how to accommodate social distancing, especially given that the aim of most events is to encourage networking and interactions with other people. Some have proposed enlarging vendor booths or putting up plastic shields to separate vendors and interested patrons. Hotel rooms will also need to be appropriately spaced, and check-in areas managed to ensure that there is enough room for people to remain 6 feet away from one another. 
Changing attendee behavior
At the same time, there's only so much event organizers can do to ensure the health and safety of their attendees. It's up to attendees themselves to monitor their own behavior and adapt to the new circumstances. Maybe this means giving out digital business cards instead of physical ones, or keeping ticket information on their phone instead of printing it out. Perhaps it also means avoiding handshakes or close physical proximity for the time being. 
As Brian King, Marriott International's global officer of digital, distribution, revenue strategy and global sales, points out, it's not going to be possible to move easily from one event to the next. Not only is there extensive cleaning to be done before a new group can enter a room, simply managing the flow of thousands of people as they move from place to place will consume much more time than in the past. Says King in the New York Times article linked above, "People are going to need to leave more time during the meeting process to flip meeting rooms and actually move." 
Adjusting contract terms
This pandemic has effectively reminded everyone how quickly things can change. Events that were scheduled to go ahead one day were cancelled the next, resulting in losses of billions of dollars. And given the general uncertainty that still reigns, there will have to be changes across the board with how contracts are reached with vendors, suppliers, partners, venues, and any other party that has a stake in the event. 
To give one example, as mentioned earlier, hotels have had to implement spacing between occupied hotel rooms. But many organizers negotiate special room rates with hotels as part of their arrangement to rent out conference space. Should organizers be obligated to pay for these extra rooms that are not being occupied (in which case the rates offered to attendees would likely be considerably higher) or should hotels shoulder the cost and just be thankful that they're getting revenue from the event? It's unlikely that organizers will agree to pay more for less, but given that hotels are incurring higher costs due to their new sanitary measures and facing a significant loss of revenue, they're going to need some kind of financial assurance to make the process worth their effort. 
It's going to take a while for the events industry to reach its former height. That said, I have full faith in the ingenuity of those within the industry, and I know that everyone, myself included, is looking forward to the time when we can meet in person without fear.
Don't miss any event-related news: Sign up for our weekly e-newsletter HERE and engage with us on Twitter, Facebook, LinkedIn and Instagram!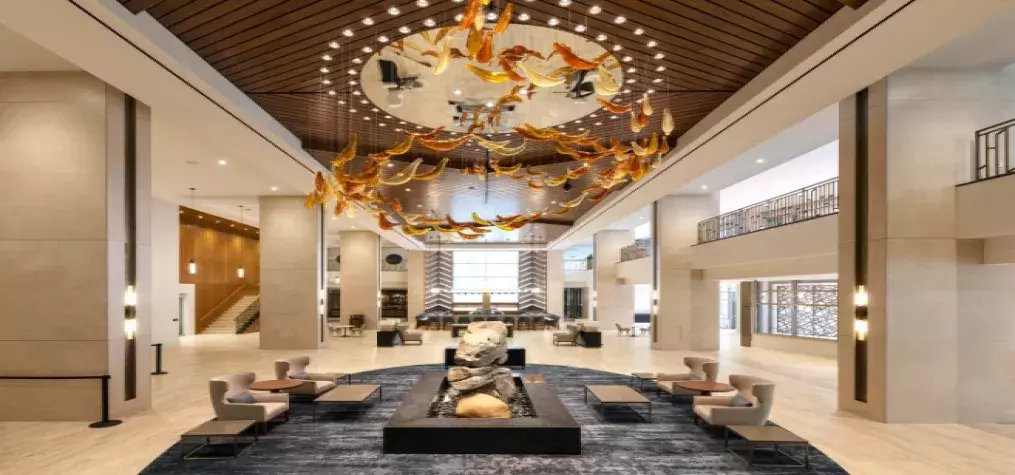 Located in beautiful North Carolina, Harrah's Cherokee is the perfect mountain getaway with breathtaking views of the Great Smoky Mountains and new additions to its resort and conference spaces sure to elevate any meetings or event. Completed in 2021, Harrah's Cherokee's latest $330 million expansion project introduced an entirely new fourth hotel tower, The Cherokee, as well as an additional 83,000 square feet of meeting space with the Cherokee Convention Center. The Cherokee tower brings with it 725 rooms and 70 luxurious suites spread out over 19 floors for a grand total of 1,800 rooms across the entire resort. The new rooms feature a sleek design with an earth-toned color palette and modern amenities. In addition to the new rooms, the expansion also brought with it a luxurious new lobby and lobby bar, a fitness center, a coffee & pastry bar, and a second pool. Conventions, trade shows, banquets, receptions, and even the smallest, most intimate gatherings can find the perfect arrangement at Harrah's Cherokee with its 130,000 square feet of flexible meeting space – including the Cherokee Convention Center. The resort offers a myriad of different spaces and configuration options for events, but the largest spaces include the following: 32,000-sq-ft Cherokee Convention Center ballroom with 22 meeting spaces 11,100-sq-ft Cherokee Convention Center ballroom pre-function space 33,000-sq-ft Cherokee Exhibit Hall 6,000-sq-ft Cherokee Exhibit Hall Pre-Function 13,801-sq-ft Council Fire Ballroom able to be reconfigured into as many as four ballrooms from 3,100 to 3,529-sq-ft each 16,815-sq-ft Event Center able to be configured in six different ways to accommodate 100 to 1,500 guests and offers four VIP suites, box seating, and more than 1,100 balcony seats. In addition to the new accommodations and meeting space, Harrah's Cherokee has also opened several new restaurants as part of the expansion including Guy Fieri's Cherokee Kitchen + Bar which includes the chef's award-winning burgers and barbeque on the menu. Another celebrity chef has also made their mark on the resort with the opening of Gordon Ramsay Food Market which features eight dining concepts ranging from sushi to New York-style deli sandwiches and classic fine-dining fare. Longtime Asheville favorite, Wicked Weed Brewing Pub has also debuted a new location next to Harrah's Cherokee Event Center creating the perfect after-event center with its bright and bold design, over thirty different beers, and live music on weekends. An easy drive from many of the largest cities in the Southeast, Harrah's Cherokee provides the perfect blend of majestic mountainscapes, luxurious new accommodations, and authentic Native American culture.