Atlantic City Rebrands as a Top Destination to Meet for Business and Beyond
January 20, 2023
Meet AC, Atlantic City's destination, meetings and events marketing organization, rebranded as Visit Atlantic City to enhance its appeal among event professionals as an ideal place to gather for business while also experiencing all that the destination has to offer.
The initiative comes on the heels of a successful 2022 in terms of meetings, conventions and trade shows, and the organization is eyeing another positive year of business for 2023.   
As Atlantic City is going through a major reinvestment to create a safer, culturally rich and sustainable community, the time was ripe for the destination to review its branding and reinvest in itself, according to Larry Sieg, president and CEO of Visit Atlantic City.
"While our primary focus remains on bringing meetings and events to the destination, our new name broadens the enticement to choose us," Sieg said. "In addition to having one of the largest convention centers on the East Coast, we also offer an unmatched array of experiences where attendees can meet, connect and let loose with our famous boardwalk and beaches, glitzy casino resorts and world-class entertainment options."
Over the past year, industry agency Simpleview worked with Meet AC to define a new brand for the organization, taking into account the research insights conducted by destination analysts. Visit Atlantic City's new branding embodies a series of personality traits that will guide marketing materials and plans, which include playful, bold, eclectic, celebratory and iconic, all of which are designed to describe the vibes visitors expect when experiencing the destination. The organization redesigned its website to reflect the new messaging.
In tandem with the rebrand, Visit Atlantic City also unveiled its annual review of impact for 2022, and over the next year, the Visit Atlantic City team will implement its plan to lead the organization's goals to surpass pre-pandemic numbers. 
In 2022, Meet AC and the Atlantic City Sports Commission hosted a total of 209 events (with 80 taking place at the Atlantic City Convention Center), resulting in more than 264,000 room nights and nearly 499,000 attendees, which generated a total economic impact of more than $300 million. In addition, for every dollar invested in the Luxury Tax Revenue, Meet AC returns $34 to Atlantic City's economy.
According to Sieg, the city doubled its numbers in terms of room nights and economic impact since the pandemic hit in 2020, showing that in-person events are a crucial part of doing business across almost every industry.
"Last year was a landmark year for meetings and conventions in Atlantic City, as we began to see appetites for in-person meetings and events grow following the pandemic," Sieg said. "With the continued surge in both leisure and bleisure travel, we're expecting to build on the momentum into 2023 with exciting new events such as TakeOff North America 2023, the SHIFT Expo, and the 2023 USRowing Annual Convention and Indoor National Championships." 
He added, "We still have work to do to surpass our pre-pandemic numbers, but we're confident in our current trajectory and growing interest we're seeing from the meetings and conventions industry that this goal is within reach."
During the first quarter of 2023, Visit Atlantic City has a number of major conventions, conferences and other events on the books, including The Pool & Spa Show, Via Exito Equipovision, New Jersey Music Educators Association 2023 State Conference, Progressive Atlantic City Boat Show and Tri-State Camp Conference, all of which are expected to have an economic impact of $28 million.
Don't miss any event-related news: Sign up for our weekly e-newsletter HERE, listen to our latest podcast HERE and engage with us on Twitter, Facebook, LinkedIn and Instagram!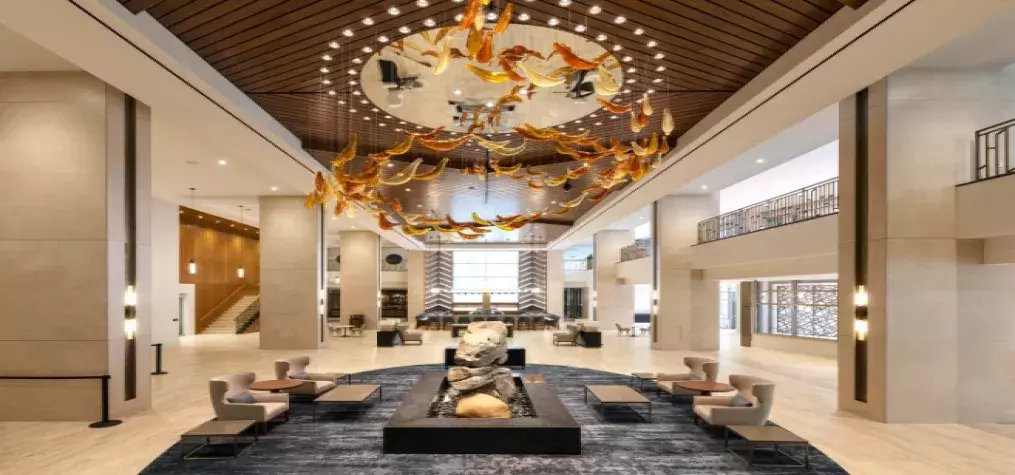 Located in beautiful North Carolina, Harrah's Cherokee is the perfect mountain getaway with breathtaking views of the Great Smoky Mountains and new additions to its resort and conference spaces sure to elevate any meetings or event. Completed in 2021, Harrah's Cherokee's latest $330 million expansion project introduced an entirely new fourth hotel tower, The Cherokee, as well as an additional 83,000 square feet of meeting space with the Cherokee Convention Center. The Cherokee tower brings with it 725 rooms and 70 luxurious suites spread out over 19 floors for a grand total of 1,800 rooms across the entire resort. The new rooms feature a sleek design with an earth-toned color palette and modern amenities. In addition to the new rooms, the expansion also brought with it a luxurious new lobby and lobby bar, a fitness center, a coffee & pastry bar, and a second pool. Conventions, trade shows, banquets, receptions, and even the smallest, most intimate gatherings can find the perfect arrangement at Harrah's Cherokee with its 130,000 square feet of flexible meeting space – including the Cherokee Convention Center. The resort offers a myriad of different spaces and configuration options for events, but the largest spaces include the following: 32,000-sq-ft Cherokee Convention Center ballroom with 22 meeting spaces 11,100-sq-ft Cherokee Convention Center ballroom pre-function space 33,000-sq-ft Cherokee Exhibit Hall 6,000-sq-ft Cherokee Exhibit Hall Pre-Function 13,801-sq-ft Council Fire Ballroom able to be reconfigured into as many as four ballrooms from 3,100 to 3,529-sq-ft each 16,815-sq-ft Event Center able to be configured in six different ways to accommodate 100 to 1,500 guests and offers four VIP suites, box seating, and more than 1,100 balcony seats. In addition to the new accommodations and meeting space, Harrah's Cherokee has also opened several new restaurants as part of the expansion including Guy Fieri's Cherokee Kitchen + Bar which includes the chef's award-winning burgers and barbeque on the menu. Another celebrity chef has also made their mark on the resort with the opening of Gordon Ramsay Food Market which features eight dining concepts ranging from sushi to New York-style deli sandwiches and classic fine-dining fare. Longtime Asheville favorite, Wicked Weed Brewing Pub has also debuted a new location next to Harrah's Cherokee Event Center creating the perfect after-event center with its bright and bold design, over thirty different beers, and live music on weekends. An easy drive from many of the largest cities in the Southeast, Harrah's Cherokee provides the perfect blend of majestic mountainscapes, luxurious new accommodations, and authentic Native American culture.