2022 TSNN Awards: Comeback and Innovation Show Finalists Revealed; Outstanding Show Pro Winners Named
September 23, 2022
A record-breaking number of nominations came flying in for the 2022 TSNN Awards, including nominations in 12 categories for the Innovation Awards and an incredible number of nominations for the Outstanding Show Pro Awards.
TSNN has named those who will be recognized with Outstanding Show Pro Awards and unveiled the finalists for the Innovation Awards as well as the Comeback Awards, which honor shows that have demonstrated resilience by "coming back" in areas such as attendance, overall business excellence and customer connectivity.
The 2022 TSNN Awards (www.T-awards.com) are on tap Nov. 8-9 at Caesars Forum, with an opening party at Nobu Villa, followed by a robust education conference the following day featuring the "State of the Industry" panel. That night will be capped off by the awards gala, where the overall winners will be celebrated.
"We are absolutely thrilled by the tremendous response from the industry by sending in a record-breaking amount of nominations for shows and people to be honored at this year's awards in Las Vegas," said TSNN President Rachel Wimberly.
She added, "Caesars Entertainment, our premiere sponsor for the event, is rolling out the red carpet to ensure the awards are a memorable occasion for everyone who has worked so hard during some very challenging times."
Please click HERE for the finalists for the Comeback Awards and click HERE for the finalists for the Innovation Awards.
The Outstanding Show Pros who will be honored include:
Kim Roehricht and Amy Bartz – AWFS
Jennifer Muna – International Market Centers
Emily Hartstone – From the Hart Management
Diana Rich – Emerald
Dawn Walton – Questex
Kelly Helfman – Informa Markets
Brittany Weltcheff – Association of Equipment Manufacturers
Diane Vidoni – eMerge Americas
Joseph Marks – Informa Tech
Liz Bothwell – Informa
There are several other award winners who already have been named and will be celebrated at the awards gala, including:
Karen Chupka – Consumer Technology Association – Industry Icon Award
Tommy Goodwin – Exhibitions and Conferences Alliance – Industry Support Award
Janice Rogers – Diversified Business Communications – DEI Leadership Award
Specialty Coffee Association – Sustainability Award
The 2022 TSNN Awards would not be possible without the amazing support of the following sponsors: Host Sponsor Caesars Entertainment, Venue Sponsor CAESARS FORUM, Hotel Sponsor Caesars Palace, Opening Party Sponsor Las Vegas Convention & Visitors Authority, Registration Sponsor Maritz Global Events, Gold Sponsors Fern, ASP, eventPower and Resorts World Las Vegas, Presenting Sponsors SMT Expo and Personify, Photography Sponsor The Photo Group, as well as Silver Sponsors SmartSource, Expocad, Map Your Show, Bear Analytics, Convention Data Services, Vegas Collection, The Expo at World Market Center Las Vegas, Cadmium, Shepard and EventsPass.
Interested in joining this amazing group and being a sponsor at the 2022 TSNN Awards? Contact Arlene Shows – ashows@tarsusus.com.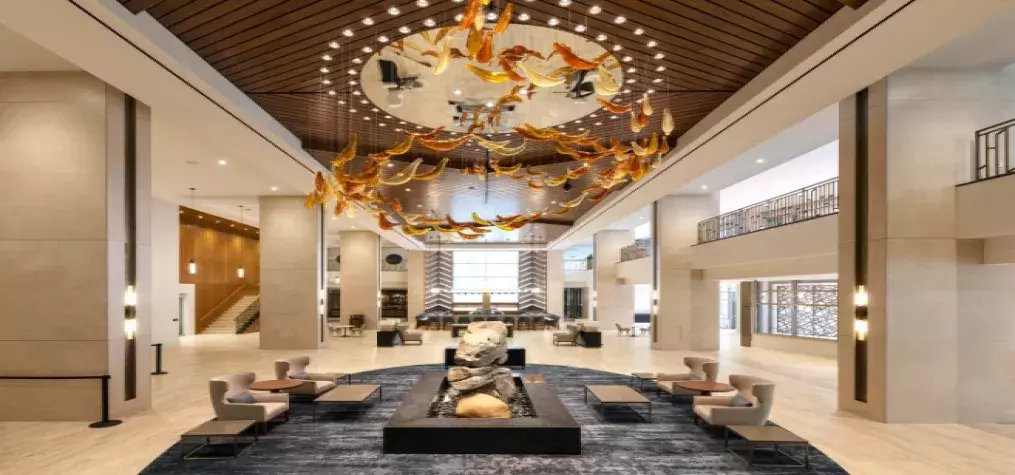 Located in beautiful North Carolina, Harrah's Cherokee is the perfect mountain getaway with breathtaking views of the Great Smoky Mountains and new additions to its resort and conference spaces sure to elevate any meetings or event. Completed in 2021, Harrah's Cherokee's latest $330 million expansion project introduced an entirely new fourth hotel tower, The Cherokee, as well as an additional 83,000 square feet of meeting space with the Cherokee Convention Center. The Cherokee tower brings with it 725 rooms and 70 luxurious suites spread out over 19 floors for a grand total of 1,800 rooms across the entire resort. The new rooms feature a sleek design with an earth-toned color palette and modern amenities. In addition to the new rooms, the expansion also brought with it a luxurious new lobby and lobby bar, a fitness center, a coffee & pastry bar, and a second pool. Conventions, trade shows, banquets, receptions, and even the smallest, most intimate gatherings can find the perfect arrangement at Harrah's Cherokee with its 130,000 square feet of flexible meeting space – including the Cherokee Convention Center. The resort offers a myriad of different spaces and configuration options for events, but the largest spaces include the following: 32,000-sq-ft Cherokee Convention Center ballroom with 22 meeting spaces 11,100-sq-ft Cherokee Convention Center ballroom pre-function space 33,000-sq-ft Cherokee Exhibit Hall 6,000-sq-ft Cherokee Exhibit Hall Pre-Function 13,801-sq-ft Council Fire Ballroom able to be reconfigured into as many as four ballrooms from 3,100 to 3,529-sq-ft each 16,815-sq-ft Event Center able to be configured in six different ways to accommodate 100 to 1,500 guests and offers four VIP suites, box seating, and more than 1,100 balcony seats. In addition to the new accommodations and meeting space, Harrah's Cherokee has also opened several new restaurants as part of the expansion including Guy Fieri's Cherokee Kitchen + Bar which includes the chef's award-winning burgers and barbeque on the menu. Another celebrity chef has also made their mark on the resort with the opening of Gordon Ramsay Food Market which features eight dining concepts ranging from sushi to New York-style deli sandwiches and classic fine-dining fare. Longtime Asheville favorite, Wicked Weed Brewing Pub has also debuted a new location next to Harrah's Cherokee Event Center creating the perfect after-event center with its bright and bold design, over thirty different beers, and live music on weekends. An easy drive from many of the largest cities in the Southeast, Harrah's Cherokee provides the perfect blend of majestic mountainscapes, luxurious new accommodations, and authentic Native American culture.