Subscribe
TSNN's Suite of E-newsletters
Since June 2010, TSNN has launched a suite of e-newsletters that serve different facets of the trade show industry. Each one reaches thousands of industry professionals, most of whom are C-level show management executives around the world.
Please subscribe here.
The Industry This Week
A weekly e-newsletter that covers the latest news in the worldwide trade show industry. Show launches, mergers and acquisitions, the health of the overall industry and thought-leader blogs are regular features in this acclaimed e-newsletter. Each week, more than 10,000 subscribers receive TITW and it is read by many of the C-level decision-makers in the industry. There are more eyes looking at TITW than any other trade show publications. View example HERE.
Breaking News
Distributed at least three times each month, Breaking News has all the hard-hitting, latest news that TSNN is known for being the first in the publication market to break. More than 12,000 subscribers read this hugely popular e-newsletter several times each month and it is often the talk of the industry. View example HERE.
Association Show News
Association shows represent a significant piece of the trade show industry and this e-newsletter focuses not only on shows in that sector but also the industry associations for the trade show and meeting industry. Twice a month, more than 8,000 subscribers receive Association Show News and it is read by many of the C-level decision-makers in the industry. Association Show News serves a niche sector overlooked by other trade show publications. View example HERE.
ExpoFiles e-newsletter
Geared to all event industry professionals. It releases monthly to a diverse subscription base of Organizers, Exhibitors, Suppliers & Promotional Product Professionals. The e-newsletter is sent to 25,000 subscribers and educates Trade Show Pros with helpful Tips, Trends, Tactics & Best Practices with the intent of keeping up them up to speed on all aspects of our industry by offering valuable information they need to do their job with excellence. View example HERE.
People News
Our People e-newsletter represents the most important aspect of our industry: human talent! Released every other month to an audience of 10,000 subscribers, it covers promotions, new hires, big career moves, retirements, employment opportunities and the people side of mergers, acquisitions and more. This personal publication also shines a light on employees and their event companies that are #GivingBack to make a positive difference in their host and home communities. View example HERE.
Tech News
A cutting edge e-newsletter summarizing all the latest event technology news. This timely publication will help you stay on top of all the tools and technology needed to do your job with excellence. Released every other month to an audience of over 22,000 subscribers, it will keep you up to date on the ever changing technology trends and educate you with tips in the trade show technology sector. View example HERE.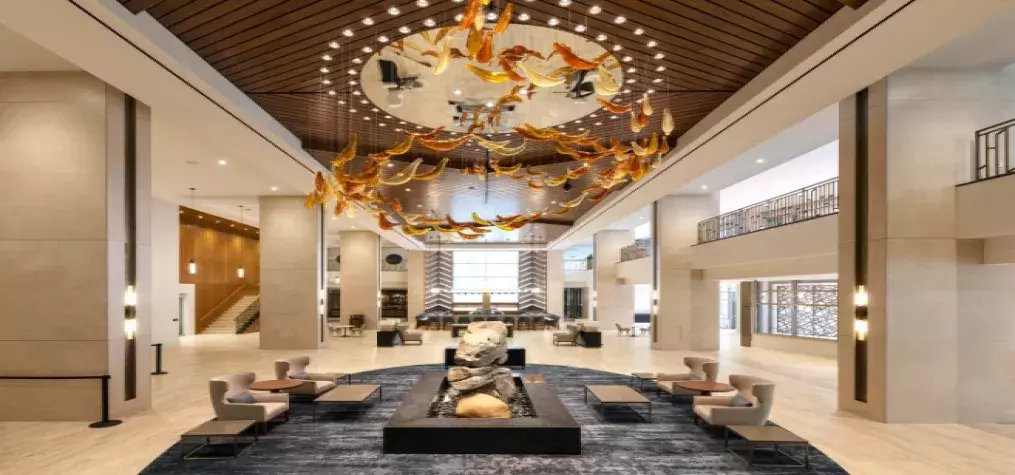 Located in beautiful North Carolina, Harrah's Cherokee is the perfect mountain getaway with breathtaking views of the Great Smoky Mountains and new additions to its resort and conference spaces sure to elevate any meetings or event. Completed in 2021, Harrah's Cherokee's latest $330 million expansion project introduced an entirely new fourth hotel tower, The Cherokee, as well as an additional 83,000 square feet of meeting space with the Cherokee Convention Center. The Cherokee tower brings with it 725 rooms and 70 luxurious suites spread out over 19 floors for a grand total of 1,800 rooms across the entire resort. The new rooms feature a sleek design with an earth-toned color palette and modern amenities. In addition to the new rooms, the expansion also brought with it a luxurious new lobby and lobby bar, a fitness center, a coffee & pastry bar, and a second pool. Conventions, trade shows, banquets, receptions, and even the smallest, most intimate gatherings can find the perfect arrangement at Harrah's Cherokee with its 130,000 square feet of flexible meeting space – including the Cherokee Convention Center. The resort offers a myriad of different spaces and configuration options for events, but the largest spaces include the following: 32,000-sq-ft Cherokee Convention Center ballroom with 22 meeting spaces 11,100-sq-ft Cherokee Convention Center ballroom pre-function space 33,000-sq-ft Cherokee Exhibit Hall 6,000-sq-ft Cherokee Exhibit Hall Pre-Function 13,801-sq-ft Council Fire Ballroom able to be reconfigured into as many as four ballrooms from 3,100 to 3,529-sq-ft each 16,815-sq-ft Event Center able to be configured in six different ways to accommodate 100 to 1,500 guests and offers four VIP suites, box seating, and more than 1,100 balcony seats. In addition to the new accommodations and meeting space, Harrah's Cherokee has also opened several new restaurants as part of the expansion including Guy Fieri's Cherokee Kitchen + Bar which includes the chef's award-winning burgers and barbeque on the menu. Another celebrity chef has also made their mark on the resort with the opening of Gordon Ramsay Food Market which features eight dining concepts ranging from sushi to New York-style deli sandwiches and classic fine-dining fare. Longtime Asheville favorite, Wicked Weed Brewing Pub has also debuted a new location next to Harrah's Cherokee Event Center creating the perfect after-event center with its bright and bold design, over thirty different beers, and live music on weekends. An easy drive from many of the largest cities in the Southeast, Harrah's Cherokee provides the perfect blend of majestic mountainscapes, luxurious new accommodations, and authentic Native American culture.