The Art of Maximizing Results from Webinars in 2023
December 9, 2022
Webinars are a great way to host internal meetings, conduct team training and deliver unique brand experiences to existing and potential clients. While some brands use webinars as a part of demand gen strategy, others vouch for their effectiveness in lead generation. Studies suggest that the average webinar generates 500-1000 leads and has a 55% conversion rate. This looks great in numbers, but it takes a lot of effort to achieve these results in practicality.
Promotions
Emails, custom landing pages, social media promotions, and branded communities are some ways to promote your webinar. While your best approach will depend on your particular brand, our experts believe in a people-centric marketing approach.
As Gloria Zhu, Director (Demand Gen) at Hubilo, shared with us during In Any Event, brands must realize that their customers are, after all, people. Marketers must promote their events keeping in mind that they need to sell brand experience from a human perspective.
Follow-ups
Webinars are great for meeting new people, creating brand awareness, and building communities around your offerings. They help you garner actionable customer insights to schedule further touchpoints.
According to Morgan Chaney, a B2B marketing veteran, virtually connecting with your target audience via webinars is critical to building relationships in your industry. It helps you dig deeper into your audience's challenges and plan activities centered around solutions to their challenges at a deeper level.
Incentives
Give your customers an undeniable reason to attend your webinar. People love everything that has the potential to bring value. This "value" may include substantial information, material gifts, and more. Understanding your target audience and knowing how they define "value" is essential.
Tech Integrations
Cutting-edge technology offers excellent support to host webinars. Tech integrations can also help your sales and demand generation team by getting vital customer data. Analytics and reporting get the pulse of your audience and enable you to create the right pitch. This gets your pipeline rolling and drives revenue.
Unlock The Secret Sauce to Successful Webinars
At least 57% of marketers host 50 or more webinars per year. In this scenario, standing out is challenging but not impossible. Years of experience, expertise, some fine-tuning, and, yes, a secret sauce make it easier. If you want to find out what's this secret sauce, explore our exclusive webinar[1] [2] for a power-packed discussion digging deep into the topic.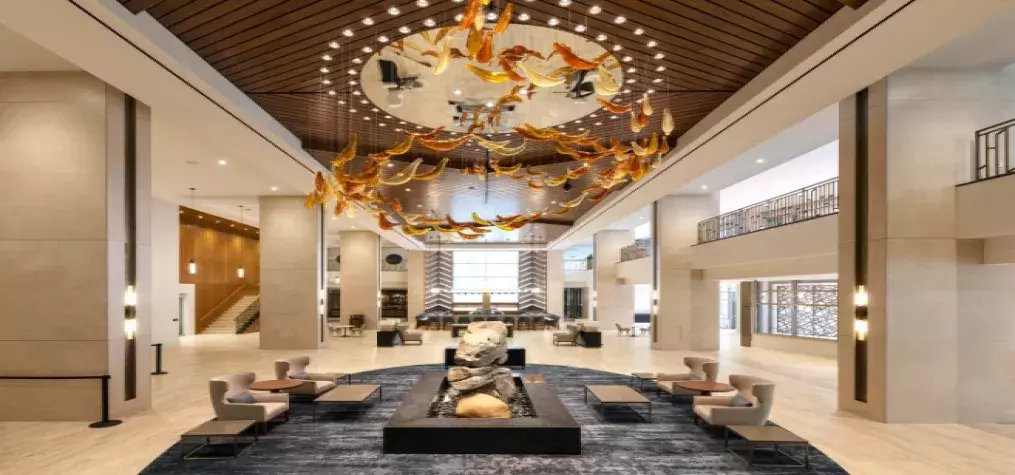 Located in beautiful North Carolina, Harrah's Cherokee is the perfect mountain getaway with breathtaking views of the Great Smoky Mountains and new additions to its resort and conference spaces sure to elevate any meetings or event. Completed in 2021, Harrah's Cherokee's latest $330 million expansion project introduced an entirely new fourth hotel tower, The Cherokee, as well as an additional 83,000 square feet of meeting space with the Cherokee Convention Center. The Cherokee tower brings with it 725 rooms and 70 luxurious suites spread out over 19 floors for a grand total of 1,800 rooms across the entire resort. The new rooms feature a sleek design with an earth-toned color palette and modern amenities. In addition to the new rooms, the expansion also brought with it a luxurious new lobby and lobby bar, a fitness center, a coffee & pastry bar, and a second pool. Conventions, trade shows, banquets, receptions, and even the smallest, most intimate gatherings can find the perfect arrangement at Harrah's Cherokee with its 130,000 square feet of flexible meeting space – including the Cherokee Convention Center. The resort offers a myriad of different spaces and configuration options for events, but the largest spaces include the following: 32,000-sq-ft Cherokee Convention Center ballroom with 22 meeting spaces 11,100-sq-ft Cherokee Convention Center ballroom pre-function space 33,000-sq-ft Cherokee Exhibit Hall 6,000-sq-ft Cherokee Exhibit Hall Pre-Function 13,801-sq-ft Council Fire Ballroom able to be reconfigured into as many as four ballrooms from 3,100 to 3,529-sq-ft each 16,815-sq-ft Event Center able to be configured in six different ways to accommodate 100 to 1,500 guests and offers four VIP suites, box seating, and more than 1,100 balcony seats. In addition to the new accommodations and meeting space, Harrah's Cherokee has also opened several new restaurants as part of the expansion including Guy Fieri's Cherokee Kitchen + Bar which includes the chef's award-winning burgers and barbeque on the menu. Another celebrity chef has also made their mark on the resort with the opening of Gordon Ramsay Food Market which features eight dining concepts ranging from sushi to New York-style deli sandwiches and classic fine-dining fare. Longtime Asheville favorite, Wicked Weed Brewing Pub has also debuted a new location next to Harrah's Cherokee Event Center creating the perfect after-event center with its bright and bold design, over thirty different beers, and live music on weekends. An easy drive from many of the largest cities in the Southeast, Harrah's Cherokee provides the perfect blend of majestic mountainscapes, luxurious new accommodations, and authentic Native American culture.