Attendees and Exhibitors Enjoy a More Touchless Venue Experience at CES 2023
January 4, 2023
As part of its commitment to creating a healthy environment for attendees and exhibitors to conduct and further global business, the Consumer Technology Association (CTA) is offerig a more touchless venue experience at CES 2023, taking place Jan. 5-8 at 11 official venues in Las Vegas, including the Las Vegas Convention Center, The Venetian Convention and Expo Center and ARIA.
According to CTA officials, health and safety measures being executed across all CES venues include increased fresh air flow and filtration systems, hand sanitizing stations, door greeters and touchless public facilities.
"As producer of the world's most influential tech event, we are proactively committed to creating an environment that reduces health risks for our attendees," said Gary Shapiro, president and CEO of CTA, which owns and produces CES, widely considered the most influential global tech event in the world.
He continued, "In-person events such as CES are critical to advancing business. A more touchless venue experience at CES 2023 will provide a roadmap for future industry events on health and safety efforts for attendees."
Health and safety measures to be implemented at the show include:
Fresh Airflow and Door Greeters
Fresh airflow has been increased in ventilation systems across venues.

Exterior doors will be opened and monitored to allow fresh air flow where possible.

Door greeters will be stationed at remaining doors to open as attendees enter.
Hand Sanitizing
Touchless hand sanitizing units will be installed throughout all facilities in high-traffic areas.

All meeting rooms, conference areas, food areas, lounges, customer service areas, information kiosks, elevators, escalators, lounges and offices will have hand sanitizing stations.
Touchpoints
Badge pickup locations will utilize touchless badge printing.

Customer service centers will offer touchless payment for on-site registrations.

All microphones and shared AV equipment will be sanitized between use.

Restrooms, handrails and doors will be cleaned throughout the day.

Sinks, toilets and paper towel dispensers will be touchless.

Cashless payment systems will be available at venue food outlets and business centers.
For a full list of CES 2023 Health Protocols, go here.
According to CES officials, CES 2023 is expected to be the largest in-person, audited business event to take place in the U.S. since early 2020, showcasing a 40% larger exhibitor footprint compared to the 2022 show. The annual B2B event is expected to welcome more than 3,100 exhibitors spanning more than 2 million square feet of expo space.
At the event, attendees can expect to experience new technologies from global brands, hear about the future of technology from industry thought leaders and enjoy multiple opportunities to network and collaborate face-to-face with other attendees. The show will highlight how innovations in sectors including sustainability, transportation and mobility, digital health and the metaverse are addressing the world's greatest challenges.
Don't miss any event-related news: Sign up for our weekly e-newsletter HERE, listen to our latest podcast HERE and engage with us on Twitter, Facebook, LinkedIn and Instagram!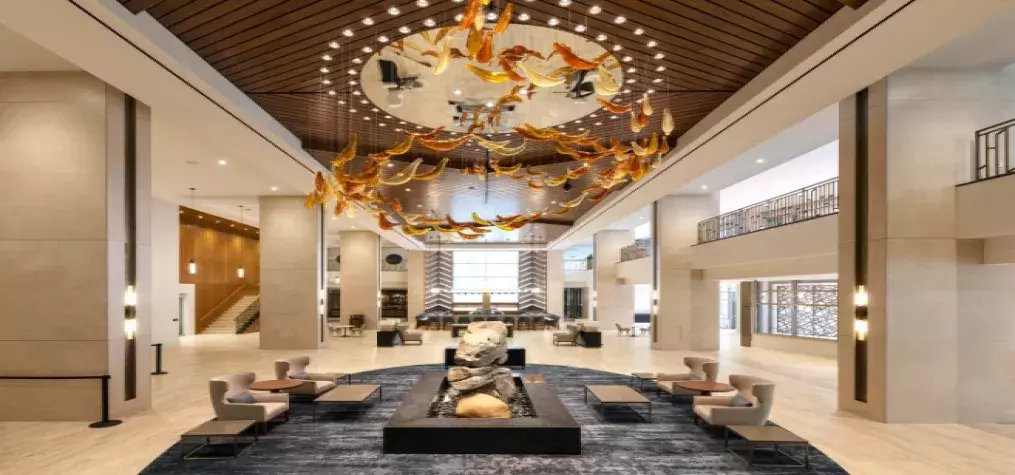 Located in beautiful North Carolina, Harrah's Cherokee is the perfect mountain getaway with breathtaking views of the Great Smoky Mountains and new additions to its resort and conference spaces sure to elevate any meetings or event. Completed in 2021, Harrah's Cherokee's latest $330 million expansion project introduced an entirely new fourth hotel tower, The Cherokee, as well as an additional 83,000 square feet of meeting space with the Cherokee Convention Center. The Cherokee tower brings with it 725 rooms and 70 luxurious suites spread out over 19 floors for a grand total of 1,800 rooms across the entire resort. The new rooms feature a sleek design with an earth-toned color palette and modern amenities. In addition to the new rooms, the expansion also brought with it a luxurious new lobby and lobby bar, a fitness center, a coffee & pastry bar, and a second pool. Conventions, trade shows, banquets, receptions, and even the smallest, most intimate gatherings can find the perfect arrangement at Harrah's Cherokee with its 130,000 square feet of flexible meeting space – including the Cherokee Convention Center. The resort offers a myriad of different spaces and configuration options for events, but the largest spaces include the following: 32,000-sq-ft Cherokee Convention Center ballroom with 22 meeting spaces 11,100-sq-ft Cherokee Convention Center ballroom pre-function space 33,000-sq-ft Cherokee Exhibit Hall 6,000-sq-ft Cherokee Exhibit Hall Pre-Function 13,801-sq-ft Council Fire Ballroom able to be reconfigured into as many as four ballrooms from 3,100 to 3,529-sq-ft each 16,815-sq-ft Event Center able to be configured in six different ways to accommodate 100 to 1,500 guests and offers four VIP suites, box seating, and more than 1,100 balcony seats. In addition to the new accommodations and meeting space, Harrah's Cherokee has also opened several new restaurants as part of the expansion including Guy Fieri's Cherokee Kitchen + Bar which includes the chef's award-winning burgers and barbeque on the menu. Another celebrity chef has also made their mark on the resort with the opening of Gordon Ramsay Food Market which features eight dining concepts ranging from sushi to New York-style deli sandwiches and classic fine-dining fare. Longtime Asheville favorite, Wicked Weed Brewing Pub has also debuted a new location next to Harrah's Cherokee Event Center creating the perfect after-event center with its bright and bold design, over thirty different beers, and live music on weekends. An easy drive from many of the largest cities in the Southeast, Harrah's Cherokee provides the perfect blend of majestic mountainscapes, luxurious new accommodations, and authentic Native American culture.