From Big Events to Bold, New Concepts, Caesars Entertainment Has It All
May 17, 2022
Exclusively Sponsored by Caesars Entertainment
In Las Vegas, Caesars Entertainment continues to innovate with more celebrity chef options, must-see entertainment and continued renewal of its impressive selection of modern, luxurious rooms. Additionally, the premier brand just received national attention with the NFL Draft took place at the front steps of their largest conference space, CAESARS FORUM.
As the first Official Casino Sponsor of the NFL, Caesars Entertainment, Inc. hosted the sporting event on The Strip provided fans the opportunity to celebrate their favorite teams and bet on all the action with Caesars Sportsbook.
For sports enthusiasts in Las Vegas and fans tuning in across the world, Caesars Entertainment offered a prime location in the heart of The Strip for the ultimate festival footprint of more than one million square feet. The NFL Draft Theater and the NFL Draft Experience were located adjacent to CAESARS FORUM, behind the High Roller and LINQ Promenade.
The Draft Theater featured more than 2,000 light fixtures,10.8 million pixels of LED across 5,022 square feet of LED screens, and 350,000 watts of sound amplification power.
 "We are incredibly fortunate to have partnered with the NFL to host the Draft Theater and Draft Experience with unforgettable programming all weekend long," said Caesars Entertainment Regional President Sean McBurney. "Caesars Entertainment is best suited to host premier events of this magnitude, and the location provides a gateway to our entertainment, fine dining, and world-class hospitality across our resorts."
Caesars Entertainment is in growth-mode and ready to welcome attendees back to their premier portfolio of properties across the country, and is eager to share several announcements in Las Vegas, with celebrity-chef powered dining and nightspots in their 9 Las Vegas properties including Caesars Palace, Paris Resort Las Vegas, Planet Hollywood, Bally's, Harrah's, LINQ Hotel, LINQ Promenade, The Cromwell Hotel, The Rio and the Flamingo.
Nobu Paris Las Vegas
Nobu Paris is now open in Paris Las Vegas, marking the second Las Vegas restaurant between Nobu Hospitality and Caesars Entertainment. The Nobu restaurants blend modern, cool luxury and minimal Japanese tradition into a lifestyle with products, services, and unparalleled personalized touches.
The Bedford by Martha Stewart
Global lifestyle icon Martha Stewart has been inspiring people worldwide to entertain since the start of her career. This spring, she'll bring her celebrated Martha Stewart lifestyle brand to life with her first-ever restaurant. The Bedford by Martha Stewart, a fully-immersive restaurant concept designed to bring Martha's famed country farmhouse in Bedford, NY, to life, will open at Paris Las Vegas in Spring 2022.
Martha and her team of culinary experts are developing delicious, seasonal dinner, weekend brunch, and holiday menus that feature exceptional quality and creativity. Signature menu items will be created from sourcing seasonal, high-quality ingredients from various local purveyors and some of Martha's personal favorites, including the Las Vegas Farmers Market, Dartagnan Inc., Urbani Truffles, Roe Caviar, Frog Hollow Farm, Jasper Hill Farm, Vermont Creamery, among others.
Vanderpump à Paris
Vanderpump à Paris at Paris Las Vegas hosted its highly anticipated grand opening event last month to officially welcome guests to the Parisian-inspired restaurant. To commemorate the occasion, television icon and philanthropist Lisa Vanderpump stunned guests with an extravagant red-carpet arrival as they made their way into the picturesque destination.
Designed by Lisa Vanderpump and long-time design partner, Nick Alain, Vanderpump à Paris instantly transports guests from the Las Vegas Strip to an enchanting old Parisian courtyard. The restaurant features plush velvet art nouveau banquettes, adorned with oversized, ornately embellished pillows, as well as light fixtures and custom-made furniture from Vanderpump and Alain's celebrated design line, Vanderpump Alain. Additionally, the space is enhanced by a breathtakingly long, white marble bar embedded with crystal chandeliers in wrought iron cages, unique bronze umbrellas situated on top of the marble, and massive windows that overlook the Eiffel Tower and Seine River, flooded with rain. The entire bar offers a magical and realistic escape to a cozy rainy day in Paris. 

John Legend 'Love in Las Vegas'
In late April, 12-time GRAMMY Award-winner, multiplatinum artist, activist, and EGOT (Emmy, GRAMMY, Oscar and Tony) winner John Legend celebrated the launch of his Las Vegas residency, "Love In Las Vegas," at Zappos Theater at Planet Hollywood Resort & Casino.
Designed exclusively for Zappos Theater and promoted by Live Nation and Caesars Entertainment, "Love In Las Vegas" is a beautiful, soulful concert experience, showcasing Legend's greatest hits, "soaring vocals [and] silky-smooth piano playing skills" (Billboard). The performance features Legend's incredible full band and is a vibrant, colorful celebration of love and coming together, sentiments echoed on Legend's GRAMMY Award-winning seventh studio album, Bigger Love, and companion 2021 headline tour – which resulted in multiple sold out shows and garnered rave reviews in the press. The exclusive, only-in-Vegas experience is filled with hits from the beginning of Legend's career, including "Used to Love U," "Penthouse Floor," "Like I'm Gonna Lose You," "All of Me," and "Green Light." He is also performing soon to be released new music ahead of his upcoming album including, "Dope" which received rave reactions from the crowd.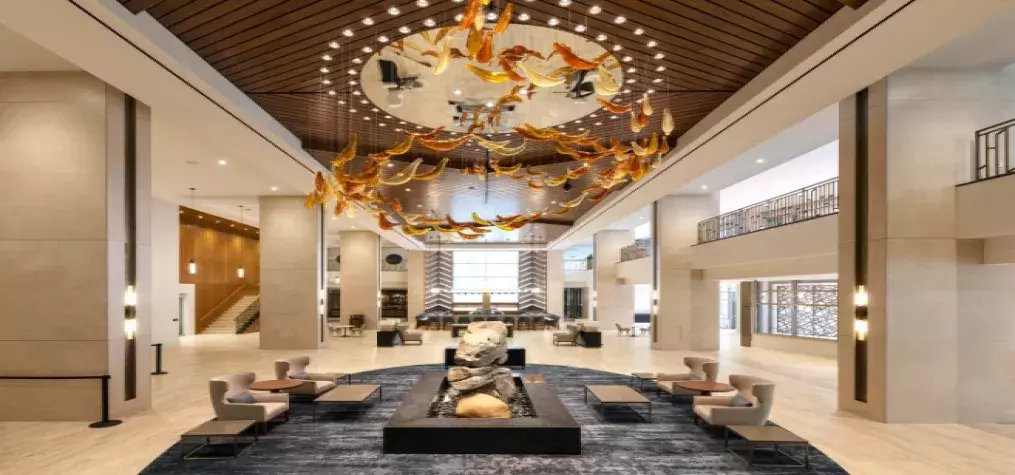 Located in beautiful North Carolina, Harrah's Cherokee is the perfect mountain getaway with breathtaking views of the Great Smoky Mountains and new additions to its resort and conference spaces sure to elevate any meetings or event. Completed in 2021, Harrah's Cherokee's latest $330 million expansion project introduced an entirely new fourth hotel tower, The Cherokee, as well as an additional 83,000 square feet of meeting space with the Cherokee Convention Center. The Cherokee tower brings with it 725 rooms and 70 luxurious suites spread out over 19 floors for a grand total of 1,800 rooms across the entire resort. The new rooms feature a sleek design with an earth-toned color palette and modern amenities. In addition to the new rooms, the expansion also brought with it a luxurious new lobby and lobby bar, a fitness center, a coffee & pastry bar, and a second pool. Conventions, trade shows, banquets, receptions, and even the smallest, most intimate gatherings can find the perfect arrangement at Harrah's Cherokee with its 130,000 square feet of flexible meeting space – including the Cherokee Convention Center. The resort offers a myriad of different spaces and configuration options for events, but the largest spaces include the following: 32,000-sq-ft Cherokee Convention Center ballroom with 22 meeting spaces 11,100-sq-ft Cherokee Convention Center ballroom pre-function space 33,000-sq-ft Cherokee Exhibit Hall 6,000-sq-ft Cherokee Exhibit Hall Pre-Function 13,801-sq-ft Council Fire Ballroom able to be reconfigured into as many as four ballrooms from 3,100 to 3,529-sq-ft each 16,815-sq-ft Event Center able to be configured in six different ways to accommodate 100 to 1,500 guests and offers four VIP suites, box seating, and more than 1,100 balcony seats. In addition to the new accommodations and meeting space, Harrah's Cherokee has also opened several new restaurants as part of the expansion including Guy Fieri's Cherokee Kitchen + Bar which includes the chef's award-winning burgers and barbeque on the menu. Another celebrity chef has also made their mark on the resort with the opening of Gordon Ramsay Food Market which features eight dining concepts ranging from sushi to New York-style deli sandwiches and classic fine-dining fare. Longtime Asheville favorite, Wicked Weed Brewing Pub has also debuted a new location next to Harrah's Cherokee Event Center creating the perfect after-event center with its bright and bold design, over thirty different beers, and live music on weekends. An easy drive from many of the largest cities in the Southeast, Harrah's Cherokee provides the perfect blend of majestic mountainscapes, luxurious new accommodations, and authentic Native American culture.