Campfire Social Launches Exhibitor and Sponsor Engagement Platform IGNITE!
November 23, 2022
CampfireSocial, a private professional network designed for member-based or attendee-driven organizations to form meaningful connections, unveiled IGNITE!, software designed to strengthen industry relationships between exhibitors, sponsors and event organizers via a private networking platform.
Utilizing CampfireSocial technology, IGNITE! streamlines the engagement experience for exhibitors, industry partners and sponsors so they can network among peers directly, form strategic partnerships, identify other companies for cross-collaboration opportunities or joint responses to RFPs, establish referral relationships and more.
"Exhibitors attend events to convert attendees into buyers, but they also attend to form strategic partnerships with fellow exhibitors for lead generation and cross-collaboration opportunities," said Erica Bishaf, founder and CEO of CampfireSocial. "The time is now to provide a year-round solution that allows our most valuable industry partners to cultivate these relationships, and IGNITE! is that platform."
CampfireSocial provides advanced data and analytics to an organization via a combined social media and e-commerce interface that generates continual stakeholder engagement. Leveraging this platform design, IGNITE! provides exhibitors and sponsors with:
Curated suggestions of the most valued strategic partners


 

Monthly onboarding webinars


 

Opportunities to search for partners to complement their business


 

Groups dedicated to their needs


 

A home to maintain relationships cultivated during events


 

Daily engagement with fellow industry professionals


 

Custom educational content


 
"The IGNITE! product is what many of us who exhibit at trade shows have always needed," said Brian Arnone, Lead Advisor to EventHub, a sponsorship marketplace and management platform for live event organizers. "It eliminates the noise and keeps us focused on meeting and working with our partners to bring complementary solutions to our clients."
About CampfireSocial
CampfireSocial is the first-of-its-kind social network and e-commerce platform designed for industry verticals and organizations to cultivate communities and drive revenue growth. The platform encourages social interactivity through deep relationship building, discussion and buying group formation, 24/7 e-commerce transactions and community-aggregated learning designed around how users already engage with other social platforms.
Don't miss any event-related news: Sign up for our weekly e-newsletter HERE, listen to our latest podcast HERE and engage with us on Twitter, Facebook, LinkedIn and Instagram!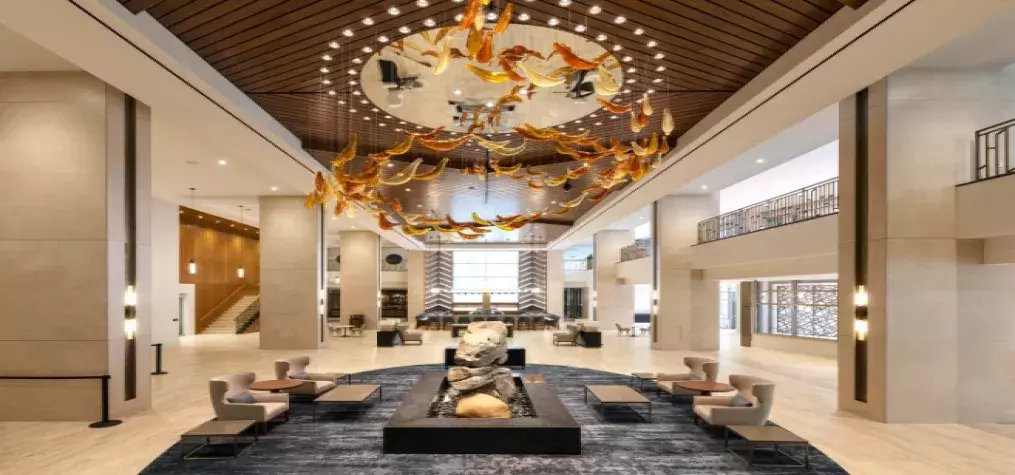 Located in beautiful North Carolina, Harrah's Cherokee is the perfect mountain getaway with breathtaking views of the Great Smoky Mountains and new additions to its resort and conference spaces sure to elevate any meetings or event. Completed in 2021, Harrah's Cherokee's latest $330 million expansion project introduced an entirely new fourth hotel tower, The Cherokee, as well as an additional 83,000 square feet of meeting space with the Cherokee Convention Center. The Cherokee tower brings with it 725 rooms and 70 luxurious suites spread out over 19 floors for a grand total of 1,800 rooms across the entire resort. The new rooms feature a sleek design with an earth-toned color palette and modern amenities. In addition to the new rooms, the expansion also brought with it a luxurious new lobby and lobby bar, a fitness center, a coffee & pastry bar, and a second pool. Conventions, trade shows, banquets, receptions, and even the smallest, most intimate gatherings can find the perfect arrangement at Harrah's Cherokee with its 130,000 square feet of flexible meeting space – including the Cherokee Convention Center. The resort offers a myriad of different spaces and configuration options for events, but the largest spaces include the following: 32,000-sq-ft Cherokee Convention Center ballroom with 22 meeting spaces 11,100-sq-ft Cherokee Convention Center ballroom pre-function space 33,000-sq-ft Cherokee Exhibit Hall 6,000-sq-ft Cherokee Exhibit Hall Pre-Function 13,801-sq-ft Council Fire Ballroom able to be reconfigured into as many as four ballrooms from 3,100 to 3,529-sq-ft each 16,815-sq-ft Event Center able to be configured in six different ways to accommodate 100 to 1,500 guests and offers four VIP suites, box seating, and more than 1,100 balcony seats. In addition to the new accommodations and meeting space, Harrah's Cherokee has also opened several new restaurants as part of the expansion including Guy Fieri's Cherokee Kitchen + Bar which includes the chef's award-winning burgers and barbeque on the menu. Another celebrity chef has also made their mark on the resort with the opening of Gordon Ramsay Food Market which features eight dining concepts ranging from sushi to New York-style deli sandwiches and classic fine-dining fare. Longtime Asheville favorite, Wicked Weed Brewing Pub has also debuted a new location next to Harrah's Cherokee Event Center creating the perfect after-event center with its bright and bold design, over thirty different beers, and live music on weekends. An easy drive from many of the largest cities in the Southeast, Harrah's Cherokee provides the perfect blend of majestic mountainscapes, luxurious new accommodations, and authentic Native American culture.