Straight Talk: Claude Molinari, President & CEO, Visit Detroit
December 14, 2022
Starting a new job in a difficult business climate can be challenging enough, but what about during the height of a global pandemic? That's exactly where Claude Molinari found himself when he took the helm of Visit Detroit as its new president and CEO in January of 2021 as the global events industry was reeling from the impacts of COVID-19. A self-proclaimed extrovert by nature, Molinari's outgoing and positive attitude certainly came in handy as he worked tirelessly to guide the CVB and its team through one of the biggest challenges travel and tourism has ever faced.
"It is important to remember that as difficult as the pandemic has been on our organization and the industry, COVID-19 is, first and foremost, a human tragedy," Molinari said. "So many people have been permanently scarred through the loss of a job, illness or the loss of a loved one. Understanding that suffering and working to treat people with empathy have allowed our organization to navigate many of the most significant challenges."
With the worst of the pandemic in the rearview mirror, Molinari is back to focusing on the main job at hand: providing the leadership and strategic direction necessary to enable Visit Detroit to attract meetings and tourism business to metropolitan Detroit and accelerate economic growth. He also oversees the Detroit Sports Commission, a Visit Detroit subsidiary responsible for securing amateur sporting events throughout the region.
Molinari came to Visit Detroit after a decade of leadership at Huntington Place, where he served as general manager from 2016–2021 and assistant general manager from 2010 –2016. Before leading the 16th largest convention center in North America, Molinari served five years as regional director of operations for ASM Global, overseeing more than two-dozen East Coast facilities and, while with the company, managed facilities in four different states.
"I have more than two decades of experience working in the event and convention center industry…[but] working to help people have exceptional experiences when they travel is the best part of my job," he said.
TSNN sat down with Molinari to hear about his first two years on the job, the accomplishments he is most proud of during that time, the biggest post-pandemic challenges facing the industry today and his favorite off-site Detroit experiences that event visitors should make sure not to miss when visiting the Motor City.
You took the helm of Visit Detroit during the COVID-19 pandemic. What were some of the biggest challenges you and the organization went through during that time?
Before I joined, the near-total halt in global travel meant that Visit Detroit had furloughed some of our team. That was incredibly painful for the organization, and I have been so grateful that throughout 2021 and '22, we have been able to bring back many people and hire new dynamic team members.
The pandemic has also been remarkably difficult for our region's hotels, restaurants and event spaces. Our team has worked extremely hard to support these cornerstone community institutions by leading initiatives to restart meetings safely, advocating on their behalf at the local and state level, and being a leading voice on the importance of travel. These efforts paid off in 2022, with the robust return of meetings, conventions and leisure travelers throughout the Detroit region.
What were some of the most important accomplishments and greatest lessons you've learned during your first two years on the job, and how have you been applying these learnings in your leadership role?
For me, the pandemic reinforced the most important lesson of leadership: how you treat people matters. Empathy and caring for the team have always been important, but the dislocation caused by the pandemic made it even more critical at a time when we all needed more support. Organizations thrive when everyone on the team feels committed to a mission and empowered to do their work. My role is to ensure that I break down silos and roadblocks that hold the team back. Serving the team requires a lot of listening and understanding. Those two pillars have led Visit Detroit to our most important accomplishment: undertaking our multi-year strategic plan.
Working with an outside consultant, we engaged everyone on our team and stakeholders throughout the community to develop a plan that will allow Visit Detroit to be an organization with a highly attuned culture and a vibrant destination that people can't wait to see. During my tenure, we have won hundreds of meetings, helped spark a strong recovery of travel for our region and secured the 2024 NFL Draft, but all of that is secondary to the work we are doing to be the best organization for our team.
When hosting large trade shows and events in the city, what are you hearing are the biggest challenges show organizers and meeting planners are facing at this time?
Our industry's most significant issue is staffing, and it is important to recognize that this challenge predated COVID-19. While almost every sector of the economy is being impacted, no one feels it more than hospitality. Workers in our industry are incredibly giving of their time and effort, but everyone is being asked to do more with fewer team members. I routinely hear stories from general managers and hotel sales managers saying they are working shifts at the front desk or cleaning because that's just what it takes to get the job done. For show organizers and meeting planners, the worry is that it will impact the overall attendee experience.
How is Visit Detroit assisting event organizers with these issues?
While Visit Detroit hasn't been able to change the national workforce trends, our team has been working hard with our hospitality partners at hotels, the convention center and restaurants to be ready for events. We do this in three ways. First, our calendar of events allows our hospitality partners to prepare better when events are coming into town. Secondly, we provide partner training for hotels and restaurants before the event so that teams know what to expect when a convention and event is in town. Each event has its unique flavor and helping hotels and restaurants be prepared means attendees will have a better experience. Finally, our team is actively out and about during events to help address situations that arise and support visitors to our community. Detroit is an incredible city, and Southeast Michigan is a beautiful region. We are committed to ensuring that everyone has a fantastic experience while here.
What are some of the most important developments that make Detroit an ideal destination for trade shows and meetings?
Detroit is the home of American innovation, permeating every facet of our culture. The first electric vehicle charging road is being built in the city, Detroit was named one of the world's great destinations by TIME and we are the only UNESCO City of Design in the United States because of our remarkable art and architecture. The region's rich diversity has helped to create iconic music styles like Motown and Techno and an incredible culinary scene that blends flavors from every corner of the globe. Detroit also has the No. 1 riverfront in America, according to USA Today readers.
Our region has two state-of-the-art convention centers and dozens of magnificent hotels where meetings can be held. Show organizers and attendees will not only have a great experience in the region; we believe our culture of innovation will inspire people while they are here.
What are a few of your favorite off-site experiences in Detroit that event organizers and attendees shouldn't miss, whether as a group activity or on their own during downtime?
Visitors to Detroit should check out some of our exceptional museums, cultural attractions and music venues. The Charles H. Wright Museum for African American History, Motown Museum, The Detroit Institute of Arts, Cranbrook Art Museum just north of the city, and the Henry Ford Museum of American Innovation are fantastic places to explore. I would also recommend listening to live music at Cliff Bells, Willis Show Bar, Baker's Keyboard Lounge, Bert's Marketplace or the Aretha Jazz Café at the Music Hall.

Don't miss any event-related news: Sign up for our weekly e-newsletter HERE, listen to our latest podcast HERE and engage with us on Twitter, Facebook, LinkedIn and Instagram!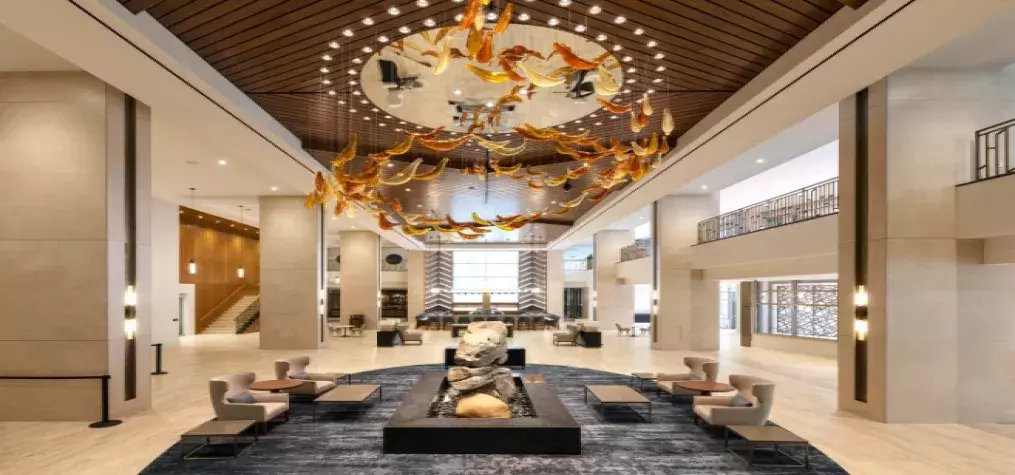 Located in beautiful North Carolina, Harrah's Cherokee is the perfect mountain getaway with breathtaking views of the Great Smoky Mountains and new additions to its resort and conference spaces sure to elevate any meetings or event. Completed in 2021, Harrah's Cherokee's latest $330 million expansion project introduced an entirely new fourth hotel tower, The Cherokee, as well as an additional 83,000 square feet of meeting space with the Cherokee Convention Center. The Cherokee tower brings with it 725 rooms and 70 luxurious suites spread out over 19 floors for a grand total of 1,800 rooms across the entire resort. The new rooms feature a sleek design with an earth-toned color palette and modern amenities. In addition to the new rooms, the expansion also brought with it a luxurious new lobby and lobby bar, a fitness center, a coffee & pastry bar, and a second pool. Conventions, trade shows, banquets, receptions, and even the smallest, most intimate gatherings can find the perfect arrangement at Harrah's Cherokee with its 130,000 square feet of flexible meeting space – including the Cherokee Convention Center. The resort offers a myriad of different spaces and configuration options for events, but the largest spaces include the following: 32,000-sq-ft Cherokee Convention Center ballroom with 22 meeting spaces 11,100-sq-ft Cherokee Convention Center ballroom pre-function space 33,000-sq-ft Cherokee Exhibit Hall 6,000-sq-ft Cherokee Exhibit Hall Pre-Function 13,801-sq-ft Council Fire Ballroom able to be reconfigured into as many as four ballrooms from 3,100 to 3,529-sq-ft each 16,815-sq-ft Event Center able to be configured in six different ways to accommodate 100 to 1,500 guests and offers four VIP suites, box seating, and more than 1,100 balcony seats. In addition to the new accommodations and meeting space, Harrah's Cherokee has also opened several new restaurants as part of the expansion including Guy Fieri's Cherokee Kitchen + Bar which includes the chef's award-winning burgers and barbeque on the menu. Another celebrity chef has also made their mark on the resort with the opening of Gordon Ramsay Food Market which features eight dining concepts ranging from sushi to New York-style deli sandwiches and classic fine-dining fare. Longtime Asheville favorite, Wicked Weed Brewing Pub has also debuted a new location next to Harrah's Cherokee Event Center creating the perfect after-event center with its bright and bold design, over thirty different beers, and live music on weekends. An easy drive from many of the largest cities in the Southeast, Harrah's Cherokee provides the perfect blend of majestic mountainscapes, luxurious new accommodations, and authentic Native American culture.