2013 Top 250 Cdn Trade Shows
For a complete 2013 TSNN Top 50 Canadian Trade Show List please contact Bradford Christison at bchristison@tsnn.com.
TSNN Rank by NSF
Event
Event Date(s)
Venue
1

Canada's Farm Progress Show

Canada's Farm Progress Show is an agricultural industry tradeshow. It is an international show with a focus on dryland farming practices.

Organizer: Regina Exhibition Association Ltd. # Exhibitors:843 # Attendees:43,956

06/19/2013 to 06/21/2013

Evraz Place Regina

NSF: 1,232,670

2

Organizer: Canadian Gift Association (CanGift) # Exhibitors:931 # Attendees:14,403

01/27/2013 to 01/31/2013

Toronto Congress Centre/The International Centre Toronto

NSF: 419,229

3

Organizer: Canadian Gift Association (CanGift) # Exhibitors:877 # Attendees:11,620

08/11/2013 to 08/14/2013

Toronto Congress Centre/The International Centre Toronto

NSF: 401,146

4

Canadian Western Agribition

Canadian Western Agribition (CWA) is an annual livestock and commercial tradeshow event held in Regina, Sk every November since 1971. Known as the largest cattle show in the country, CWA also offers an extensive array of lifestyle and agribusiness tradeshow exhibits.

Organizer: Canadian Western Agribition # Exhibitors:900 # Attendees:127,000

11/11/2013 to 11/16/2013

Evraz Place Regina

NSF: 306,000

5

Agri-Trade Farm Equipment Expo

Agri-Trade Equipment Exposition is the largest annual agricultural equipment exposition in Western Canada.ᅠIt attracts high-quality attendees and has a very loyal exhibitor base with a majority of exhibitors returning for over 20 years.ᅠThe show features a Learning Stage with the latest updates in agriculture as well as an Ag Innovations program that features the latest in Agriculture Equipment Technology.

Organizer: Red Deer Chamber of Commerce/Western Park Agricultural Association # Exhibitors:425 # Attendees:25,000

11/06/2013 to 11/09/2013

Westerner Park Red Deer, AB

NSF: 300,000

6

The Canadian Home Furnishings Market

The Canadian Home Furnishings Market (TCHFM) is Canada's only wholesale furniture show, attracting thousands of qualified retailers, designers, decorators and industry professionals. Market attendees can source new products, network with suppliers, discover new emerging companies, attend educational seminars and find inspirational ideas -- all in one convenient location. Hundreds of leading manufacturers, distributors and suppliers gather annually at the Market to showcase their latest designs and collections for the living room, bedroom and dining room, as well as juvenile furniture, accent furniture, bedding, home theatre units, lamps and decorative accessories.

Organizer: The Quebec Furniture Manufacturers' Association # Exhibitors:235 # Attendees:5,427

01/12/2013 to 01/15/2013

The International Centre Toronto

NSF: 266,785

7

PPPC National Convention and Trade Show

Canada's largest promotional products industry trade show attracts nationwide professionals, members of PPPC and their invited clients. The convention spans over five days with three full trade show days. It's the perfect opportunity to accumulate CEU points towards accreditation, network with peers, see the latest innovations in the New Products Salon and stay informed on industry trends.

Organizer: Promotional Product Professionals of Canada # Exhibitors:229 # Attendees:1,940

01/28/2013 to 01/30/2013

Metro Toronto Convention Centre Toronto

NSF: 175,000

8

Gas & Oil Expo

Gas & Oil Expo is a leading marketplace for the North American gas and oil industry. Held biennially in the energy capital of Canada Calgary, Alberta it offers opportunities for brand exposure, business development, education, and networking. The indoor and outdoor exhibits showcase emerging technologies, a diverse range of products and services, and the expertise of well-known international brands. After 2013, Gas & Oil Expo will no longer be held, and Global Petroleum Show will instead occur every year.

Organizer: dmg :: events (Canada) inc # Exhibitors:782 # Attendees:25,948

06/11/2013 to 06/13/2013

Stampede Park Calgary

NSF: 170,000

9

Congress

Landscape Ontario's Congress is known as Canada's largest horticultural, lawn and garden trade show and conference. The show's focus is mainly on the construction and equipment side of the business, but all aspects of horticulture are covered by the trade show exhibitors and in the conference topics that are addressed by well-known speakers.

Organizer: Landscape Ontario # Exhibitors:651 # Attendees:10,683

01/08/2013 to 01/10/2013

Toronto Congress Centre Toronto

NSF: 144,989

10

CRFA Show

The CRFA show is the largest and most successful event of its kind in the country. This trade show features Canada's only full-service marketplace providing a perfect opportunity to network with customers. Canada's most influential chefs and industry leaders are also on hand, interacting with attendees through a full roster of seminars, workshops, presentations and culinary demonstrations.

Organizer: Restaurants Canada # Exhibitors:700 # Attendees:13,000

03/03/2013 to 03/05/2013

Direct Energy Centre Toronto

NSF: 141,500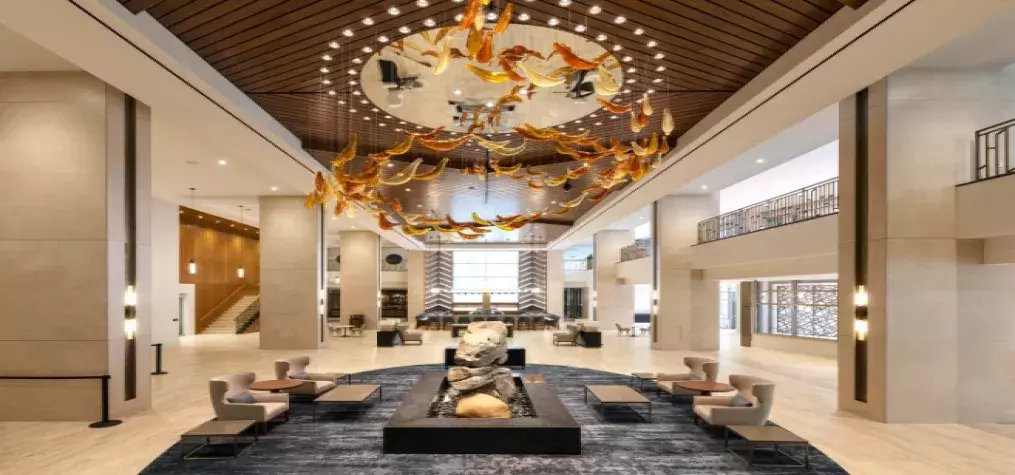 Located in beautiful North Carolina, Harrah's Cherokee is the perfect mountain getaway with breathtaking views of the Great Smoky Mountains and new additions to its resort and conference spaces sure to elevate any meetings or event. Completed in 2021, Harrah's Cherokee's latest $330 million expansion project introduced an entirely new fourth hotel tower, The Cherokee, as well as an additional 83,000 square feet of meeting space with the Cherokee Convention Center. The Cherokee tower brings with it 725 rooms and 70 luxurious suites spread out over 19 floors for a grand total of 1,800 rooms across the entire resort. The new rooms feature a sleek design with an earth-toned color palette and modern amenities. In addition to the new rooms, the expansion also brought with it a luxurious new lobby and lobby bar, a fitness center, a coffee & pastry bar, and a second pool. Conventions, trade shows, banquets, receptions, and even the smallest, most intimate gatherings can find the perfect arrangement at Harrah's Cherokee with its 130,000 square feet of flexible meeting space – including the Cherokee Convention Center. The resort offers a myriad of different spaces and configuration options for events, but the largest spaces include the following: 32,000-sq-ft Cherokee Convention Center ballroom with 22 meeting spaces 11,100-sq-ft Cherokee Convention Center ballroom pre-function space 33,000-sq-ft Cherokee Exhibit Hall 6,000-sq-ft Cherokee Exhibit Hall Pre-Function 13,801-sq-ft Council Fire Ballroom able to be reconfigured into as many as four ballrooms from 3,100 to 3,529-sq-ft each 16,815-sq-ft Event Center able to be configured in six different ways to accommodate 100 to 1,500 guests and offers four VIP suites, box seating, and more than 1,100 balcony seats. In addition to the new accommodations and meeting space, Harrah's Cherokee has also opened several new restaurants as part of the expansion including Guy Fieri's Cherokee Kitchen + Bar which includes the chef's award-winning burgers and barbeque on the menu. Another celebrity chef has also made their mark on the resort with the opening of Gordon Ramsay Food Market which features eight dining concepts ranging from sushi to New York-style deli sandwiches and classic fine-dining fare. Longtime Asheville favorite, Wicked Weed Brewing Pub has also debuted a new location next to Harrah's Cherokee Event Center creating the perfect after-event center with its bright and bold design, over thirty different beers, and live music on weekends. An easy drive from many of the largest cities in the Southeast, Harrah's Cherokee provides the perfect blend of majestic mountainscapes, luxurious new accommodations, and authentic Native American culture.