Unique Venues Shine in Las Vegas
With trade shows and in-person events making a comeback, Las Vegas has set the stage for unmatched experiences with innovative and affordable venues that can bring even the boldest vision to life. Here are some of our favorites for hosting everything from inspiring keynotes to small group meetings to gatherings under the stars.
Show Ready
In the heart of the Las Vegas Strip, CAESARS FORUM is among the newest conference centers in the city with direct access to The LINQ Hotel + Experience, Harrah's Las Vegas and Flamingo Las Vegas Hotel & Casino via a sky bridge. Featuring the two largest pillarless ballrooms in the world, the 550,000-sq.-ft. ultra-modern venue can accommodate over 10,000 attendees and offer world-class entertainment and restaurant-quality receptions under the lights of the High Roller observation wheel.
Style meets functionality at The Expo at World Market Center, the largest venue in Downtown Las Vegas. Opened in April 2021, the $103.5-million facility features 315,000 square feet of flexible, sustainable exhibit space divided into north and south halls, an expansive lobby area oftentimes used for trend displays, a spacious registration area, an on-site shuttle bus depot, and an attached parking garage. With the addition of The Expo, World Market Center now offers more than 700,000-sq.-ft. of flexible event and exhibition space.
Grand and Glamorous
Home of the NFL's Las Vegas Raiders and 2024 Super Bowl LVIII, Allegiant Stadium hosts world-class entertainment, including globally recognized sporting events such as the 2022 NFL Pro Bowl, Pac-12 Championship Game and Las Vegas Bowl. The fully enclosed and climate-controlled venue offers 10-plus versatile spaces for groups of 25 to 65,000 guests, branding opportunities on cutting-edge digital signage assets, and immersive experiences with guided behind-the-scenes tours and appearances by the Raiderettes and Raiders players. From on-field receptions to banquets in the futuristic Raiders locker room, this high-energy venue is all about the winning spirit and group success.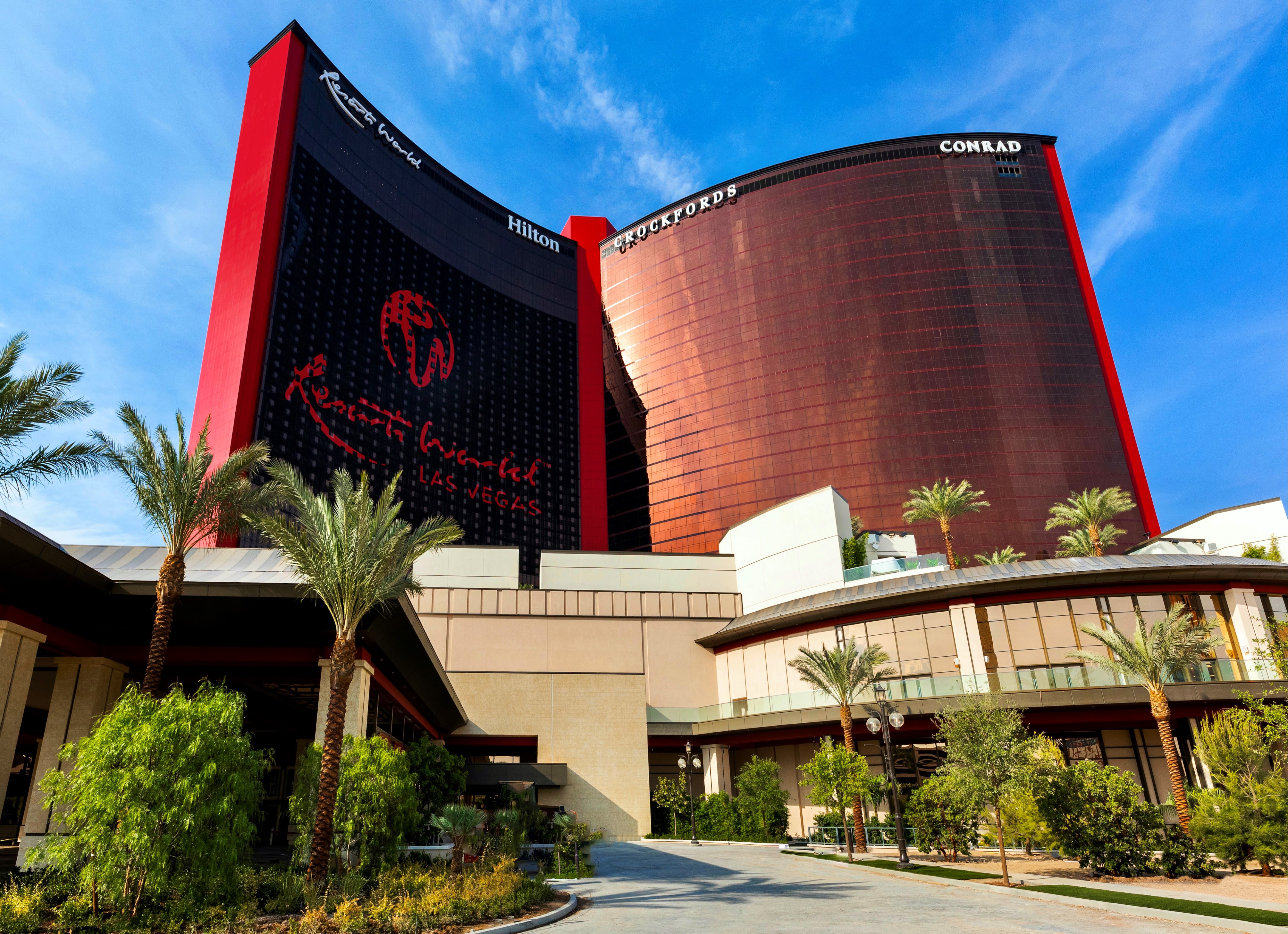 Unrivaled entertainment is coming to the Resorts World Theatre, Las Vegas's newest state-of-the-art venue with the city's largest and tallest performance stage. The 5,000-capacity concert and entertainment venue is built for A-listers as well as conventions and corporate events. Designed by International Design Firm Scéno Plus, it includes two private lounges, bars and VIP spaces. It offers everyone a great view with the furthest seat just 150 feet from the stage, unobstructed sightlines and top-end audio with more than 265 L-Acoustics speakers that use L-ISA hyperreal technology.
Collaborative and Innovative
Perfect for smaller groups and VIP ideation sessions, The Stella Studio is a multi-functional, intimate venue at The Venetian Resort Las Vegas. Located in The Palazzo tower, the 8,000-plus-square-foot space features a modern, neutral aesthetic, a private entrance, a dedicated kitchen and bar, as well as private restrooms. Planners can choose from classroom, banquet or theater-style seating for their event in this airy venue awash with natural light.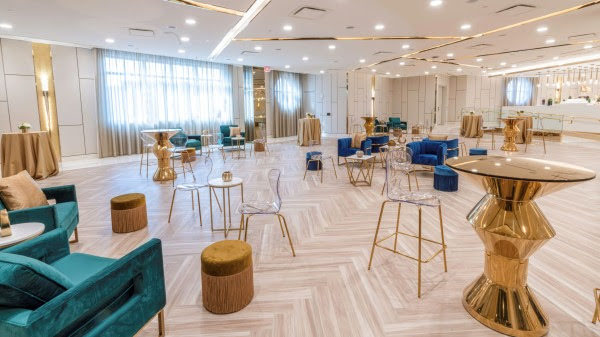 Accredited by IACC, The Ideation Studio at Park MGM provides a unique environment for corporate retreats and brainstorming sessions for groups from six to 24 with 10 spaces designed with collaboration and flow of ideas in mind. The venue is part of The Meeting Center at Park MGM, a 77,000-sq.-ft. conference area featuring an expansive ballroom, 29 meeting rooms, a 4,345-sq.-ft. private outdoor terrace, and is steps away from T-Mobile Arena and outdoor dining and art at The Park.
Unique and Memorable
Just like being on the wings of a bird is how visitors describe FlyOver Las Vegas, an immersive experience that lets riders soar over the Las Vegas Strip, Hoover Dam, Grand Canyon as well as other natural wonders. Riders hang suspended in front of a 52.5-ft. spherical screen and can dip and turn as they feel the rush of the wind and the exhilaration of flight. With theaters that fit up to 40 people per ride and flight rides running every 15 minutes, it's the perfect teambuilding experience for groups of any size.
A constantly evolving playground, AREA15 is enthralling guests with interactive art installations, mind-blowing tech and mesmerizing realms of Meow Wolf's Omega Mart and Van Gogh: An Immersive Experience. Planners can take advantage of over 230,000 square feet of flexible indoor and outdoor meeting and event space, including the A-Lot, a massive 32,454-sq.-ft. outdoor "playground" surrounded by large-scale interactive artworks; The Portal, a 6,584-sq.-ft. indoor space with 360-degree projection-mapped walls; the Sanctuary, and The Grounds," a 4-acre, 190,000-sq.-ft. multi-use outdoor event space and take their event to an entirely new dimension.
As trade shows and in-person events make a comeback, Las Vegas continues to lead the way with world-class venues and facilities holding events safely and successfully.
Every day, MGM Resorts hosts organizations and individuals from around the world with a diverse array of business purposes, needs and expectations. But they all have one thing in common—a host committed to making their meetings sustainable and unforgettable through close partnership and responsible meeting practices. Harnessing the Sun Meetings at MGM Resorts are predominantly powered by the sun, thanks to its innovative 100-megawatt solar array. As the largest directly sourced renewable electricity project in the hospitality industry, the solar array features 323,000 panels and produces up to 100% of MGM Resorts' daytime power needs in Las Vegas.* Built in 2021, the solar array reduces the carbon footprint of meetings—and all of MGM Resorts—while still delivering an enlightening and electrifying guest experience. Leading Water Stewardship Knowing water is essential to operations, guests and employees, MGM Resorts has long employed various conservation measures and has doubled down on its commitment in recent years to become a leading corporate water steward. In 2022, MGM Resorts President and CEO Bill Hornbuckle signed the CEO Water Mandate, a United National Global Compact, becoming the first gaming company to endorse the initiative. The company replaced more than 200,000 square feet of real grass with drought-tolerant landscaping in Las Vegas and pledged to reduce water use by 33% by 2025 and by 35% by 2030. Between 2007 and 2022, MGM Resorts saved more than 6 billion gallons of water through water conservation. Fostering Diversity, Equity & Inclusion MGM Resorts serves a world of diverse people, perspectives and experiences by cultivating a workforce culture that embraces all of humanity. From mindful recruitment and hiring practices to meaningful social responsibility initiatives, MGM Resorts is a welcoming and inclusive space for veterans, individuals with disabilities, people from diverse backgrounds, LGBTQ+ community members and more. The company's commitment to supplier diversity drives innovation by extending competitive opportunities to local and diverse-owned suppliers, while the MGM Resorts Supplier Diversity Mentorship Program provides diverse-owned businesses tools and resources to enhance and grow their businesses. Paying it Forward MGM Resorts knows that great companies must serve the greater good. That's why paying it forward is part of its approach to meetings and events. Through the Feeding Forward Program, MGM Resorts collects and preserves unserved and untouched food from conventions held at its properties, then safely donates to food-insecure people through a partnership with Three Square, Southern Nevada's primary food bank. Since 2016, MGM Resorts has donated more than 3.7 million meals, with a goal of 5 million meal donations by 2025. Donations include unserved perishable prepared foods from events, perishable unprepared food from MGM Resorts' kitchens and nonperishable food items from minibars and warehouses. From world-class venues and experiences to industry leading responsible meeting practices, MGM Resorts is proud to host meaningful and sustainable events. *Not including The Cosmopolitan of Las Vegas