Cincinnati USA Convention and Visitors Bureau Renames Itself Visit Cincy
April 5, 2022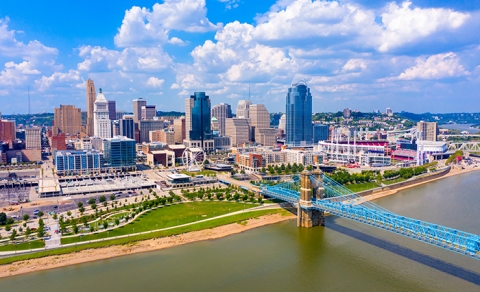 At its Annual Meeting at the Duke Energy Convention Center on March 25, the Cincinnati USA Convention and Visitors Bureau unveiled a new brand identity and announced several key growth initiatives to an audience of 400 business professionals, civic leaders and members of the regional hospitality industry. 
The 75-year-old destination marketing organization's new name is "Visit Cincy," created to better align with the CVB's sales and marketing efforts, as well as its regional collaboration with meetNKY, the Northern Kentucky Convention and Visitors Bureau, to reach key markets for tourism, convention and meeting business, according to CVB officials. 
"The Visit Cincy brand will be an exciting catalyst to rally our regional partners and meet new growth opportunities," said Julie Calvert, president and CEO of Visit Cincy. "Visit Cincy is more than a name, it's an invitation that conveys our mission and a call to action."
The three key growth initiatives Visit Cincy will be zeroing in on in 2022 include building economic impact; embedding diversity, equity and inclusion throughout the organization and in the industry; and expanding its partnership with meetNKY, said CVB officials at the meeting.
Featured speaker Steve Leeper, president and CEO of the non-profit development organization Cincinnati Center City Development Corporation (3CDC), addressed the audience about the scope of the new convention district being planned for downtown Cincinnati. In January, 3CDC was chosen by the Cincinnati City Council and Hamilton County to lead the project, which includes redeveloping the convention center and surrounding properties and a new adjacent hotel. 
Leeper went on to discuss the next steps for the project, which includes the recent razing of the previous headquarter hotel, the Millennium Cincinnati. He said 3CDC is currently completing an updated market study for the convention district and once completed, will issue an RFP for a new convention center hotel. 
Along with Calvert and Leeper, Cincinnati Mayor Aftab Pureval; Hamilton County Commission President Stephanie Summerow Dumas and Jeff Berding, co-CEO of FC Cincinnati and Board Chairman of Visit Cincy, made presentations at the Annual Meeting.
"[Cincinnati has] so much to offer here already—arts, culture, food, sports, business," Berding said. "Marquee events and larger conventions are ready to come to Cincinnati. Leisure travelers already are." 
In total, the CVB has booked definite future hotel rooms at 101 percent of its 2021 goal, representing $105 million dollars in room nights booked, while tentative room nights are booked at 107 percent of the goal. Momentum for 2022 surged in February during the Super Bowl, when downtown hotels saw a 77 percent occupancy rate during what is a typically slower time for tourism in Cincinnati, according to Visit Cincy officials.
"When the CVB is strong, our regional economy is strong," Dumas said. "When the CVB is strong, Hamilton County is strong. And when Hamilton County is strong, we have a powerful platform to improve economic empowerment, improve access to opportunity and improve the quality of life for all of our residents." 
Don't miss any event-related news: Sign up for our weekly e-newsletter HERE and engage with us on Twitter, Facebook, LinkedIn and Instagram!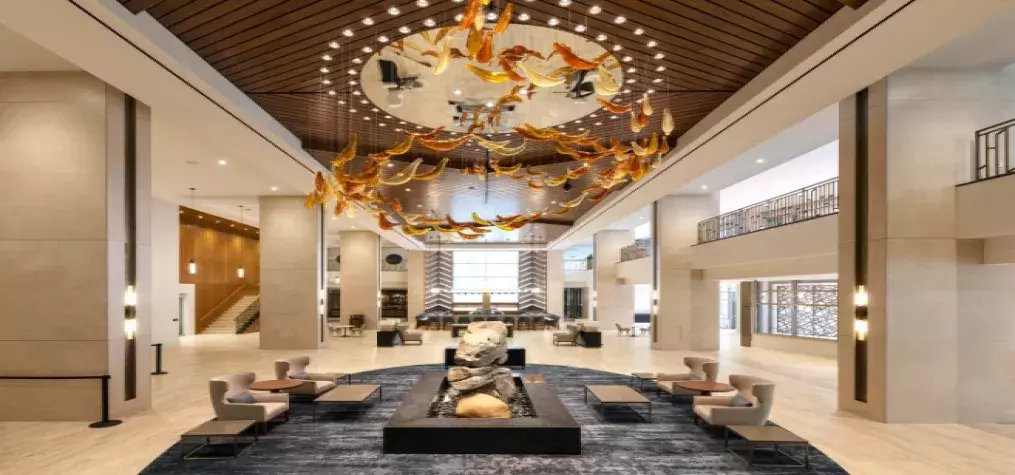 Located in beautiful North Carolina, Harrah's Cherokee is the perfect mountain getaway with breathtaking views of the Great Smoky Mountains and new additions to its resort and conference spaces sure to elevate any meetings or event. Completed in 2021, Harrah's Cherokee's latest $330 million expansion project introduced an entirely new fourth hotel tower, The Cherokee, as well as an additional 83,000 square feet of meeting space with the Cherokee Convention Center. The Cherokee tower brings with it 725 rooms and 70 luxurious suites spread out over 19 floors for a grand total of 1,800 rooms across the entire resort. The new rooms feature a sleek design with an earth-toned color palette and modern amenities. In addition to the new rooms, the expansion also brought with it a luxurious new lobby and lobby bar, a fitness center, a coffee & pastry bar, and a second pool. Conventions, trade shows, banquets, receptions, and even the smallest, most intimate gatherings can find the perfect arrangement at Harrah's Cherokee with its 130,000 square feet of flexible meeting space – including the Cherokee Convention Center. The resort offers a myriad of different spaces and configuration options for events, but the largest spaces include the following: 32,000-sq-ft Cherokee Convention Center ballroom with 22 meeting spaces 11,100-sq-ft Cherokee Convention Center ballroom pre-function space 33,000-sq-ft Cherokee Exhibit Hall 6,000-sq-ft Cherokee Exhibit Hall Pre-Function 13,801-sq-ft Council Fire Ballroom able to be reconfigured into as many as four ballrooms from 3,100 to 3,529-sq-ft each 16,815-sq-ft Event Center able to be configured in six different ways to accommodate 100 to 1,500 guests and offers four VIP suites, box seating, and more than 1,100 balcony seats. In addition to the new accommodations and meeting space, Harrah's Cherokee has also opened several new restaurants as part of the expansion including Guy Fieri's Cherokee Kitchen + Bar which includes the chef's award-winning burgers and barbeque on the menu. Another celebrity chef has also made their mark on the resort with the opening of Gordon Ramsay Food Market which features eight dining concepts ranging from sushi to New York-style deli sandwiches and classic fine-dining fare. Longtime Asheville favorite, Wicked Weed Brewing Pub has also debuted a new location next to Harrah's Cherokee Event Center creating the perfect after-event center with its bright and bold design, over thirty different beers, and live music on weekends. An easy drive from many of the largest cities in the Southeast, Harrah's Cherokee provides the perfect blend of majestic mountainscapes, luxurious new accommodations, and authentic Native American culture.