Green Strides: 3 Convention Centers Make Sustainable Moves to Honor Earth Week
April 22, 2022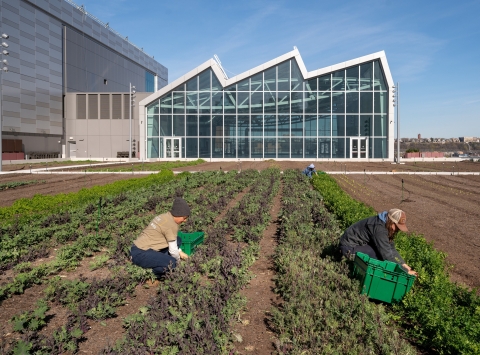 As the world celebrated Earth Day April 22, event professionals, organizations and venues took stock of the impact their carbon footprint has on climate change and implemented initiatives to be more sustainable. Following are three convention centers that unveiled green initiatives to mark Earth Week.
Javits Center
The rooftop farm at New York City's Javits Center joined the New York State Grown & Certified program, a statewide effort that identifies local producers who adhere to higher standards in terms of food safety and environmental stewardship. Located more than eight stories above street level, the center's working farm was completed last year as part of a 1.2 million-square-foot, state-of-the-art expansion of the Javits Center.
Each year, the farm is expected to generate up to 40,000 pounds of produce, which is being incorporated into the millions of meals served to guests during events at the convention center. During Earth Week, farmers from Brooklyn Grange, which manages the rooftop farm, harvested this year's first produce, including carrots, leeks and baby kale.
"As we celebrate Earth Week, it's important to reflect on our existential fight against climate change and continue our pursuit of historic, innovative solutions to bring us closer to a cleaner, greener New York State," said New York State Gov. Kathy Hochul in an announcement to the welcome the facility into the NYS Grown & Certified program. "From the success of its nearly seven-acre green roof to a new rooftop farm, the Javits Center has proven the power of sustainability."
New York Convention Center Operating Corporation President Alan Steel expressed gratitude in being part of the NYS Grown & Certified Program and pride in bringing its roof-to-table experience to millions of visitors from around the world.
"The rooftop farm takes our sustainability program to the next level—literally—by providing guests with ingredients grown only steps from where they are consuming them," Steel said. "Our goal is to continue serving as a model of sustainability and encourage others to consider the potential of urban farming and its positive impact on the community."
On the Javits Center's rooftop farm, farmers with Brooklyn Grange are planting a variety of crops, from basil and broccoli to tomatoes and turnips. They work closely with the convention center's on-site chefs to integrate the produce into meals created for specific events, from trade shows to black-tie galas.  
To further its environmental commitment, the Javits Center also unveiled the creation of a food forest as part of its unique rooftop ecosystem. With seven distinct layers stacked vertically, a food forest mimics the ecological benefits and produce dynamics found in forests and is designed to increase the biodiversity, efficiency and sustainability of food production systems.
Planted in a 10,000-sq.-ft. rooftop orchard constructed as part of the recent expansion, the food forest will amplify the ecosystem services already supplied by the Javits Center's green roof and farm, including stormwater mitigation, thermal regulation and forage and habitat for area wildlife. The wide variety of plants will create a more complex and resilient space for growing food for humans and other species that rely on green infrastructure in the built environment. Since 2014, 35 bird species, five bat species and thousands of insects have been observed on the Javits Center's green roof, in addition to five active beehives.
Since 2014, the Javits Center has reduced its energy consumption by 26% and added a new three-story building with transformers, back-up generators and other electrical equipment to power the expanded convention center.
Los Angeles Convention Center
The Los Angeles Convention Center (LACC) announced a ban on single-use plastic bottles throughout the facility, pivoting to the use of aluminum bottles and partnering with the Los Angeles Department of Water & Power to promote the use of hydration stations.  
Levy Restaurants, the LACC's exclusive food and beverage partner, has replaced single-use plastic bottles with aluminum bottles throughout cafes and catering operations. Beverages sold in the center's vending machines have followed suit.
"As an environmentally responsible facility, this was an obvious next step," said Ellen Schwartz, general manager of the LACC. "The long-term cost of single-use plastic to our environment was something we could no longer ignore."
Los Angeles Mayor Eric Garcetti's goal to eliminate plastic bottles throughout city-owned facilities includes replacing single-use plastic water bottles with sustainable alternatives, including recyclable aluminum, glass or certified compostable material, as part of the push to make city spaces a model for sustainable economic growth.
Eliminating plastic water bottles at the convention center is an important milestone in addressing climate change, reducing waste and meeting Garcetti's ambitious goals in L.A.'s Green New Deal, according to Doane Liu, executive director of the City Tourism Department.
"The LACC has been a leader in sustainability, not only with this effort but by installing the largest solar array on a municipally owned convention center in the U.S.," Liu said, adding that she is grateful for Schwartz's leadership in making the LACC a model for sustainability.
In addition to reducing plastic pollution, the newly introduced aluminum bottles are easily refillable from one of the 21 hydration stations on-site. To date, the water refilling stations have saved an estimated 150,000 plastic bottles.
Recently, the LACC teamed up with the Los Angeles Department of Water & Power (LADWP) to more clearly identify the water refilling stations. "Fill Up Here" signs have been added to each hydration station to encourage guests to take advantage of the city's clean and safe water supply.
LADWP is expanding access to clean, drinking water by supporting the installation or refurbishment of at least 200 drinking water stations citywide by the end of 2022 and beyond.
New Orleans Ernest N. Morial Convention Center
The New Orleans Ernest N. Morial Convention Center (NOENMCC) announced the completion of some of the largest energy-saving initiatives ever undertaken in the region. The ambitious energy efficiency upgrades, including an overhaul of the facility's lighting and HVAC systems, are expected to save hundreds of thousands of dollars and millions of kilowatt hours, making the facility significantly more sustainable.
"Not only will these energy efficiency upgrades lessen the impact that the convention center has on the environment, they will also improve the experience our guests have when they visit the facility," said Linda Baynham, director of sustainability at the NOENMCC. "These upgrades improve the client experience while reducing environmental cost. We will continue to pursue energy-saving opportunities that support our mission of delivering results for our internal and external customers."
Part of its five-year capital improvement plan, the facility upgrades represent a major step forward in the convention center's plan to achieve LEED Certification—the most widely used green building rating system in the world.
Among several other initiatives, the NOENMCC completed the following energy efficiency projects:
            •           Replaced over 4,000 light fixtures with LEDs in the 1 million-sq.-ft. exhibit hall
            •           Installed over 40 miles of new wiring
            •           Retrofitted more than 2,000 light fixtures
            •           Replaced four 1,200-ton water cooled chillers with new high-efficiency systems

            •           Rebuilt the facility's heating, ventilation and air conditioning plant with a new control room and operations center
            •           Installed more than 60 energy-efficient water bottle filling stations
            •           Upgraded 36 sets of restrooms with low-flow fixtures
Through these projects, the convention center awarded $11 million in contracts to small and emerging businesses in the community and participated in Energy Smart, a comprehensive energy efficiency program developed by Entergy and the New Orleans City Council.
Although much has been completed, there will be more improvements to come. The convention center is currently investigating electric vehicle charging stations and solar power options and plans to install a reflective roof to further reduce both energy use and the heat island effect, the significantly hotter temperatures common in urban areas as compared to surrounding rural landscapes.
"These issues are very real, and we are examining every detail of our facility and operations, as we continue our work to reduce the convention center's carbon footprint," said Michael J. Sawaya, president of the NOENMCC. "As a hub for the local community and visitors to our city, we are committed to making sustainability a focus of everything we do moving forward." 
Photo: Rooftop farm at the Javits Center 
Don't miss any event-related news: Sign up for our weekly e-newsletter HERE and engage with us on Twitter, Facebook and  LinkedIn!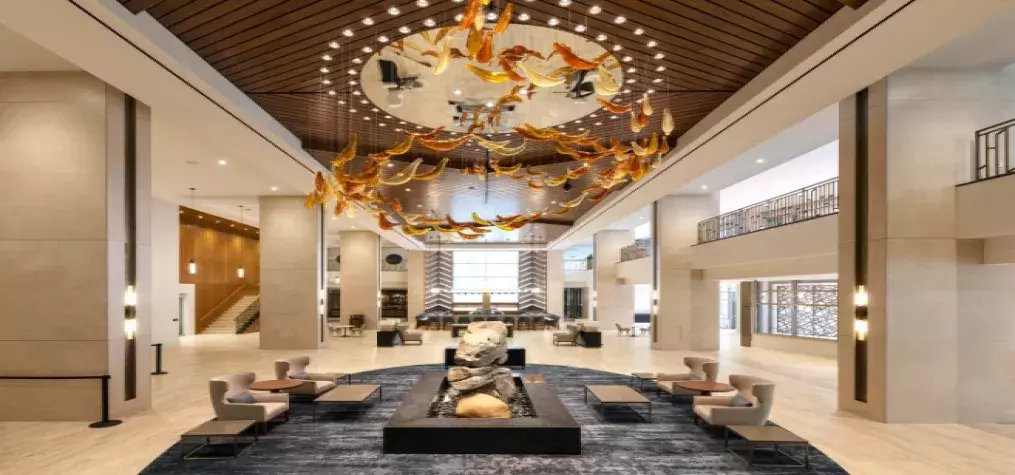 Located in beautiful North Carolina, Harrah's Cherokee is the perfect mountain getaway with breathtaking views of the Great Smoky Mountains and new additions to its resort and conference spaces sure to elevate any meetings or event. Completed in 2021, Harrah's Cherokee's latest $330 million expansion project introduced an entirely new fourth hotel tower, The Cherokee, as well as an additional 83,000 square feet of meeting space with the Cherokee Convention Center. The Cherokee tower brings with it 725 rooms and 70 luxurious suites spread out over 19 floors for a grand total of 1,800 rooms across the entire resort. The new rooms feature a sleek design with an earth-toned color palette and modern amenities. In addition to the new rooms, the expansion also brought with it a luxurious new lobby and lobby bar, a fitness center, a coffee & pastry bar, and a second pool. Conventions, trade shows, banquets, receptions, and even the smallest, most intimate gatherings can find the perfect arrangement at Harrah's Cherokee with its 130,000 square feet of flexible meeting space – including the Cherokee Convention Center. The resort offers a myriad of different spaces and configuration options for events, but the largest spaces include the following: 32,000-sq-ft Cherokee Convention Center ballroom with 22 meeting spaces 11,100-sq-ft Cherokee Convention Center ballroom pre-function space 33,000-sq-ft Cherokee Exhibit Hall 6,000-sq-ft Cherokee Exhibit Hall Pre-Function 13,801-sq-ft Council Fire Ballroom able to be reconfigured into as many as four ballrooms from 3,100 to 3,529-sq-ft each 16,815-sq-ft Event Center able to be configured in six different ways to accommodate 100 to 1,500 guests and offers four VIP suites, box seating, and more than 1,100 balcony seats. In addition to the new accommodations and meeting space, Harrah's Cherokee has also opened several new restaurants as part of the expansion including Guy Fieri's Cherokee Kitchen + Bar which includes the chef's award-winning burgers and barbeque on the menu. Another celebrity chef has also made their mark on the resort with the opening of Gordon Ramsay Food Market which features eight dining concepts ranging from sushi to New York-style deli sandwiches and classic fine-dining fare. Longtime Asheville favorite, Wicked Weed Brewing Pub has also debuted a new location next to Harrah's Cherokee Event Center creating the perfect after-event center with its bright and bold design, over thirty different beers, and live music on weekends. An easy drive from many of the largest cities in the Southeast, Harrah's Cherokee provides the perfect blend of majestic mountainscapes, luxurious new accommodations, and authentic Native American culture.