Net Zero Carbon Events Initiative Unveils Comprehensive Roadmap at COP27
December 8, 2022
Collaboration, commitment and consistency emerged as key themes, as a comprehensive roadmap for the Net Zero Carbon Events initiative was announced at the United Nations Climate Change Conference, COP27, held in Sharm El Sheikh, Egypt, Nov. 6-18.
The ambitious initiative, launched in 2021 through an alliance between the Global Association of the Exhibition Industry (UFI) and the Joint Meetings Industry Council (JMIC), is the events industry's global campaign to achieve net zero carbon emissions by 2050, and the new roadmap outlines exactly how the industry can achieve the goal.
Supported by the United Nations Framework Convention on Climate Change (UNFCCC), the initiative's aim is to attract and connect major events industry stakeholders around the world, including organizers, planners, exhibitors, venues, destinations and suppliers, to the rapidly growing movement to tackle climate change.
At COP 27, hundreds of event professionals around the world watched and listened to presentations and panel sessions highlighting the progress of the initiative since its launch last year, how the industry can move forward effectively using the roadmap, and how action areas and workstreams on topics such as travel, accommodation, energy, waste and measurement are the next steps.
In panel discussions about implementation, the need for structure, standardized measurement and immediate action figured prominently.
"Measurement is key—without it, you can't track progress," said Kai Hattendorf, CEO of UFI and JMIC board member. "The challenge in our sector is that every event is different. It's essential to take a united approach."
Edwin Van der Vennet, member of the Sustainability Committees of the International Federation of Exhibition and Event Services (IFES), the Experiential Designers and Producers Association (EDPA) and UFI, highlighted the urgent need for industry stakeholders to begin immediately.
"It's essential to start now—and start simple," Van der Vennet said. "There are no secrets. It's simply about getting started."
The Route to Net Zero
The roadmap creates a common framework for all event industry stakeholders to meet the net zero goal, a pathway for individual organizations as well as industry-wide action areas. The action areas have been identified where collaborative effort is needed along with a framework for measuring and evaluating progress.
The action areas and goals encompass the following:
Energy: Power events efficiently with clean, renewable energy.
 
Production and Waste: Redesign events to utilize sustainable materials and be waste-free.
 
Food and Food Waste: Source food sustainably and eliminate food waste.
 
Freight and Logistics: Move goods and equipment efficiently, and transition to zero emissions logistics.
 
Travel: Work with and influence partners in the travel sector to reduce and mitigate the emissions of travel to events.
Commenting on the value of the roadmap during COP 27, Helen Sheppard, head of sustainability at RX, said it encourages the industry to look at the overall perspective of event sustainability.
"It prompts us to question how we do business from the big—such as delegate travel—to the small—such as badging," Sheppard said. "Education is key to supporting the changes we need to implement."
The event for the launch of the Net Zero Carbon Events Roadmap opened with Miguel Alejandro Naranjo Gonzalez and Ina Parvanova of the UNFCCC congratulating the industry on developing it, particularly since such a wide range of stakeholders had been involved.
Meanwhile, James Rees, president of JMIC, expressed how JMIC was proud to be a unifying body for the industry in taking on the challenge of climate change.
Hattendorf reported that more than 400 organizations had signed the Net Zero Carbon Events Pledge, which was launched at COP26 in 2021.
Supporters Speak Out 
During a series of contributions by leaders of organizations who have committed to supporting the initiative, Monica Lee Muller, managing director of Hong Kong Convention and Exhibition Centre, said being part of Net Zero Carbon Events is a natural step.
"Sustainability is the company's guiding principle, and the concept is now deep rooted in our process and daily routines," Muller said.
Alan Steel, president and CEO of Javits Center in New York, confirmed that it's fine to start small and work toward larger goals.
Bob Priest-Heck, CEO of Freeman Company pointed out the complex nature of the event industry ecosystem and the need to work together to make real change happen.
"We need to reach outside our industry and connect with aligned sectors such as travel," Priest-Heck said.
Charlie McCurdy, CEO of Informa Markets reminded everyone that collectively, the industry brings together 1.5 billion business decision-makers every year across virtually all industries around the world.
"Our events have an estimated total economic impact per year of $1.5 trillion U.S. dollars," McCurdy said. "The exhibition industry is a catalyst for change."
With the Net Zero Carbon Events initiative on progress so far, Hattendorf said the launch of the roadmap at COP27 is a major milestone following the announcement of the pledge at COP26.
"This is the biggest, most inclusive action ever from our industry," Hattendorf said. "By COP28, we will have models for implementation, successful pilots to announce and share, and companies beginning to report their progress into the framework."
In concluding, Rees underscored the need to drive consistency across the industry, since addressing the fundamental sustainability challenge is a global and united effort.
"The roadmap will support and guide organizations through this process of achieving Net Zero linked to our target, and it is an ambitious target, but it is one we really must meet," Rees said. "We have no choice. We have to act, and we have to do so now."

"I'm very positive about the future," he added, urging industry stakeholders to sign up for the initiative and become part of the roadmap.
To join the Net Zero Carbon Events initiative, click here. 
For a full report of the roadmap, with comprehensive information on how to implement action to achieve net zero, click here. For an executive summary of the roadmap, click here.
Don't miss any event-related news: Sign up for our weekly e-newsletter HERE, listen to our latest podcast HERE and engage with us on Twitter, Facebook, LinkedIn and Instagram!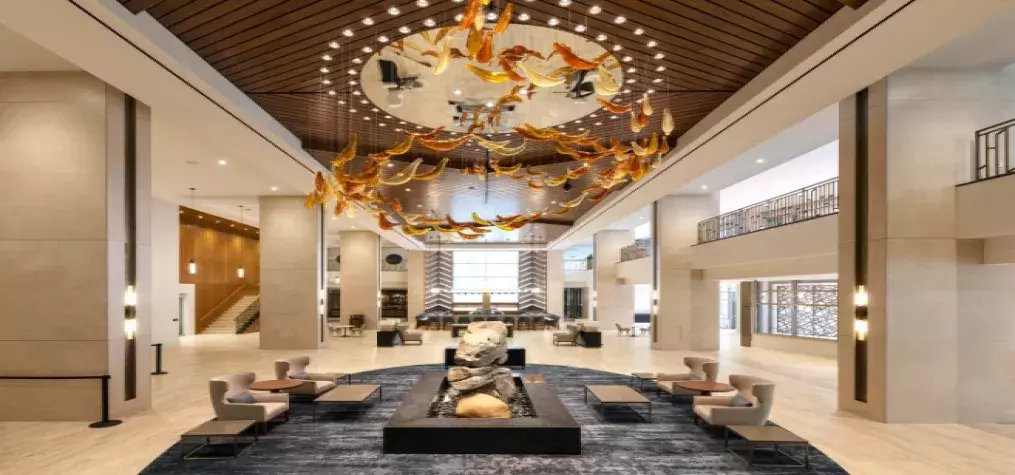 Located in beautiful North Carolina, Harrah's Cherokee is the perfect mountain getaway with breathtaking views of the Great Smoky Mountains and new additions to its resort and conference spaces sure to elevate any meetings or event. Completed in 2021, Harrah's Cherokee's latest $330 million expansion project introduced an entirely new fourth hotel tower, The Cherokee, as well as an additional 83,000 square feet of meeting space with the Cherokee Convention Center. The Cherokee tower brings with it 725 rooms and 70 luxurious suites spread out over 19 floors for a grand total of 1,800 rooms across the entire resort. The new rooms feature a sleek design with an earth-toned color palette and modern amenities. In addition to the new rooms, the expansion also brought with it a luxurious new lobby and lobby bar, a fitness center, a coffee & pastry bar, and a second pool. Conventions, trade shows, banquets, receptions, and even the smallest, most intimate gatherings can find the perfect arrangement at Harrah's Cherokee with its 130,000 square feet of flexible meeting space – including the Cherokee Convention Center. The resort offers a myriad of different spaces and configuration options for events, but the largest spaces include the following: 32,000-sq-ft Cherokee Convention Center ballroom with 22 meeting spaces 11,100-sq-ft Cherokee Convention Center ballroom pre-function space 33,000-sq-ft Cherokee Exhibit Hall 6,000-sq-ft Cherokee Exhibit Hall Pre-Function 13,801-sq-ft Council Fire Ballroom able to be reconfigured into as many as four ballrooms from 3,100 to 3,529-sq-ft each 16,815-sq-ft Event Center able to be configured in six different ways to accommodate 100 to 1,500 guests and offers four VIP suites, box seating, and more than 1,100 balcony seats. In addition to the new accommodations and meeting space, Harrah's Cherokee has also opened several new restaurants as part of the expansion including Guy Fieri's Cherokee Kitchen + Bar which includes the chef's award-winning burgers and barbeque on the menu. Another celebrity chef has also made their mark on the resort with the opening of Gordon Ramsay Food Market which features eight dining concepts ranging from sushi to New York-style deli sandwiches and classic fine-dining fare. Longtime Asheville favorite, Wicked Weed Brewing Pub has also debuted a new location next to Harrah's Cherokee Event Center creating the perfect after-event center with its bright and bold design, over thirty different beers, and live music on weekends. An easy drive from many of the largest cities in the Southeast, Harrah's Cherokee provides the perfect blend of majestic mountainscapes, luxurious new accommodations, and authentic Native American culture.