People News: Baltimore Convention Center, PCMA, Destination DC and More Tap New Leaders, Elevate Team Members
January 9, 2023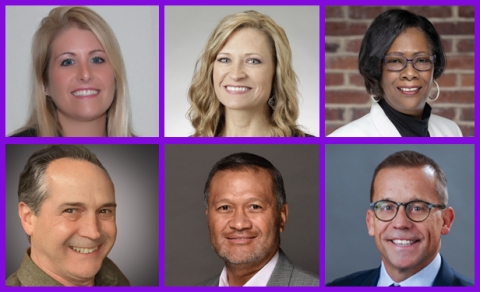 As the trade show industry kicks off 2023, event-related organizations across the U.S. are welcoming new executives and promoting staff as they prepare for a year of growth, strong demand and continued post-pandemic recovery. Check them out!  
Baltimore Convention Center

 
After a nationwide search, Baltimore Mayor Brandon Scott has nominated certified venue professional Mac Campbell as the new executive director of the Baltimore Convention Center. His appointment follows the Sept. 1 retirement of Peggy Daidakis after 49 years of service to the City of Baltimore.
Campbell began his career at the center in 2012 as director of client services, responsible for managing more than 70 employees in charge of event operations. He was promoted by Daidakis to deputy director in 2017 and was tasked with leading the center's senior staff team, focusing on employee engagement, promotion and sales, as well as assisting Daidakis in making long-term decisions directly impacting the organization's mission, vision, capital improvement projects and corporate social responsibility.
Campbell returns to the center after assuming the role of vice president of operations for the Strathmore Hall Foundation in 2021.
PCMA

 
Recognized business events and destination marketing executive Junior Tauvaa recently joined PCMA as chief business officer, responsible for overseeing events and education, CEMA at the strategic level, Convene and the product development teams.
Tauvaa joins PCMA with more than 25 years of experience in the meetings and tourism industries, most recently serving as chief sales officer with Visit Anaheim for nine years. Besides his instrumental role in raising the profile of Anaheim and Orange County as a premier business events and leisure destination, he helped open the Anaheim Convention Center's (ACC) most recent expansion, ACC North, and launched the Orange County Sports Commission.  
Tauvaa's previous positions include leadership roles at MPI and the MPI Foundation and the Los Angeles Tourism & Convention Board. A PCMA member for more than 15 years, he has also served as chair for PCMA's annual Partnership Summit.
Destination DC 

 
Destination DC (DDC), the official destination marketing organization for Washington, D.C., recently appointed a new executive and senior staff to its leadership team. 
Danielle Davis has been promoted to vice president of communications after joining the organization as director of communications in 2015. She leads the communications department in executing organization-wide messaging and strategy, crisis communications and editorial coverage and now expands her communications footprint by providing presentation training, refining messaging and collaborating on annual campaigns and industry events. She also joins DDC's executive team.   
Twenty-five year DDC veteran Calvin Morgan has been appointed director, information technology and business intelligence, responsible for managing all the organization's IT needs and technical training. Along with auditing current and new technological developments, Morgan is charged with enhancing DDC's usage of CRM, software and training as well as building future IT systems. 
Torri Christian has been tapped as director, marketing. As the longest serving member of DDC's marketing and communications team, she has held nearly every position from assistant to manager to associate director. Besides managing DDC's $5M advertising budget in FY23, Christian is responsible for advertising strategy and research and will manage a new paid social media strategy designed to complement DDC's advertising.    
Ten-year DDC veteran Andrew O'Connor is now director, content marketing, focused on content marketing and leveraging new technology, market shifts and changing trends. Managing DDC's content strategy, he leads the team responsible for inspiring travel through the DMO's website, social media, email marketing and publications.  
After leading DDC's human resources department since she joined the organization in 2016, Terri Carter has been appointed director, people and culture. She was instrumental in converting the payroll system in 2018 and manages both onboarding and deboarding processes for current and former DDC employees. In her new role, Carter will expand her team with the position of talent acquisition manager to focus on recruitment, onboarding, talent development and DEI in the workplace.
Taffy Event Strategies
Full-service trade show management firm Taffy Event Strategies has promoted Jenn Heinold to president of the company. Heinold joined Taffy Events in the fall of 2021 as chief operating officer and in her first year with the company, she secured and executed multiple pieces of new business, improved processes, restructured the team to capitalize on strengths and skill sets and built strong relationships with Taffy Events' core clients.  
With Heinold's promotion, current president Jennifer Hoff will assume the role of CEO and founder, enabling her to spend more time on new business ventures as well as focus more on giving back to the community and industry.
ASM Global 
Leading venue management, event strategy and entertainment experiences producer ASM Global has made several executive hires as it moves along its ambitious growth trajectory.
Veteran entertainment and sports executive Gary Jacobus was recently named president of business development for the U.S. and Latin America, responsible for overseeing the company's rapidly expanding business development and account-retention footprint across the Americas. He will also provide support and assistance to the European and APAC business development teams.
Jacobus previously served as senior vice president of business development and sales for Zippin. 
The company also made additional executive hires: Bryce G. Townsend, senior vice president, commercial partnerships; Kevin Dent, vice president, sponsorship sales and business development; and Emily Wilson, director of marketing solutions.
Townsend brings more than 20 years of strategic consulting, brand marketing and commercial strategy experience to his new role, with a diverse background that includes executive leadership roles at GroupM, Momentum Worldwide and the Drone Racing League.
Dent has spent more than 25 years in various sports and lifestyle corporate sponsorship roles, including AT&T, NBA, MLS, the Summer Olympics and Host Communications. 
Wilson comes to ASM Global from Dotdash Meredith, America's largest digital and print publisher, following stints at Time Inc. and Universal McCann. 
Choose Chicago 

 
Choose Chicago recently filled key leadership positions within its convention sales team.  
T. Cahal Mowery has joined the Choose Chicago sales team as vice president of sales. In this role, Mowery will work with Dawn Young, also vice president of sales, to promote Chicago as a premier meetings destination by managing the daily sales activities of the organization, including developing and implementing strategic sales plans. He previously served as director of convention sales for Visit Denver for four years, and prior to that, held positions as director sales and catering for JW Marriott Houston and at Visit Houston as a national account executive, convention sales.    
Eric Kincaid was promoted to associate vice president of sales, responsible for supervising and leading Choose Chicago's Mid-Atlantic sales team. He most recently served as the CVB's senior director of convention sales and boasts more than a decade of experience in sales at destination marketing organizations and hotels, most recently as a national account director at Destination DC before joining the Choose Chicago team in 2021.  
In November, Robert Leff joined Choose Chicago as director of business development and sales strategy, responsible for attracting new mid- to large-scale meetings and events to Chicago. He most recently worked for Visit Pittsburgh as senior national sales director for nine years, and prior to that, held leadership positions at Gaylord Hotels and Meet Minneapolis. Leff has also worked at the Hilton Minneapolis, the Hiltons of Chicago and the Hilton Chicago O'Hare Airport.
Mowery, Leff and Kincaid will be key members of the team selling and marketing McCormick Place Convention Center and the City of Chicago under the leadership of Dustin Arnheim, senior vice president of sales and services.
Trifecta Collective 
Trade show acquisition and growth platform Trifecta Collective has expanded its executive team with two new hires.  
The company recently welcomed 25-year trade show industry veteran Donna Bellantone as COO, responsible for providing strategic leadership and day-to-day operational and organizational management. Prior to joining Trifecta, Bellantone launched a new business division at Freeman that provides operational support to organizers and associations. Prior to Freeman, Bellantone served as executive vice president at Informa Markets, overseeing a portfolio of events in the infrastructure and construction industry. 
Bill Doll has assumed the role of CFO. Prior to joining Trifecta, he worked as the director of financial planning and analysis for the Center for Vein Restoration and prior to that, served as director of FP&A for Zonda, formerly Hanley Wood.  
CompuSystems 
Event registration and lead management services provider CompuSystems (CSI) has promoted Mark LoGiurato to CEO, responsible for guiding the organization in its mission to provide premium event experiences across the many markets the company services, including trade, association, corporate and government. 
LoGiurato spent the past four years working as CSI's COO and chief revenue officer, and during his tenure, led the operations, sales, marketing and client management teams. A veteran of the trade show industry, he has held various senior executive roles in media and SaaS companies, including senior vice president for Reed Exhibitions.  
CSI also welcomed event industry veteran Josiah Taulbee as executive vice president, business development and strategy. His responsibilities will encompass new target market initiatives, new product development, identifying partnership and acquisition opportunities, in addition to contributing to the company's overall sales, marketing and business strategies.  
Bringing nearly 20 years of event operations, marketing, data analytics and leadership experience to his new role, Taulbee led high-performance registration, operations and client support teams at UBM Advanstar, UBM Americas and Informa Markets before coming to CSI. 
Have some trade show-related people news to share? Please send announcements and high-resolution headshots to lpsavas@tsnn.com.
Don't miss any event-related news: Sign up for our weekly e-newsletter HERE, listen to our latest podcast HERE and engage with us on Twitter, Facebook, LinkedIn and Instagram!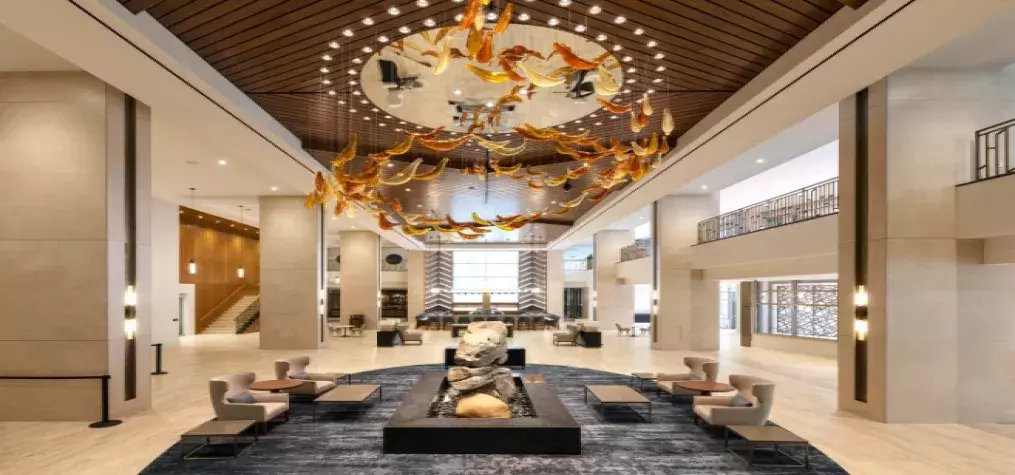 Located in beautiful North Carolina, Harrah's Cherokee is the perfect mountain getaway with breathtaking views of the Great Smoky Mountains and new additions to its resort and conference spaces sure to elevate any meetings or event. Completed in 2021, Harrah's Cherokee's latest $330 million expansion project introduced an entirely new fourth hotel tower, The Cherokee, as well as an additional 83,000 square feet of meeting space with the Cherokee Convention Center. The Cherokee tower brings with it 725 rooms and 70 luxurious suites spread out over 19 floors for a grand total of 1,800 rooms across the entire resort. The new rooms feature a sleek design with an earth-toned color palette and modern amenities. In addition to the new rooms, the expansion also brought with it a luxurious new lobby and lobby bar, a fitness center, a coffee & pastry bar, and a second pool. Conventions, trade shows, banquets, receptions, and even the smallest, most intimate gatherings can find the perfect arrangement at Harrah's Cherokee with its 130,000 square feet of flexible meeting space – including the Cherokee Convention Center. The resort offers a myriad of different spaces and configuration options for events, but the largest spaces include the following: 32,000-sq-ft Cherokee Convention Center ballroom with 22 meeting spaces 11,100-sq-ft Cherokee Convention Center ballroom pre-function space 33,000-sq-ft Cherokee Exhibit Hall 6,000-sq-ft Cherokee Exhibit Hall Pre-Function 13,801-sq-ft Council Fire Ballroom able to be reconfigured into as many as four ballrooms from 3,100 to 3,529-sq-ft each 16,815-sq-ft Event Center able to be configured in six different ways to accommodate 100 to 1,500 guests and offers four VIP suites, box seating, and more than 1,100 balcony seats. In addition to the new accommodations and meeting space, Harrah's Cherokee has also opened several new restaurants as part of the expansion including Guy Fieri's Cherokee Kitchen + Bar which includes the chef's award-winning burgers and barbeque on the menu. Another celebrity chef has also made their mark on the resort with the opening of Gordon Ramsay Food Market which features eight dining concepts ranging from sushi to New York-style deli sandwiches and classic fine-dining fare. Longtime Asheville favorite, Wicked Weed Brewing Pub has also debuted a new location next to Harrah's Cherokee Event Center creating the perfect after-event center with its bright and bold design, over thirty different beers, and live music on weekends. An easy drive from many of the largest cities in the Southeast, Harrah's Cherokee provides the perfect blend of majestic mountainscapes, luxurious new accommodations, and authentic Native American culture.