Metropolitan Pier and Exposition Authority Seeks Ideas for Re-Imagining of Lakeside Center at McCormick Place
September 29, 2022
The Metropolitan Pier and Exposition Authority (MPEA) in Chicago is soliciting ideas for the potential redevelopment of some or all of Lakeside Center, the east building of McCormick Place. Issued on Sept. 15, the Request for Information (RFI) will gather ideas for revitalizing the more than 50-year-old venue and providing an attractive new revenue generator for MPEA, the city of Chicago and the state of Illinois. 
According to MPEA officials, this process will provide innovators, architects and developers a once-in-a-lifetime opportunity to reimagine one of Chicago's signature buildings, which is located along Chicago's lakefront and just minutes from major attractions, thus offering endless possibilities. 
"It is an exciting time not just for MPEA, but for Chicago and Illinois as well," said Larita Clark, CEO of MPEA, which owns McCormick Place, Wintrust Arena, Hyatt Regency McCormick Place and Marriot Marquis Chicago Hotels. 
She continued, "This RFI provides an unprecedented opportunity for developers, innovators and architects to reimagine an iconic building on Chicago's coveted Lake Michigan shoreline. MPEA is confident this process will result in many incredible ideas that will complement our existing business, the neighborhood and the Museum Campus and provide new tax revenue streams for the city and state." 
Designed by renowned architects Gene Summers and Helmut Jahn of C.F. Murphy Associates, Lakeside Center is recognized as one of the most striking buildings situated along Chicago's lakefront and one that has long served as a crucial economic driver for the region. 
Featuring 580,000 square feet of exhibit space across two halls, 141,000 sq. ft. of meeting space, including 40 meeting rooms and a 45,000-sq.-ft. ballroom, landscaped outdoor terraces and the 4,192-seat Arie Crown Theater, the building is also home to McCormick Place's 30,000-sq.-ft. commercial kitchen that serves the entire campus.
Located minutes from major attractions including the Field Museum of Natural History, Soldier Field, the Shedd Aquarium, Millennium Park and Chicago's downtown business district, Lakeside Center's surroundings are unlike any other redevelopment opportunity, according to MPEA officials. 
"While Lakeside Center is a core component of our campus, we are always looking for ways to increase our impact," Clark added. "We truly hope that submissions consider Lakeside Center a blank canvas in this process and that we receive innovative submissions that will add to this building's remarkable legacy."
According to MPEA officials, the authority is open to all ideas from all interested parties. Not only will the ideal concept align with MPEA's mission to attract trade shows, conventions and events while increasing MPEA's economic impact, but the project should also show a strong commitment to sustainability, supplier and workforce diversity and fair labor practices. 
Concepts may be open to the public, operate on a seasonal basis and use as much or as little of Lakeside Center as desired. However, proposals must also include a plan to replace lost space and maintain the building's existing functionality to ensure current business operations and events can continue normally and as planned. 
Currently, more than 250 events are scheduled in Lakeside Center and the Arie Crown Theater through 2035.
MPEA officials also stated that the authority is open to exploring multiple economic models with potential developers, including revenue-sharing and annual payments.
The deadline for all RFI responses is Dec. 22, 2022. To learn more and to view the full RFI document, go here. 
"On behalf of our city, I am thrilled to see MPEA take this exciting step," said Chicago Mayor Lori E. Lightfoot. "This initiative aligns with the great work completed by the Museum Campus Working group to reimagine and embolden this important area of our city. I look forward to seeing all the possibilities for enhancing Lakeside Center for years to come." 

Don't miss any event-related news: Sign up for our weekly e-newsletter HERE, listen to our latest podcast HERE and engage with us on Twitter, Facebook, LinkedIn and Instagram!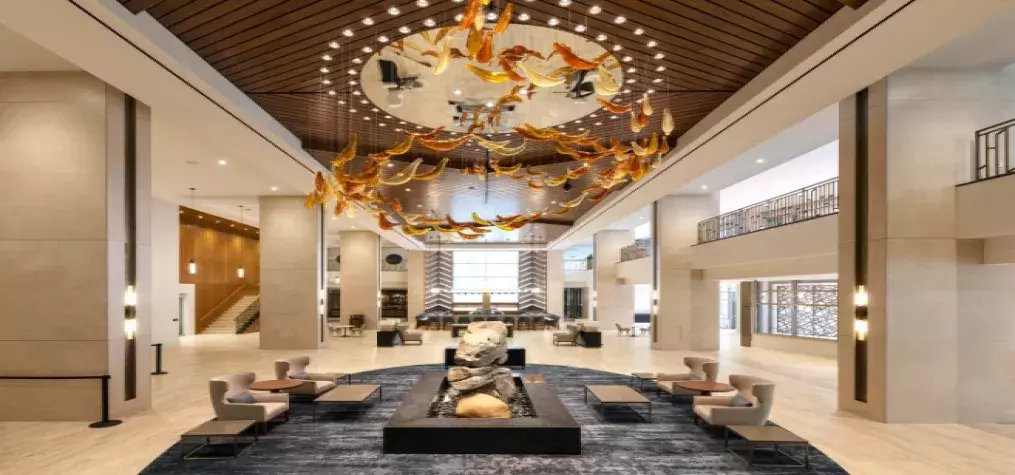 Located in beautiful North Carolina, Harrah's Cherokee is the perfect mountain getaway with breathtaking views of the Great Smoky Mountains and new additions to its resort and conference spaces sure to elevate any meetings or event. Completed in 2021, Harrah's Cherokee's latest $330 million expansion project introduced an entirely new fourth hotel tower, The Cherokee, as well as an additional 83,000 square feet of meeting space with the Cherokee Convention Center. The Cherokee tower brings with it 725 rooms and 70 luxurious suites spread out over 19 floors for a grand total of 1,800 rooms across the entire resort. The new rooms feature a sleek design with an earth-toned color palette and modern amenities. In addition to the new rooms, the expansion also brought with it a luxurious new lobby and lobby bar, a fitness center, a coffee & pastry bar, and a second pool. Conventions, trade shows, banquets, receptions, and even the smallest, most intimate gatherings can find the perfect arrangement at Harrah's Cherokee with its 130,000 square feet of flexible meeting space – including the Cherokee Convention Center. The resort offers a myriad of different spaces and configuration options for events, but the largest spaces include the following: 32,000-sq-ft Cherokee Convention Center ballroom with 22 meeting spaces 11,100-sq-ft Cherokee Convention Center ballroom pre-function space 33,000-sq-ft Cherokee Exhibit Hall 6,000-sq-ft Cherokee Exhibit Hall Pre-Function 13,801-sq-ft Council Fire Ballroom able to be reconfigured into as many as four ballrooms from 3,100 to 3,529-sq-ft each 16,815-sq-ft Event Center able to be configured in six different ways to accommodate 100 to 1,500 guests and offers four VIP suites, box seating, and more than 1,100 balcony seats. In addition to the new accommodations and meeting space, Harrah's Cherokee has also opened several new restaurants as part of the expansion including Guy Fieri's Cherokee Kitchen + Bar which includes the chef's award-winning burgers and barbeque on the menu. Another celebrity chef has also made their mark on the resort with the opening of Gordon Ramsay Food Market which features eight dining concepts ranging from sushi to New York-style deli sandwiches and classic fine-dining fare. Longtime Asheville favorite, Wicked Weed Brewing Pub has also debuted a new location next to Harrah's Cherokee Event Center creating the perfect after-event center with its bright and bold design, over thirty different beers, and live music on weekends. An easy drive from many of the largest cities in the Southeast, Harrah's Cherokee provides the perfect blend of majestic mountainscapes, luxurious new accommodations, and authentic Native American culture.