PCMA Unveils Bevy of Acquisitions, Alliances and Partnerships at 2023 Convening Leaders
January 9, 2023
PCMA announced several major acquisitions, alliances and partnerships designed to forge a path forward for the global business events industry while furthering its role as a leading platform for meeting and trade show professionals. The announcements were made on the first day of Convening Leaders 2023, taking place Jan. 8-11 at the Greater Columbus Convention Center in Columbus, Ohio. At a press conference, PCMA and CEMA President and CEO Sherrif Karamat outlined the association's strategic plan, which is based on four foundational pillars supported by various key initiatives. 
"As of today, we are only moving forward—blazing a trail forward with and for the global business events community," Karamat said. "We will innovate. We will take risks. We will get outside our comfort zone. And we will always do it for our audiences." 
Event Leadership Institute Acquisition
Effective immediately, PCMA has acquired the Event Leadership Institute (ELI), an online platform of professional development learning solutions and content for meeting and event industry professionals.  
According to PCMA officials, the acquisition bolsters the organization's already vast education portfolio while demonstrating its steadfast commitment to innovative industry education, which is critical to the business event industry's business performance and career success, particularly for next generation talent. 
ELI Founder Howard Givner and the ELI team immediately joins PCMA to establish what it expects to become the global business events industry's most powerful educational resource and product development design lab. 
As PCMA's new senior vice president of knowledge and innovation, Givner's contributions will assist PCMA with leading educational innovation for the industry. 
"Over 10 ten years ago, I founded the Event Leadership Institute with a simple mission: to help event professionals take their events, careers, teams and businesses to the next level," Givner explained. "We set out to develop highly curated education, delivered in ways that were accessible to working professionals when they needed it, online and on demand." 
He continued, "PCMA and its leadership team…align with our vision of empowering event professionals to take their events and jobs to new heights. And PCMA's support and global market reach will enable us to do that on a larger scale, developing the training resources our industry needs to excel no matter what comes our way." 
According to PCMA officials, current PCMA members will immediately benefit from this investment with access to ELI's extensive existing content library of 260 video modules and webinars, as well as a 20% discount on 17 certificate courses at no additional cost. 
Additionally, in the coming weeks, PCMA will welcome ELI's 800 existing members, subscribers and business partners as part of PCMA's global community, thus creating more network connections for everyone. 
"PCMA and the PCMA Foundation will continue to make new investments in the development of education and learning products as part of its plan to ensure the industry continues to be innovative today so that all can thrive tomorrow," Karmat added. 
New Partners and 2024 Location for Business Events Industry Week
In March 2022, PCMA's inaugural Business Events Industry Week (BEIW) was held at the Gaylord National Resort & Convention Center in Fort Washington, Md., successfully attracting more than 2,000 business event professionals. 
As an annual call-to-action for business events stakeholders to gather in Washington, D.C. through a series of collocated new and existing experiences, the event is designed to help event stakeholders and their business partners advance the role that purposeful gatherings of people play in the economic, social and intellectual enrichment of people and communities. 
"The vision for the future of BEIW is clear—to become the SXSW of the global business events industry," said Don Welsh, president and CEO of Destinations International. "We are thrilled to welcome back our co-locating partners from 2022, and to welcome those for 2023, including a collaboration with ASAE, the AMC Institute, EIC and the National Coalition of Black Meeting Professionals." 
With the Washington, D.C., region as its inspirational setting for a series of experiences featuring professional development, a commercial marketplace, idea incubators, community social transformation activities and networking experiences, the 2023 BEIW will take place March 7-9 at the Gaylord National Resort & Convention Center in National Harbor, Md.  
Karamat announced that the 2024 BEIW will take place April 9-11 at the Walter E. Washington Convention Center in partnership with Events DC and Destination DC. 
Taking Action on Climate
In line with PCMA's values regarding the climate crisis, which it sees as the biggest threat to livelihoods, the planet and the global business events industry, the association announced it is taking action. The association has formed a new partnership with the American Geophysical Union (AGU), a worldwide thought leader on climate change impact and innovation, which will help elevate the industry and its events when it comes to moving from lip service to action on sustainability.
"Our partnership with PCMA is built on five tenets: designing sustainable events, convening discussions related to risk and climate change, supporting the business events community with education and tools, harmonizing data and establishing goals for meaningful progress in the reduction of carbon, and recognizing innovation and thought leadership in the business events industry," said Randy Fiser, CEO of AGU. 
Furthering Inclusivity
Echoing its commitment to bringing all people together, PCMA has implemented a strategic alliance with the National Coalition of Black Meeting Professionals (NCBMP). According to PCMA officials, both organizations are committed to key elements to build value for their respective communities and for business event stakeholders everywhere.  
In addition, NCBMP is a collocating partner of the 2023 BEIW.
Acquisition of Event Marketing Association–UK
In 2020, more than 700 event marketing professionals and their business partners became part of PCMA's global community with its acquisition of CEMA, the corporate event marketing association. PCMA is building upon this audience by acquiring the Event Marketing Association–UK (EMA-UK), which comprises more than 800 corporate event marketing professionals representing a cross-section of EMEA industry segments and global brands. With this announcement, EMA-UK immediately becomes part of the PCMA global community.
"EMA was founded back in 2013 exclusively for the in-house UK corporate event profs," said EMA Chair Richard Waddington. "We've grown our membership from a handful of like-minded individuals to currently just under 1,000 members across the UK, achieving a lot along that journey through knowledge exchange and collaboration across our membership, whilst also representing them within the wider industry." 
He continued, "The opportunity of merging into PCMA and joining forces with CEMA to grow the representation and voice of the corporate [events industry] internationally is an opportunity for EMA not to be missed. PCMA will bring far greater resources and capability, the opportunity for greater growth and most important, far greater value for our members and partners. I'd like to thank the EMA Council members, current and past, for all their hard work and commitment and look forward to working with them and the PCMA family through this next phase of our evolvement."

Don't miss any event-related news: Sign up for our weekly e-newsletter HERE, listen to our latest podcast HERE and engage with us on Twitter, Facebook, LinkedIn and Instagram!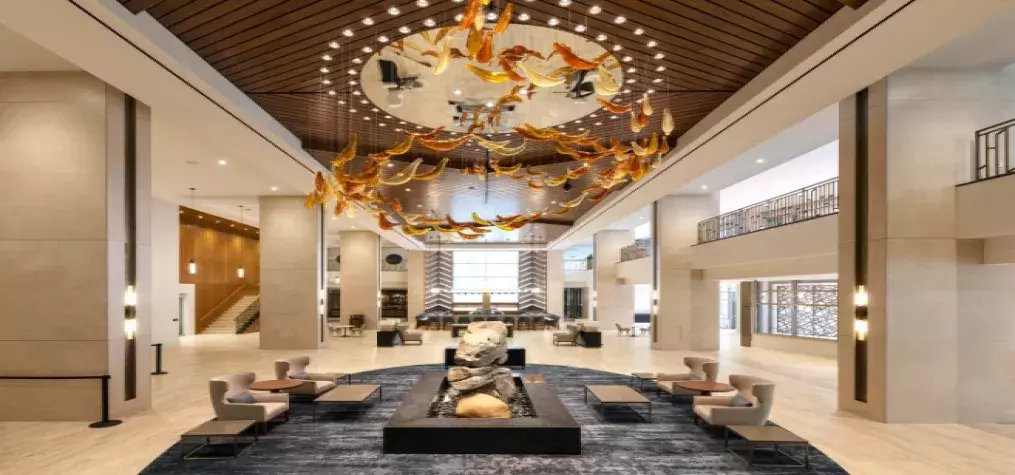 Located in beautiful North Carolina, Harrah's Cherokee is the perfect mountain getaway with breathtaking views of the Great Smoky Mountains and new additions to its resort and conference spaces sure to elevate any meetings or event. Completed in 2021, Harrah's Cherokee's latest $330 million expansion project introduced an entirely new fourth hotel tower, The Cherokee, as well as an additional 83,000 square feet of meeting space with the Cherokee Convention Center. The Cherokee tower brings with it 725 rooms and 70 luxurious suites spread out over 19 floors for a grand total of 1,800 rooms across the entire resort. The new rooms feature a sleek design with an earth-toned color palette and modern amenities. In addition to the new rooms, the expansion also brought with it a luxurious new lobby and lobby bar, a fitness center, a coffee & pastry bar, and a second pool. Conventions, trade shows, banquets, receptions, and even the smallest, most intimate gatherings can find the perfect arrangement at Harrah's Cherokee with its 130,000 square feet of flexible meeting space – including the Cherokee Convention Center. The resort offers a myriad of different spaces and configuration options for events, but the largest spaces include the following: 32,000-sq-ft Cherokee Convention Center ballroom with 22 meeting spaces 11,100-sq-ft Cherokee Convention Center ballroom pre-function space 33,000-sq-ft Cherokee Exhibit Hall 6,000-sq-ft Cherokee Exhibit Hall Pre-Function 13,801-sq-ft Council Fire Ballroom able to be reconfigured into as many as four ballrooms from 3,100 to 3,529-sq-ft each 16,815-sq-ft Event Center able to be configured in six different ways to accommodate 100 to 1,500 guests and offers four VIP suites, box seating, and more than 1,100 balcony seats. In addition to the new accommodations and meeting space, Harrah's Cherokee has also opened several new restaurants as part of the expansion including Guy Fieri's Cherokee Kitchen + Bar which includes the chef's award-winning burgers and barbeque on the menu. Another celebrity chef has also made their mark on the resort with the opening of Gordon Ramsay Food Market which features eight dining concepts ranging from sushi to New York-style deli sandwiches and classic fine-dining fare. Longtime Asheville favorite, Wicked Weed Brewing Pub has also debuted a new location next to Harrah's Cherokee Event Center creating the perfect after-event center with its bright and bold design, over thirty different beers, and live music on weekends. An easy drive from many of the largest cities in the Southeast, Harrah's Cherokee provides the perfect blend of majestic mountainscapes, luxurious new accommodations, and authentic Native American culture.