People News: ASM Global, Exhibitor Group, Ungerboeck and More Tap New Executives, Welcome Team Members
December 1, 2022
While the hiring craze that consumed the trade show industry over the past 18 months is showing signs of winding down, event-related organizations far and wide are still welcoming new and experienced talent to their teams, including established industry veterans, as they set their focus on success and growth in the new year ahead. Take a look! 
ASM Global 
Global venue and event strategy and management leader ASM Global has named industry veteran Kelvin D. Moore as regional vice president and general manager of McCormick Place in Chicago. As general manager, he will not only focus on providing strategic leadership and day-to-day operational management but also on creating new programs and partnerships designed differentiate Chicago as a choice event destination. 
A 30-year facility-operations veteran, Moore has held leadership positions at convention centers, stadiums and multi-purpose facilities throughout the U.S., most recently as regional vice president and general manager for ASM at the Pennsylvania Convention Center in Philadelphia. Prior to his time there, he served as regional general manager for Chicago's Festival Hall Complex at Navy Pier. 
Moore succeeds David Causton, who served as McCormick's general manager since 2004. During his tenure, Causton oversaw strong revenue growth as well as the convention center campus expansion, including planning and construction of the McCormick Place West Building and the construction of the 10,000-seat Wintrust Arena.
After less than one year with ASM Global as its executive vice president of marketing, Alex Merchán has been promoted to chief marketing officer, responsible for overseeing a global portfolio representing 20,000 events across 350 venues. In his new role, Merchán will spearhead ASM's branding and positioning across key areas including global partnerships, digital and CRM strategy, business development and advisory and investing efforts across the U.S. and internationally.
Since joining ASM Global, Merchán has also overseen all strategic marketing, PR, creative services and digital efforts across the ASM portfolio's stadium, arena, convention center and theater network worldwide. He has also been actively involved with the company's CSR Global Acts commitment to sustainability, community and DEI efforts. Previously, Merchán oversaw marketing for Live Nation's Clubs & Theaters division following a decade overseeing both sales and marketing at Hard Rock International.
Exhibitor Group

 
Trade show and corporate event marketing education leader Exhibitor Group, publisher of EXHIBITOR magazine and producer of EXHIBITORLIVE, recently welcomed four new industry executives to its team. 
As director of sales, Lauren Johnson is responsible for leading EXHIBITOR's sales team and working closely with clients to develop custom advertising and sponsorship opportunities. She previously worked for Louisville Tourism selling citywide conventions and trade shows, and working closely with key partners in the exhibitions industry.  
Johnson's first move was to add Dana Baldwin as an account executive to the sales team, where they will work to meet the advertising and promotional needs of EXHIBITOR's clients. Baldwin previously served as national sales manager at Louisville Tourism. 
Jolene Ihle joins the team as director of business development, responsible for expanding outreach and develop relationships with marketing professionals seeking continuous learning at EXHIBITOR's educational conferences, including EXHIBITORLIVE, EXHIBITORFastTrak, and EXHIBITOR eTrak. Ihle previously served as director of business Development for Entourage Events Group, Inc., and is a Steering Committee Member for the MN Events Coalition.
A graduate of the Certified Trade Show Marketer (CTSM) program, Stephanie Gibbs assumes the role of executive director of the CTSM program. Gibbs previously served as client services manager at Star Exhibits & Environments and Customer Service Manager for myBackyardStudio. Prior to that, she was an event specialist for Merrill Corporation.
Ungerboeck 
Global venue and event management software provider Ungerboeck has appointed seasoned software executive Alex Alexandrov as its new CEO. He joins Ungerboeck from SoftwareONE, where he served as a member of the executive board, COO and president of the Latin American region.  
During his tenure at SoftwareONE, Alexandrov and the executive team grew revenue by more than 300% and quadrupled EBITDA. He was instrumental in driving profitable growth, industrializing global shared service centers, building an M&A and post-merger integration program with 20 acquisitions and creating internal digital transformation. He also led the company's successful IPO in 2019.  
Prior to SoftwareONE, Alexandrov served as a managing director at Thomas H. Lee Partners, where he participated and led investments in technology services and fintech with Systems Maintenance Services, CompuCom, Black Knight, ServiceLink, System One, Nielsen and FIS.
Dallas Market Center
Retail and digital veteran Karen Ryder has joined global B2B trade center and leading wholesale marketplace Dallas Market Center as COO, responsible for overseeing multiple divisions including marketing, retail development, market services, IT and digital. 
Bringing extensive experience in retail, brand development and technology, including brick and mortar retail and digital, Ryder's previous roles include vice president of growth for Michaels, global head of brand and retail at RewardStyle (now LTK) and director of global innovation and corporate strategy at the Estee Lauder Companies.
Aramark 
Aramark, the exclusive caterer for the Anaheim Convention Center (ACC), has welcomed Bernard Foster as executive chef, responsible for leading the venue's food and beverage program. In his new role, Chef Foster will bring a diverse and fresh perspective to the ACC by blending fusion foods and traditional cuisine from different cultures.
Foster has previously held executive chef positions at several Hyatt hotels and has been instrumental on grand opening and renovation teams for numerous hotels worldwide. Through his work, he has remained committed to reducing his carbon footprint, a mission that aligns with Aramark's existing sustainable sourcing commitments. 
Skyline Exhibits
Trade show exhibiting company Skyline Exhibits recently welcomed trade show and live events industry veteran Mike Montgomery to the Skyline leadership team as senior vice president of client services. In this newly created role in which he will oversee all client service operations, Montgomery will work to strengthen Skyline's relationships with clients, support customer growth and elevate the company's position as a leading provider of custom modular exhibits.
Prior to joining Skyline, Montgomery most recently served as senior vice president of client and exhibitor services at GES, and has held previous positions in sales, client services and operations.
Have some event-related People News to share? Please send announcements and high-resolutions headshots to lpsavas@tsnn.com.
Don't miss any event-related news: Sign up for our weekly e-newsletter HERE, listen to our latest podcast HERE and engage with us on Twitter, Facebook, LinkedIn and Instagram!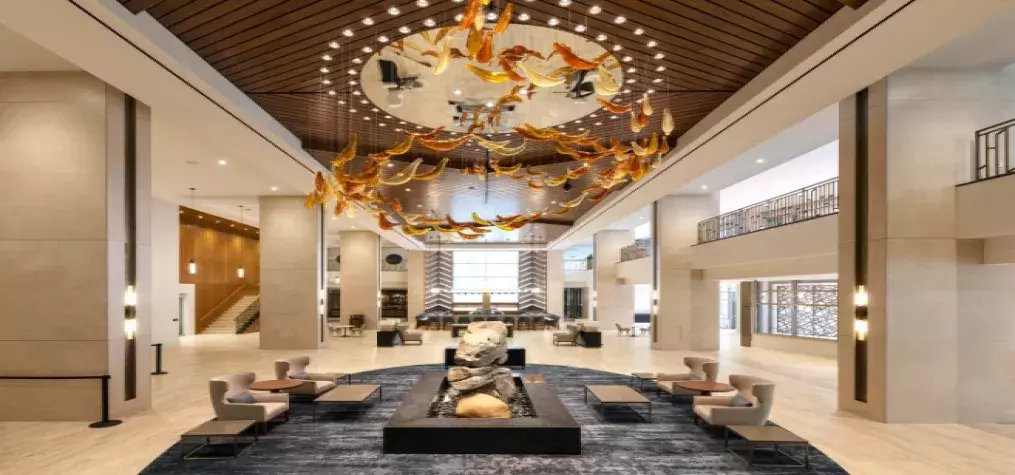 Located in beautiful North Carolina, Harrah's Cherokee is the perfect mountain getaway with breathtaking views of the Great Smoky Mountains and new additions to its resort and conference spaces sure to elevate any meetings or event. Completed in 2021, Harrah's Cherokee's latest $330 million expansion project introduced an entirely new fourth hotel tower, The Cherokee, as well as an additional 83,000 square feet of meeting space with the Cherokee Convention Center. The Cherokee tower brings with it 725 rooms and 70 luxurious suites spread out over 19 floors for a grand total of 1,800 rooms across the entire resort. The new rooms feature a sleek design with an earth-toned color palette and modern amenities. In addition to the new rooms, the expansion also brought with it a luxurious new lobby and lobby bar, a fitness center, a coffee & pastry bar, and a second pool. Conventions, trade shows, banquets, receptions, and even the smallest, most intimate gatherings can find the perfect arrangement at Harrah's Cherokee with its 130,000 square feet of flexible meeting space – including the Cherokee Convention Center. The resort offers a myriad of different spaces and configuration options for events, but the largest spaces include the following: 32,000-sq-ft Cherokee Convention Center ballroom with 22 meeting spaces 11,100-sq-ft Cherokee Convention Center ballroom pre-function space 33,000-sq-ft Cherokee Exhibit Hall 6,000-sq-ft Cherokee Exhibit Hall Pre-Function 13,801-sq-ft Council Fire Ballroom able to be reconfigured into as many as four ballrooms from 3,100 to 3,529-sq-ft each 16,815-sq-ft Event Center able to be configured in six different ways to accommodate 100 to 1,500 guests and offers four VIP suites, box seating, and more than 1,100 balcony seats. In addition to the new accommodations and meeting space, Harrah's Cherokee has also opened several new restaurants as part of the expansion including Guy Fieri's Cherokee Kitchen + Bar which includes the chef's award-winning burgers and barbeque on the menu. Another celebrity chef has also made their mark on the resort with the opening of Gordon Ramsay Food Market which features eight dining concepts ranging from sushi to New York-style deli sandwiches and classic fine-dining fare. Longtime Asheville favorite, Wicked Weed Brewing Pub has also debuted a new location next to Harrah's Cherokee Event Center creating the perfect after-event center with its bright and bold design, over thirty different beers, and live music on weekends. An easy drive from many of the largest cities in the Southeast, Harrah's Cherokee provides the perfect blend of majestic mountainscapes, luxurious new accommodations, and authentic Native American culture.