Trade Show Industry Leaders Share Trends and Predictions for 2023
January 5, 2023
In 2022, in-person U.S. trade shows enjoyed a steady comeback, attendees and exhibitors returned to showfloors to meet face-to-face again, event-related organizations went on hiring and promoting sprees, and industry professionals expressed a tone of optimism that hadn't been heard since before the COVID-19 pandemic. However, with rumblings of a possible recession on the minds of many business event professionals this year, how are industry leaders feeling about the future in 2023? 
"The general expectation among industry members is that 2023 will build on the industry's performance in 2022 and bring continued recovery and growth, although we are also cognizant that a certain amount of uncertainty remains," said David DuBois, president and CEO of the International Association of Exhibitions and Events (IAEE). "We are cautiously optimistic to see the number of in-person shows continue to increase and the key performance indicators for those shows moving in a positive direction. As recently reported by CEIR, B2B events in the U.S. remain on track for a full recovery by 2024." 
Along with DuBois, TSNN had the chance to speak with several industry leaders about their outlook for the year ahead, which key trends we should be paying attention to and what they foresee for the trade show industry in 2023.  
Janet Dell, President and COO, Freeman
Following a challenging few years, we have learned that events matter more than ever, and the investment in trade shows will continue to grow. In fact, despite economic hardships that are affecting organizations today, a recent survey Freeman conducted showed that 82% of marketing decision makers plan to maintain or increase event spending over the next 12 months. This shows that companies understand the positive effects of bringing people together and how it translates to overall success. 
The Millennial generation is now the largest segment of the U.S. population, so it's important to get inside the Millennial mind to see just how we can get them coming to events—and keep them coming back year after year. 
A few key trends to make note of include:
Event location and timing

. According to our research, 68% of event attendees said event location influences their participation for in-person events. Millennials are more focused on experiences and less on entertainment, which means event organizers should think beyond the show floor to all the destination has to offer. 


 

Networking is critical

. Many respondents agree that in-person events are more valuable now than in 2020—and networking opportunities are essential. Because of Millennials, networking has become the most important element at in-person events, taking over exhibits, which was at the top of the list before the pandemic. The pandemic reminded us of the power of human connection, therefore the kind of networking experience also matters, [especially] opportunities to learn from experts and exchange ideas on top issues with peers. 


 

Sustainability

. Prioritizing eco-conscious choices at events makes a difference not only because it's good for the environment, but also because it's good for business and it's increasingly the table stakes of Millennial expectations. We must collaborate across the ecosystem to maximize our impact. It's also important to get your audiences involved because building sustainable events is a team sport. 
Alan Steel, CEO, Javits Center
Our trade shows have returned with increased energy, enthusiasm and attendance, and we anticipate these events to continue expanding this year. The pandemic compelled event organizers to evaluate their business models, and we anticipate those evaluations to continue. Among our major trade shows, we have seen smaller events in terms of square footage, but these events are producing greater experiences with more business opportunities for exhibitors and attendees.
Floor plans are being reimagined with more space for interaction among guests. Some events are co-locating to reduce overall costs and introduce their client base to new products and services. More elements of technology and sustainability are being incorporated as event organizers seek to connect with local communities and reinforce the positive impact of our industry.
In the wake of the pandemic, face-to-face meetings have never been more valued, but how people come together and exchange ideas is certainly evolving. Therefore, creating a unique experience that is safe, efficient and effective will be one of the most important goals for our industry in 2023.
Amy Calvert, CEO, Events Industry Council
We are optimistic that the global business events sector in 2023 will continue to show signs of resilience and growth. With regional performance correlating strongly to geopolitical and health and safety realities, it's clear that we will need to continue to demonstrate plans and practices closely aligned with evolving risk assessment and mitigation plans while also working on the adaptations and innovations necessary to ensure our sector's future relevance and vibrance. 
Event owners and show organizers will continue to work closely with their supply chain and partners by investing  in the areas noted above. They also will work closely in the implementation of regenerative and equitable practices necessary to ensure our sector's contribution to massive societal needs and position itself as a force for good—and essential mechanism for economic growth, education and social impact. 
There will continue to be geopolitical and economic headwinds in 2023 without a doubt, however, we as a sector are learning to align around those lessons learned over the past few years, prioritizing value creation, shared risk, shared objectives and quality of the experience versus the revival of elements that no longer serve our needs.
Steve Hill, President and CEO, LVCVA
We welcome 2023 with continued optimism after experiencing a strong comeback for Las Vegas and our trade show partners in 2022. Las Vegas enjoyed hosting a full schedule of trade shows and meetings, but we're not all the way back to pre-pandemic levels as show attendance is approximately 75% recovered. We believe exhibition sales in 2023 will exceed 2019 levels, and nearly all of our trade show partners report steady growth in convention attendance.
Attracting exhibitors and attendees from key international markets remains a focus for many of our show producers. Visa processing delays remain a barrier to a full recovery of international attendance.  
Despite that challenge, Las Vegas kicks off a strong trade show calendar year by hosting CES, the most influential tech event in the world, and 2023 also marks the start of the Las Vegas Convention Center's $600 million, three-year rolling renovation of its legacy campus to further grow business travel to Las Vegas. [We] remain bullish on the future of the trade show industry. 
Nancy Drapeau, Vice President of Research, CEIR
CEIR anticipates a continued rebound of the B2B exhibition industry, though it is not expected to surpass 2019 results. It will still trail 2019 by 10%. Nonetheless, the industry is heading in the right direction. This outlook factors in a macroeconomic scenario where a recession may happen. That probability is 50:50. 
Areas most immune to recessionary pressures in 2023 include: 
The government sector will grow, particularly in the military sub-sector. The Ukraine war and tensions with Russia and China have resulted in bipartisan support for higher defense spending, already passing a 10% increase in defense spending in 2022.


 

The food sector has performed strongly thus far in 2022 and is expected to continue doing so.
Other trends:
IT will continue to readjust as in-person business and consumer activities resume. This sector has already planned to shed thousands of jobs it had added during the pandemic and is expected to struggle next year. Given this outlook, attendance will be challenging.


 

Thus far this year, the consumer goods and retail sector has been one of the weakest sectors but is expected to rebound this year. In 2022, retailers had excessive inventory, and that prompted a lack of need to attend retail sector shows. By year-end 2022, inventories were depleting, and thus it is expected that buyers will return in 2023 to replenish their stocks.


 

International travel will continue to be challenged this year, particularly in light of the slow turnaround in approving business visas.


 

Domestic business activity is where there is opportunity for trade shows. There is demand for niche, more personalized events. Expect to see growth in the number of regional, smaller events.


 

Sustainability practices will be an attractive selling feature of in-person events.


 

Organizers are expected to continue to pull back from running hybrid events, giving attendees and exhibitors the option to participate in trade shows in-person or online. At the same time, it is expected that there will be experimentation with deploying digital products at other times during the year that use content curated from in-person events to engage with audiences that prefer to support their business information needs digitally. 


 

Other stand-alone digital events, other than virtual B2B exhibitions, are likely to appear. The "virtual exhibit hall" is dead. It died in 2011 and deserves to die permanently in 2023. Organizers will become more adept in launching digital products that play to the strengths of the two-dimensional medium that is digital. 


 

Organizers and exhibitors will experiment with how to exploit the growing number of B2B buyers who are comfortable with making purchases through online, self-serve options. This area may result in more organizers experimenting with selling sponsorship inventory this way or other products that are a fit for this purchasing preference. It will be the same on the exhibitor side. With the end goal of getting credit for post-event purchases that are a result of engagement that happened at a show, exhibitors will experiment with ways to help prospects make purchases via online options.
Dan Hoffend, Executive Vice President, Convention Centers, ASM Global
In addition to our robust convention center collection, ASM Global has an even larger group of stadiums, arenas and theaters with attendance approaching 2019 levels and in some markets, surpassing that year. Convention centers are on a different upward timing. For insight, we looked to the decision-maker. For a concert, sporting event or theater, it's a participant's personal decision, [but] if they attend a trade show or corporate event, it's the company's call. While the convention center space is climbing out quickly, it started long after the personal decision-making process took off. Convention centers will enjoy eight to 10 months of rising attendance before leveling off.
"Work-life balance" is out—it's only life. We have now combined work and life in ways that no one could have imagined. Everyone expects entertainment, excitement and the experiential at any business activity they attend. 
Spending days in a city without seeing anything but a hotel room and the four walls of a convention center is also out. Gens X, Y and Z are not buying this. They want to see and play in the city they are visiting.
Convention centers have traditionally been big boxes that landed in the middle of a city for a group of mysterious people from somewhere other than the city to gather in. However, we have unused dates. We also have an underserved community that requires support. Several cities are bringing revitalization community groups into their convention centers to create change. They need a place to meet, and we have the space, so let's support our community growth!
Nancy Walsh, President, Informa Markets, North America
We were really encouraged by our customers' enthusiasm to return to the show floor in 2022, and now that the pandemic is largely in the rear view, I think that trend will continue to grow in 2023, and we will see the in-person model return with even more force in the new year. It sounds trite, but there really isn't anything like face-to-face for relationship building or for the tactile experience of seeing and feeling products, and I think our customers recognize that. 
I also think there is a lot of potential for us to use digital solutions and data to create more efficient and effective experiences for our customers. We have learned that digital is definitely not a replacement for the trade show model, but it can help create a more meaningful experience for our communities through product directories, data-based matchmaking, wayfinding and more. 
I also think there will be more of an emphasis on sustainability and diversity and inclusion, with our communities looking for ways to be more responsible and more actively inclusive. We have a real opportunity to help them do that and should continue to collaborate across the industry to be better stewards for social and environmental sustainability, and help the communities we serve do the same. 
Carina Bauer, CEO, IMEX Group
The exhibitions industry enjoyed a significant bounce back in 2022, with a strong performance driven largely by the desire to meet and do business in person again post-pandemic. 2023 is likely to be another tough year, but for reasons that are clear to us all.
I expect to see resourceful exhibition and event designers rise to the challenge, focusing more strongly than ever on the value proposition of doing business and building relationships face-to-face. I also expect a renewed focus on the value of "live experiences" over pure business transactions. Similarly, live events of all kinds will become intentional gathering grounds for people with the same values to express themselves and expand their global networks; I expect sustainability and EDI (equity, diversity and inclusion) in particular to drive this behavior.
In the year ahead we should steady ourselves and expect the pace of change to increase even more rapidly, with new ideas, new formats, new launches, mergers, acquisitions and other developments. Technological adoption – I'm thinking about AI, here – will also rise, bringing with it industry debates about ethics, machine learning, privacy and more.
Given that exhibitions have existed for thousands of years as living, breathing, "pop-up" marketplaces, I'm interested to see how the sector evolves in 2023. Despite what I've said, it's almost impossible to predict a few months ahead, let alone a whole year. The lesson remains stay resilient, become even more flexible and be alert to change that can come from any direction.
Don't miss any event-related news: Sign up for our weekly e-newsletter HERE, listen to our latest podcast HERE and engage with us on Twitter, Facebook, LinkedIn and Instagram!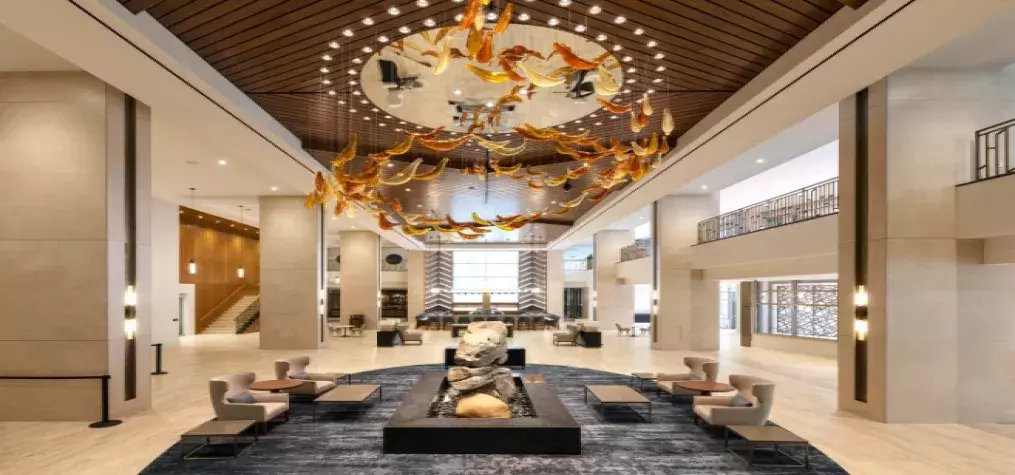 Located in beautiful North Carolina, Harrah's Cherokee is the perfect mountain getaway with breathtaking views of the Great Smoky Mountains and new additions to its resort and conference spaces sure to elevate any meetings or event. Completed in 2021, Harrah's Cherokee's latest $330 million expansion project introduced an entirely new fourth hotel tower, The Cherokee, as well as an additional 83,000 square feet of meeting space with the Cherokee Convention Center. The Cherokee tower brings with it 725 rooms and 70 luxurious suites spread out over 19 floors for a grand total of 1,800 rooms across the entire resort. The new rooms feature a sleek design with an earth-toned color palette and modern amenities. In addition to the new rooms, the expansion also brought with it a luxurious new lobby and lobby bar, a fitness center, a coffee & pastry bar, and a second pool. Conventions, trade shows, banquets, receptions, and even the smallest, most intimate gatherings can find the perfect arrangement at Harrah's Cherokee with its 130,000 square feet of flexible meeting space – including the Cherokee Convention Center. The resort offers a myriad of different spaces and configuration options for events, but the largest spaces include the following: 32,000-sq-ft Cherokee Convention Center ballroom with 22 meeting spaces 11,100-sq-ft Cherokee Convention Center ballroom pre-function space 33,000-sq-ft Cherokee Exhibit Hall 6,000-sq-ft Cherokee Exhibit Hall Pre-Function 13,801-sq-ft Council Fire Ballroom able to be reconfigured into as many as four ballrooms from 3,100 to 3,529-sq-ft each 16,815-sq-ft Event Center able to be configured in six different ways to accommodate 100 to 1,500 guests and offers four VIP suites, box seating, and more than 1,100 balcony seats. In addition to the new accommodations and meeting space, Harrah's Cherokee has also opened several new restaurants as part of the expansion including Guy Fieri's Cherokee Kitchen + Bar which includes the chef's award-winning burgers and barbeque on the menu. Another celebrity chef has also made their mark on the resort with the opening of Gordon Ramsay Food Market which features eight dining concepts ranging from sushi to New York-style deli sandwiches and classic fine-dining fare. Longtime Asheville favorite, Wicked Weed Brewing Pub has also debuted a new location next to Harrah's Cherokee Event Center creating the perfect after-event center with its bright and bold design, over thirty different beers, and live music on weekends. An easy drive from many of the largest cities in the Southeast, Harrah's Cherokee provides the perfect blend of majestic mountainscapes, luxurious new accommodations, and authentic Native American culture.