Visit California Launches First-Ever Campaign to Lure Professional Meetings and Events
April 20, 2022
Sponsored Article from Visit California
The Golden State's official marketing organization was popping plenty of Mumm Napa cuvee, as it officially unveiled a $4.5 million initiative to invest and market in the professional meetings and events space for the first time in its history.
"We're here today to celebrate that California has reopened and is ready for business, and we really feel like 2022 is going to be a monumental year for the state," said Caroline Beteta, president and CEO of Visit California, before revealing the state's new "Meet What's Possible" campaign at IMEX America, which includes an online platform, as well as sales and marketing initiatives.
The campaign, which is part of a $95 million stimulus championed by Gov. Gavin Newsom to help the state's tourism industry recover following the shutdowns and losses of the pandemic, aims to deliver the message that California is ready to host safe, distinctive and memorable meetings and events, according to Beteta.
"Meet What's Possible is an open invitation to [event professionals] and attendees across the world to consider California's dynamic blend of destination attributes, from state-of-the-art facilities and well-appointed venues to the iconic attractions and trademark experiences that are uniquely California," she said.
The messaging zeroes in on the state's kaleidoscopic appeal, according to Beteta, from its culture of inclusivity, collaboration and innovation that has led to some of the most successful and creative businesses in the world, to its geographic beauty, culturally rich destinations, plethora of event venue options and only-in-California experiences.
"We're all about celebrating abundance and diversity, and we found from our research that our brand purpose is also all the culture around the Golden State's accepting, open, inclusive attitude," she said. "It's the culture that connects us all around the diversity in this embarrassment of riches, and it's really what got us to our key positioning as we launched into this era of meetings and professional events—the power of possibility and the breadth of experiences available in California."
When event professionals do consider California, they'll have a wealth of new offerings to tap into.
"California has been very busy since the beginning of the pandemic," Beteta said. "We've experienced, essentially, a new renaissance, such as reinvented urban areas, 7,000 new hotel rooms and new experiences in the attractions landscape."
As a meeting and event destination, California has more convention centers than any other state, according to Beteta, 10.5 million square feet of function space, 6,500 hotels and resorts and an abundance of commercial airports and flights.
Meanwhile, health and safety are of utmost importance for residents and visitors alike, according to Beteta.
"We know from research that travelers value safe destinations, and I think you all know that California really put their best foot forward to look at safety first of not only the residents and workforce but our prospective visitors," she said. "We continue to do so with the many announcements going forward about continuing with safety first."
To jumpstart the landmark Meet What's Possible initiative for professional meetings and events, Visit California assembled a task force of destinations to advise on the state's initiative to promote it as premier events destination. Task force organizations include Long Beach Convention and Visitors Bureau, Los Angeles Tourism and Convention Board, Monterey Convention and Visitors Bureau, San Diego Tourism Authority, San Francisco Travel, Santa Monica Travel and Tourism, Visit Anaheim, Visit Greater Palm Springs, Visit Napa Valley and Visit Santa Barbara. 
"Meetings and events play an integral role in California's economy, and in close concert with these campaign partners, we look forward to charting a path towards a powerful recovery," Beteta said.
Please visit HERE for information on Meetings in California
Photo: Aerial view Long Beach, Calif.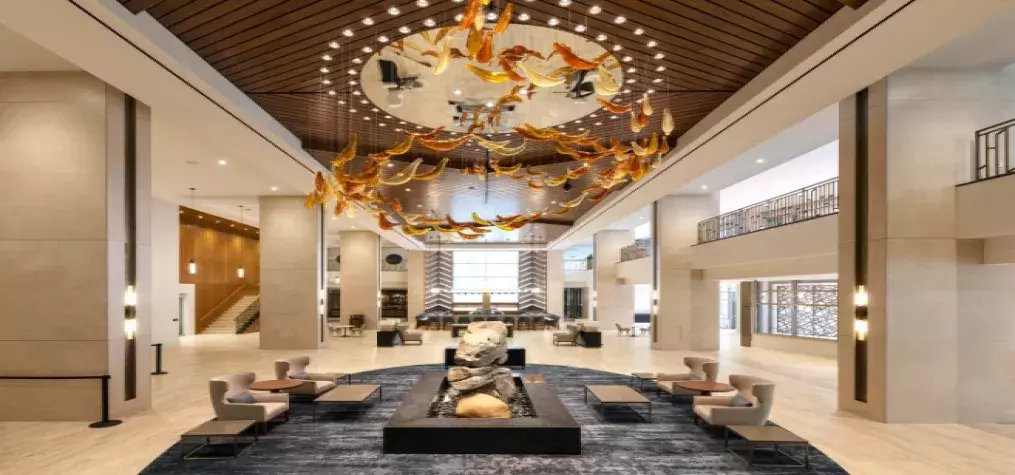 Located in beautiful North Carolina, Harrah's Cherokee is the perfect mountain getaway with breathtaking views of the Great Smoky Mountains and new additions to its resort and conference spaces sure to elevate any meetings or event. Completed in 2021, Harrah's Cherokee's latest $330 million expansion project introduced an entirely new fourth hotel tower, The Cherokee, as well as an additional 83,000 square feet of meeting space with the Cherokee Convention Center. The Cherokee tower brings with it 725 rooms and 70 luxurious suites spread out over 19 floors for a grand total of 1,800 rooms across the entire resort. The new rooms feature a sleek design with an earth-toned color palette and modern amenities. In addition to the new rooms, the expansion also brought with it a luxurious new lobby and lobby bar, a fitness center, a coffee & pastry bar, and a second pool. Conventions, trade shows, banquets, receptions, and even the smallest, most intimate gatherings can find the perfect arrangement at Harrah's Cherokee with its 130,000 square feet of flexible meeting space – including the Cherokee Convention Center. The resort offers a myriad of different spaces and configuration options for events, but the largest spaces include the following: 32,000-sq-ft Cherokee Convention Center ballroom with 22 meeting spaces 11,100-sq-ft Cherokee Convention Center ballroom pre-function space 33,000-sq-ft Cherokee Exhibit Hall 6,000-sq-ft Cherokee Exhibit Hall Pre-Function 13,801-sq-ft Council Fire Ballroom able to be reconfigured into as many as four ballrooms from 3,100 to 3,529-sq-ft each 16,815-sq-ft Event Center able to be configured in six different ways to accommodate 100 to 1,500 guests and offers four VIP suites, box seating, and more than 1,100 balcony seats. In addition to the new accommodations and meeting space, Harrah's Cherokee has also opened several new restaurants as part of the expansion including Guy Fieri's Cherokee Kitchen + Bar which includes the chef's award-winning burgers and barbeque on the menu. Another celebrity chef has also made their mark on the resort with the opening of Gordon Ramsay Food Market which features eight dining concepts ranging from sushi to New York-style deli sandwiches and classic fine-dining fare. Longtime Asheville favorite, Wicked Weed Brewing Pub has also debuted a new location next to Harrah's Cherokee Event Center creating the perfect after-event center with its bright and bold design, over thirty different beers, and live music on weekends. An easy drive from many of the largest cities in the Southeast, Harrah's Cherokee provides the perfect blend of majestic mountainscapes, luxurious new accommodations, and authentic Native American culture.