Join Your Industry Peers in Celebrating Global Meetings Industry Day April 7!
March 31, 2022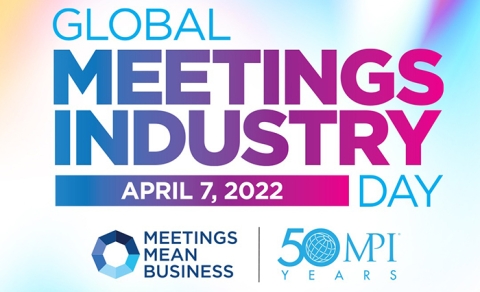 After two challenging years, there's no doubt that the meetings and events industry could use an industry-wide celebration to commemorate and honor the return of in-person experiences. And what better way to celebrate the industry's renaissance than by joining Meeting Professional International (MPI)'s fifth annual Global Meetings Industry Day (GMID): Virtual Experience, broadcasting live April 7 from 6 a.m. to 6 p.m. CDT. 
As an annual international day of advocacy that shines a light on the positive impact that conferences, conventions and trade shows have on people, businesses and the global economy, GMID is an initiative of Meetings Mean Business (now a division of U.S. Travel), and is hosted by MPI global, its chapters and many other organizations, which, in pre-pandemic years, organized in-person meetings around the globe to celebrate the industry's special day. 
As in past years, thousands of industry professionals are expected to attend the virtual gathering. Last year, it attracted 3,500 attendees, who spent an average of five hours participating in the event, according to MPI officials.
Featuring an extensive array of events, summits and experiences hosted by industry leaders and organizations, associations, partners and supporters from around the world, this year's GMID will also be toasting MPI's 50th birthday, a special occasion promising fun surprises for all attendees, according to MPI officials. 
"This year, attendees can expect a global experience as industry partners from all around the world join the broadcast," said Kay Gunn, MPI manager, education operations. "There will also be many opportunities to engage. Wordly will provide a translation feature, we'll have the chat available throughout the broadcast, participants will engage in polls and we have a few more cool features that we're excited to share this year!"   
She added, "We all know where we've been as an industry over the past two years. This year's GMID is illuminating where our industry is going and what's coming next." 
Here are just a few of the must-see events on tap at this year's GMID virtual celebration:
Women in Leadership Panel:

Hosted by MPI Senior Vice President of Experience Annette Gregg, this enlightening session will feature three women leaders who have paved their way to powerful roles while bringing others with them. Join Casandra Matej, CEO of Visit Orlando; Gerilyn Horan, vice president of group sales for Hilton; and Michelle Mason, president and CEO of ASAE, in a candid conversation about gender equity in the workplace that will explore pay transparency, effective mentorship and overcoming barriers to achieve success.

State of the Industry, 2022 and Beyond:

MPI's annual GMID panel of industry leaders will take part in a rousing discussion of near-term predictions and long-term impacts expected to shape the future of the meeting and event sector. From technological innovations and DEI-focused change to the labor shortage and the overarching reimagination of the in-person value proposition, participants will have a chance to hear and learn from the event industry's most forward-focused leaders on how current trends, economic shifts and world events will impact the future of meetings.

WEC How We Did It 2.0 (with Melinda Burdette, MPI):

Join MPI for a deep-dive conversation about their strategy and execution of World Education Congress Grapevine (Nov. 2020) and Las Vegas (June 2021), two industry-leading hybrid events that MPI delivered to a global audience representing 17 countries. From early critical choices to duty of care to the realities of hybrid, MPI's hard lessons offer a pathway for meetings and events moving forward as well as a blueprint for the industry's recovery.

 

2022 RISE Award Recipients:

Each year, MPI honors its best and brightest chapters and volunteers through the Recognizing Industry Success & Excellence (RISE) Awards, which recognize community members from across the globe, celebrating the spirit of leadership, impact and innovation. This session will recognize and celebrate the 2022 recipients in seven categories: Young Professional Achievement; Member of the Year; Meeting Industry Leadership; Member Achievement; Innovative Educational Programming; Industry Advocate; and Marketplace Excellence.

Event Wellness Design Micro-Course:

While meeting and event professionals continue to plan safe, engaging events using virtual and hybrid platforms or in-person, what's next? While attendee safety should always be top-of-mind when designing an event, why not take safety to the next level by focusing on attendee wellness as the next step in industry recovery? In this course, participants will learn some of the primary components of holistic attendee wellness, how they can infuse zero-cost solutions into the fabric of their event design and how they can start envisioning wellness as a fundamental event design component to create more transformational experiences.

Tech Session with Socio Labs: I

n this course, attendees will gain inspiration for how to build more engagement into their events and create best-in-class experiences for all attendees using event technology. Learn what it means to build hybrid-ready events, including how to create an engaging and inclusive experience for everyone; how to be prepared to pivot if needed; why tech tools are important, even for in-person; how hybrid can enhance the event experience for all attendees; and how to up-level the in-person experience to make it worthwhile.
The event will also be livestreaming a few MPI chapters hosting in-person events this year, including the MPI Turkey Chapter; MPI Africa; the MPI Carolinas Chapter and the MPI Chicago Chapter. 
Access the full Global Meetings Industry Day: Virtual Experience schedule here. Those unable to attend the broadcast can download a free recording that will be available to all registrants following the live event. 
While GMID: Virtual is complimentary to all participants, MPI is asking attendees to consider donating $10 toward supporting the MPI Foundation and its incredible efforts. 

Don't miss any event-related news: Sign up for our weekly e-newsletter HERE and engage with us on Twitter, Facebook, LinkedIn and Instagram!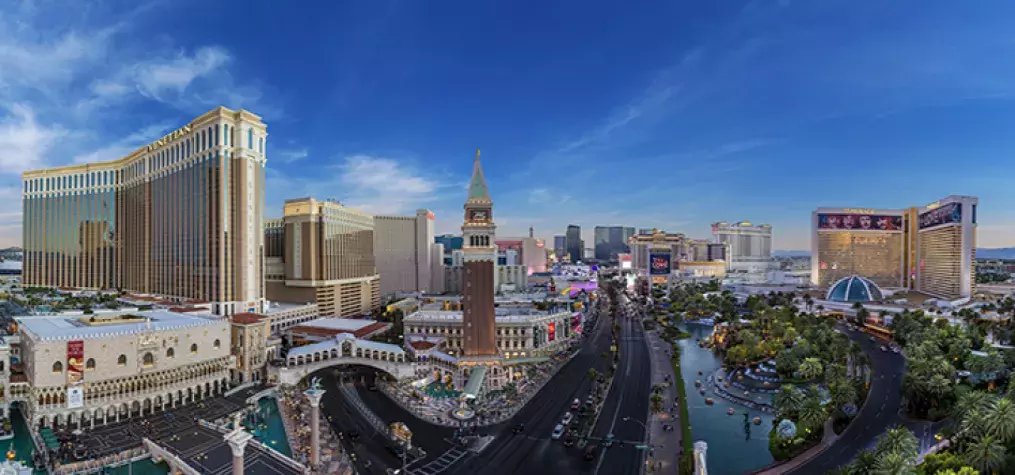 Less than six months ago, Lisa Messina joined the Las Vegas Convention and Visitors Authority (LVCVA) as the first-ever chief sales officer after leading the sales team at Caesars Entertainment. A 12-year Las Vegas resident, Messina is a graduate of Cornell University's School of Hotel Administration and serves on MPI International's board of directors. TSNN had a chance to catch up with this dynamic leader and talk to her about her vision for the new role, current shifts in the trade show industry, creating more diversity and equity within the organization, and advice to future female leaders. Lisa Messina, Chief Sales Officer, LVCVA With Las Vegas becoming The Greatest Arena on EarthTM, what are some of the things you're most excited about in your role? Our team was at The Big Game's handoff ceremony earlier this month, and I couldn't help but think, "We're going to crush it next year!" These high-profile events and venues not only drive excitement, but also provide unmatched opportunities for event planners. Allegiant Stadium hosts events from 10 to 65,000 people and offers on-field experiences. Formula 1 Grand Prix will take place in Las Vegas in November, after the year-one F1 race, the four-story paddock building will be available for buyouts and will also offer daily ride-along experiences that will be available for groups. And, of course, the MSG Sphere officially announced that it will open in September, ahead of schedule, with a U2 residency. It's going to be the most technologically advanced venue as far as lighting, sound, feel, and even scent, and it will be available for buyouts and next-level sponsorships inside and outside. There's no ceiling to what you can do when you're doing events in Las Vegas. Allegiant Stadium As the trade show and convention business returns to the pre-pandemic levels, what shifts are you noticing and how do you think they will impact the industry going forward? Our trade show organizers are very focused on driving customer experience. Most of our organizers are reporting stronger exhibitor numbers and increased numbers of new exhibitors, with trade shows proving to be almost or above 2019 levels. Now our organizers are really doubling down on driving attendance and focusing on the data to provide that individualized, customized experience to help attendees meet their goals and get the best value. Some companies continue to be cautiously optimistic with their organizational spend when it comes to sending attendees, but I think it will continue to improve. As the U.S. Travel Association makes more progress on the U.S. visa situation, we also expect a growing influx of international attendees. What are some innovative ways the LVCVA helps trade show and convention organizers deliver the most value for their events? We focus on customer experience in the same way that trade show organizers are thinking about it. We got rave reviews with the West Hall Expansion of the Las Vegas Convention Center (LVCC), so over the next two years, we will be renovating the North and the Central halls, which will include not just the same look and feel, but also the digital experiences that can be leveraged for branding and sponsorship opportunities. Vegas Loop, the underground transportation system designed by The Boring Company, is also a way we have enhanced the customer experience. Vegas Loop at the LVCC has transported more than 900,000 convention attendees across the campus since its 2021 launch. Last summer, Resorts World and The Boring Company opened the first resort stop at the Resorts World Las Vegas , with plans to expand throughout the resort corridor, including downtown Las Vegas, Allegiant Stadium and Harry Reid International Airport. The LVCVA also purchased the Las Vegas Monorail in 2020, the 3.9-mile-long elevated transportation system that connects eight resorts directly to the convention center campus. This is the only rail system in the world that integrates fares directly into show badges and registration. For trade show organizers, these transportation options mean saving time, money and effort when it comes to moving groups from the hotels to LVCC and around the city. Also, the more we can focus on building the infrastructure around the convention center, the more it supports the customer experience and ultimately supports our trade show organizers. Scheduled to debut in Q4, Fontainebleau Las Vegas will offer 3,700 hotel rooms and 550,000 square feet of meeting and convention space next to LVCC. What are some of the plans for advancing DEI (diversity, equity and inclusion) within your organization? We're currently partnering with instead of working with a leading consulting firm, to lay the foundation and create a solid DEI plan and be the leader when it comes to DEI initiatives. The heart of that journey with the consulting firm is also talking to our customers about their strategic approaches to DEI and driving innovation in this space. What are your favorite ways to recharge? My husband and I have an RV and we're outdoorsy people. So, while we have over 150,000 world-class hotel rooms and renowned restaurants right outside our doorstep, one of my favorite things to do is get out to Red Rock Canyon, the Valley of Fire, and Lake Mead. Five of the top national parks are within a three-hour drive from Las Vegas, so there's a lot you can do. We love balancing the energy of Las Vegas with nature, and we're noticing that a lot of attendees add activities off the Strip when they come here. Valley of Fire What advice would you give to women following leadership paths in destination marketing? I think it's about being laser-focused on what you want to accomplish; building a team around you that lifts you and helps you achieve your goals; and being humble and realizing that you do it as a group. No one gets this done alone. Thankfully, there are a lot of women in leadership in this organization, in our customers' organizations, and in this city that we can be really proud of. We're a formidable force that is making things happen. This interview has been edited and condensed. This article is exclusively sponsored by the Las Vegas Convention & Visitors Authority. For more information, visit HERE.