Straight Talk: Louisville Tourism's Cleo Battle on Baseball, Bourbon, DEI and Evolving Beyond the Pandemic
September 22, 2022
Right off the bat (pun intended), I knew Cleo Battle was someone who makes the most of an experience.
No more than a couple of minutes into our conversation, the discussion turned to how much he treasures his personalized Louisville Slugger in purple—the color of his hometown baseball team, the Colorado Rockies—which he's had since moving to Louisville almost 10 years ago, and how he enjoys his fine Kentucky bourbon on occasion—with a nice cigar and a great Sinatra album.
Indeed, Battle is an aficionado and a connoisseur of the destination he has represented for nearly a decade, first as Louisville Tourism's executive vice president and chief operating officer, and most recently taking the helm as president and CEO in July 2021.
He's had a 35-plus-year career of accomplishments in hospitality and tourism, currently serving on numerous industry boards and enjoying recent accolades such as the Events Industry Council 2020 Social Impact Award, Business First Louisville's inaugural Power 50 recognition and The Courier-Journal's 12 People to Watch in 2021. Over the decades, Battle has moved to cities around the country for executive positions with entities such as the Embassy Suites, Holiday Inn, Sheraton and the Richmond (Va.) CVB.
What has made him so fond of Louisville?  
"When I first moved here, I would start conversations with people waiting in lines at a store or the post office, and they would lean in and say, 'Oh, you're going to really love living here!'" Battle said. "And I thought wow, these people aren't my stakeholders or related to tourism, and there's only a handful of cities where residents are so proud of their own communities."
That pride, he added, comes in the form of Muhammed Ali, their native son; the Kentucky Derby, the longest-running sports event in the country; Kentucky bourbon, their signature spirit; and the Louisville Slugger, their famous, handcrafted gift to baseball.
"They have these things that bring them together culturally, and that's important," Battle said. "I love that when visitors come here, they feel that from this community, and it's really special."
During my sitdown with this Louisville enthusiast, he touched on the biggest challenges and accomplishments during the pandemic and moving beyond it, destination brand-building with diversity, equity and inclusion (DEI) in mind, important developments for event organizers and attendees, and making the most of his favorite experiences for visitors.
What were some of the biggest challenges your organization went through during the pandemic?
The [pandemic] was one of the most difficult times I've gone through in my career, starting with having to let go of several full-time and part-time staff who did nothing wrong—they just happened to be in the wrong bucket during a pandemic. The other big thing was trying to take care of the health of our staff and provide the information they need and realizing you have to take care of your entire industry—your hotels, museums, restaurants, convention facilities. They were all looking to Visit Louisville for updates from the city, the state and the federal government. We did this to the best of our ability to make sure our industry locally knew what was happening. We relied on each other in the industry to share ideas and understand best practices, which was great considering what we were going through at the time. We also had to work with our staff to understand what they were comfortable with as we came back to work. And of course, here in Louisville, not only did we have the pandemic, we had the tragedy of the killing of Breonna Taylor, which we as a community and an industry had to deal with. So it was a time of learning. The members of our staff, including myself, who were here at the beginning and are still here are stronger, better, smarter and more equipped with a natural ability to adapt.
What were some of the important accomplishments during that time, and what are some of the top goals moving forward?
I think one big takeaway was realizing we need to treat our employees as our customers. Traditionally as a destination marketing organization, you have always had to build good relationships with your stakeholders in your community—your hotels, airports, restaurants, museums and attractions, and venues, but you need to build good relationships with your co-workers as well to be successful. Particularly in leadership now, you have to think of your staff as customers and ask, 'How do we satisfy them to get the most benefit for our organization? How do we treat them well and create the culture and environment they want to be in, where they feel like they can be successful?' This continues to be a priority for us.
As for the Breonna Taylor part of the story, we created several initiatives. One of the things I said to folks is, 'A good place to live is a good place to visit. And how can tourism contribute to making Louisville a better place to visit, including for event attendees?' We started with an audit of our organization to measure who we are and what we have accomplished and created a DEI committee to continue to hold the organization accountable for being better. We hold complimentary quarterly training sessions for the entire industry and anyone else who wants to attend to help make sure our community knows how to be welcoming to everyone who wants to come to our destination. We also created a Black Tourism Advisory Council (BTAC) in February, whose main goal is to increase the African American representation of our 19 million in visitation from 11% in 2022 to 14% by 2025.
We want the council to help us in three ways. The first is marketing to make sure our website, visitors guides, ads and other materials are representative of our diverse community. The second is content development to make sure an African American person would find us relatable to them. For example, we created a program called the Unfiltered Truth Collection, which tells stories such as the first Kentucky Derby race winner, who was African American, and the African Americans who were jockeys for the first 20 to 30 years of the derby and won a lot of races. We also ask BTAC members to write a quarterly blog about their quintessential African American experiences—where they shop, where they eat, what do they like to do. The third is business to business, so BTAC identifies diverse businesses in our community to make sure they have an opportunity to participate in the economic impact of tourism. For example, when a meeting or convention comes to town, they're going to hire on average five to seven vendors for their program, and most of those vendors typically look the same. We just completed the first year of the program in July, and I'm proud to say our BTAC has brought in 31 diverse small businesses, so now our job is to retain them, show them the value of this membership and help them understand how to do business when a meeting, convention or trade show comes to town. It's a real opportunity for us to provide diversity to our events and inclusivity for our community.
What are some of the most important developments that make Louisville an ideal destination for business events nowadays?
First, it's been great to see the growth in hotel development—we have probably added about 30 hotels in the metro area in the last seven years, and I believe we have about four under construction right now, so we continue to grow in that space. Regarding our airport, when I arrived here about 10 years ago, we had 20 or so direct flights, and today we have 39 direct flights. Our distillery scene is also growing. In 2013, there was not a distillery in downtown Louisville. By 2019, there were 10 distilleries. Evan Williams really started us off when they built facilities with visitor-related experiences right downtown across the block from our offices. They had about 80,000 people go through their doors the first year they were open. What I love is that these are Kentucky bourbon companies, but these downtown facilities are designed for the visitor [including groups], so we immediately went from somewhat of a seasonal destination to a year-round destination. Folks are coming here in December to do our urban bourbon trail as much as they are in June, and that's a tremendous change. One of the things that I educate [event organizers] about is that when it comes to bourbon, we market it as an experience of the culture, craftsmanship and history of our state, not a 'party' experience. The goal is to be more of a Napa or Sonoma offering as it relates to bourbon. One great new development is the gaming facility that Churchill Downs is building right across from the convention center, and it's being designed in a way that represents our bourbon brand, with a lot of restaurants and entertainment venues. Between all of this plus our renovated convention center and the huge Omni hotel, both of which opened in 2018, the enormous amount of development has been fantastic and has really contributed to the growth of our occupancy, and we continue to expand.
What is one of the top trends in the way groups are experiencing Louisville?
People are coming to engage with our community and asking how they can get involved. The annual Equipment Expo, for example, partnered with the humane society, which brings out animals, mostly dogs, to the show for attendees to adopt while they are there. It's interesting to see how much more involved organizations want to be when they come to a community
What are a few of your favorite off-site experiences in Louisville that event organizers and attendees shouldn't miss, whether as a group activity or on their own during downtime?
I would say you definitely want to visit a distillery, you definitely want to get out to Churchill Downs and the Kentucky Derby Museum, you definitely want to go to the Ali Center and experience Muhammed Ali tourism—Ali as a boxer and Ali as a humanitarian, and of course, you have to go see the 120-foot bat at the Louisville Slugger Museum. You can watch them at work on bats right there in the factory—they still make them for professional baseball players to this day. So along with experiencing the history of baseball and seeing the bats they've made for hall of famers, you can buy a personalized bat in your team's colors—and that also makes a great attendee gift. It's a neat experience.
Lastly, what are you most excited about for the rest of 2022 and beyond?
I am excited to get the pandemic in the rearview mirror. We are certainly moving forward as a destination with our new strategies, slowly boosting our staff to pre-pandemic levels and getting back to what we do well, with most of our conventions and events bringing business travelers and leisure visitors here. In 2019, which was a record year before the pandemic, we hosted over 800 events. In 2021, we hosted 158, and this year, we are hosting a little over 600, so business is growing, and we're headed in the right direction. We are blessed with two great buildings—our downtown convention center and our expo center, about seven minutes from downtown, which hosts major events, and I'm excited to continue getting back to filling those facilities up on a regular basis.
Don't miss any event-related news: Sign up for our weekly e-newsletter HERE, listen to our latest podcast HERE and engage with us on Twitter, Facebook and  LinkedIn!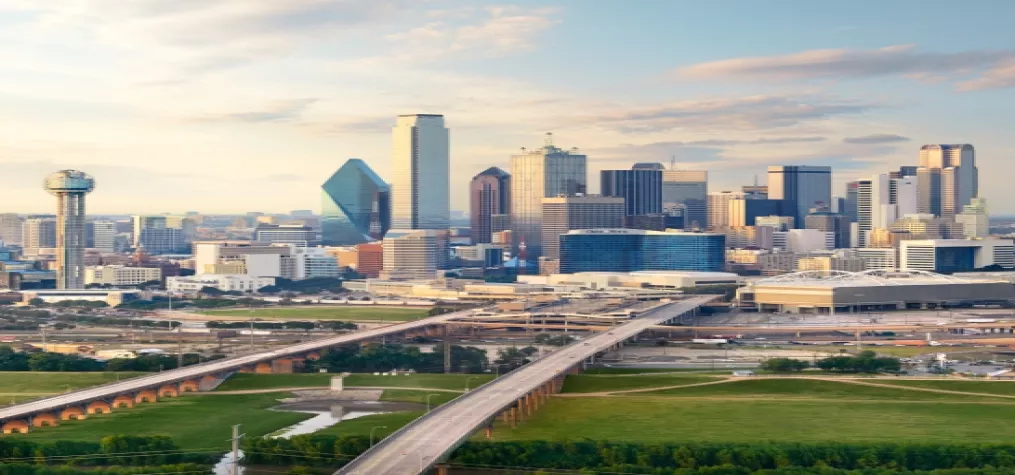 Dallas already boasts 35,000 hotel rooms, award-winning global cuisine, and a walkable downtown. But we are just getting started. Visit Dallas is thrilled to announce that the city of Dallas is doubling down with a massive new convention center and entertainment district. Featuring 800,000 square feet of exhibit area, 260,000 square feet of meeting rooms, and 170,000 square feet of ballroom. The center will connect business travelers with dining and shopping options in the popular Cedars District means more places to get down to business, and even more ways to unwind. "Dallas is already a great meetings and conventions destination, with the accessibility of two major airports, affordable labor, and an outstanding hotel product," said D. Bradley Kent, Visit Dallas senior vice president and chief sales officer. "The new center and Convention Center District will enhance Dallas' competitive position and are exactly what our customers' need and have been asking for." What's New – AT&T Discovery District Located in the heart of Downtown Dallas, this new district on the AT&T corporate campus is tailor-made for groups of all sizes. It boasts a multi-sensory experience, including outdoor event space, the AT&T Theater, and multiple dining outlets including JAXON Beer Garden and The Exchange, a bustling food hall. Hotels Coming Soon Names like the JW Marriott (Downtown), lnterContinental Dallas (Uptown), and Hotel Swexan (Uptown) are adding luxury amenities and bountiful event spaces. The projects will debut in 2023 and beyond. JW Marriott This new, 15-story, 283-room hotel will open in the heart of the city's downtown Arts District this year. The property features a 25,000-square-foot grand ballroom, as well as a spa, restaurant, lobby bar, fitness center, and a rooftop pool deck and bar. InterContinental Dallas  Located in Cityplace Tower in Uptown, InterContinental Dallas will feature sweeping panoramic views of the Dallas skyline. Guests will enjoy spacious, high-end rooms and amenities, including more than 21,000 square feet of event space.   Hotel Swexan Hotel Swexan, a new, 22-story luxury property, is rising in Uptown's Harwood District and will make its mark on the Dallas skyline. Opening this year, it is a sculptural building with cantilevered upper floors, as well as a 75-foot rooftop infinity-edge swimming pool and a hidden underground lounge.