Leading Trade Show Associations Condemn Invasion of Ukraine, Announce Humanitarian Fundraising Efforts
March 15, 2022
Since Russia invaded Ukraine on February 24, a number of leading trade show and event industry associations have been taking a stand against Russia's military aggression, condemning the conflict, announcing the suspension of business activities in Russia, providing information about humanitarian support efforts to help the Ukrainian people and updating members about new measures they're taking in response to the ongoing situation.
UFI, the Global Association of the Exhibition Industry, convened its executive committee last week in a special session to discuss the association's continuing response to the invasion, including its focus on humanitarian assistance, and to agree on new measures.
According to UFI executive committee representatives, the committee acknowledged and applauded the work of many UFI members across the region who have provided shelter and support for refugees. 
"From converting venues into refugee shelters to bringing supplies from across Europe, the level of aid and solidarity from businesses and individuals in the industry has been outstanding," they said in a statement. "The military actions launched by the Russian government in Ukraine contradict our most fundamental principles. They cannot be allowed to stand."
They added that, in a rare emergency session, the UN General Assembly has passed a resolution that lays out a path forward to end the aggression and restore peace in the region, with an overwhelming majority. Based on this resolution, the UFI executive committee made the following decisions: 
UFI condemns the military actions ordered by the Russian leadership and calls on the Russian leadership to implement the UN resolution.

UFI will temporarily suspend access to UFI events and activities for representatives from Russian member businesses.

UFI has no ongoing sponsorship arrangements with Russian businesses and will not enter into any new agreements.

UFI has no events or on-site activities planned in Russia and will not award any UFI events or on-site activities to Russia.

UFI will continue to highlight and support the humanitarian actions undertaken by members to support the people who suffer from this conflict.
In line with the UFI statutes, the full board of directors will review and adapt, if necessary, this set of provisions at its next session prior to the UFI European Conference, which is set for May 4-6 in Poznan, Poland, and is expected to take place as planned, the executive committee representatives added.
"At the core, our industry is about people, and UFI is here to connect people. We also understand that we must differentiate between the actions of the Russian leadership and the Russian people. Right now, we must focus on ending the inhumane activities. Right now, we must focus on emergency humanitarian support, to help as many individuals as we can as an industry. Only then can we use the role of events to help to heal the human, the cultural and the economical wound that will persist long after the violence has ended," they said.
To support the work of charitable institutions helping the Ukrainian people on the ground, UFI initially made a call on March 1 for donations to the International Red Cross, UNICEF and United Nations High Commissioner for Refugees (UNHCR). Since then, the executive committee has decided to launch a consolidated call for donations through the association to support refugees and those affected by the war.
Stay updated about UFI's humanitarian activities here.
On March 7, the Society of Independent Show Organizers (SISO) and its leadership condemned the Russian invasion of Ukraine, announcing it had suspended Russian members from all access to SISO events and activities and had launched a fundraising campaign to support much-needed ongoing humanitarian efforts. 
"We've all watched with horror as the conflict in Ukraine has escalated, with reports of explosions in populated areas," said Hervé Sedky, current chair of the SISO board of directors and CEO of Emerald. "We cannot stand by and watch this conflict unfold without taking action." 
SISO CEO David Audrain added that the organization would be sharing these actions with its membership, as well as details on a fundraising campaign to support UNHCR, for which it would be seeding an initial $10,000. 
"This tragic and senseless unprovoked attack by Russia on the people of Ukraine must be condemned by all, and actions that will bring the Russian government to the realization they must stop have to be taken, and that includes isolating Russia from all commercial activities as quickly as possible," he said.
To help support SISO's fundraising efforts, reach out to: info@SISO.org.
On March 9, Destinations International released the following statement: "Our hearts have been with the people of Ukraine since the Russian government began its unprovoked and unconscionable attack on that nation. Destinations International condemns the Russian government's acts of aggression and urges an expeditious end to the war in Ukraine."
They continued, "We believe that tourism is a bridge that connects people of diverse backgrounds and different cultures; we strive to build a community of destination professionals who believe in goodwill toward all people.
Destinations International officials added that due to the Russian government's unprovoked acts of violence, it will not engage in further business in Russia until a peaceful resolution takes place, and has thus terminated the membership of its sole member organization in Russia, the Saint Petersburg Convention Bureau, effective immediately.
To help with the humanitarian effort, the organization said it donated funds last week to World Central Kitchen, a non-profit organization led by D.C. Chef José Andrés, that has been on the ground in Ukraine feeding displaced people since the outbreak of violence. 
"We encourage our over 600 members and our partners throughout the world to show their support of the people of Ukraine in any way possible, including making charitable donations to World Central Kitchen or any other organization making a positive impact in Ukraine," they added.
The International Association of Exhibitions and Events (IAEE) announced on March 11 it had suspended the membership of the Expo Centre AO in Moscow, as well as the reciprocity agreement it has had with the Russian Union of Exhibitions and Fairs (RUEF).
"Due to the current and unacceptable realities that are taking place in Ukraine, IAEE is suspending our relationships with these two entities at this time," said David DuBois, IAEE president and CEO, in a statement.
Don't miss any event-related news: Sign up for our weekly e-newsletter HERE and engage with us on Twitter, Facebook and  LinkedIn!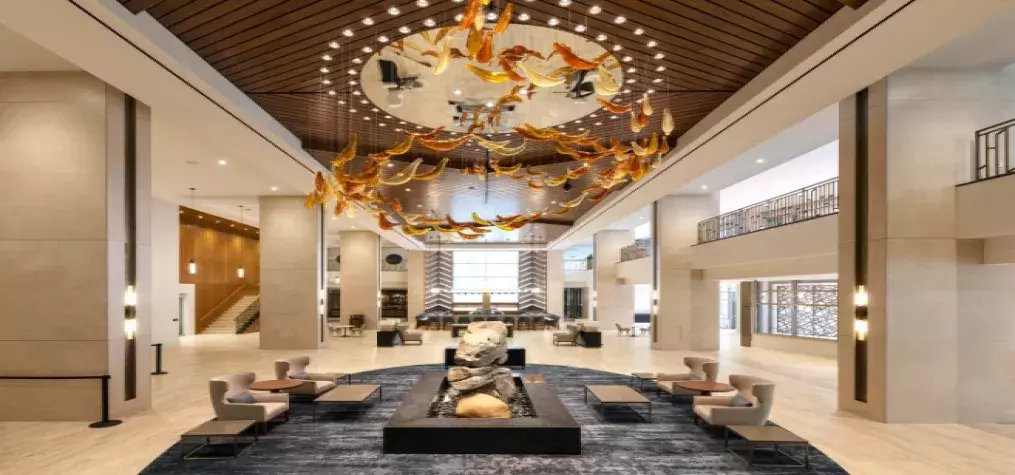 Located in beautiful North Carolina, Harrah's Cherokee is the perfect mountain getaway with breathtaking views of the Great Smoky Mountains and new additions to its resort and conference spaces sure to elevate any meetings or event. Completed in 2021, Harrah's Cherokee's latest $330 million expansion project introduced an entirely new fourth hotel tower, The Cherokee, as well as an additional 83,000 square feet of meeting space with the Cherokee Convention Center. The Cherokee tower brings with it 725 rooms and 70 luxurious suites spread out over 19 floors for a grand total of 1,800 rooms across the entire resort. The new rooms feature a sleek design with an earth-toned color palette and modern amenities. In addition to the new rooms, the expansion also brought with it a luxurious new lobby and lobby bar, a fitness center, a coffee & pastry bar, and a second pool. Conventions, trade shows, banquets, receptions, and even the smallest, most intimate gatherings can find the perfect arrangement at Harrah's Cherokee with its 130,000 square feet of flexible meeting space – including the Cherokee Convention Center. The resort offers a myriad of different spaces and configuration options for events, but the largest spaces include the following: 32,000-sq-ft Cherokee Convention Center ballroom with 22 meeting spaces 11,100-sq-ft Cherokee Convention Center ballroom pre-function space 33,000-sq-ft Cherokee Exhibit Hall 6,000-sq-ft Cherokee Exhibit Hall Pre-Function 13,801-sq-ft Council Fire Ballroom able to be reconfigured into as many as four ballrooms from 3,100 to 3,529-sq-ft each 16,815-sq-ft Event Center able to be configured in six different ways to accommodate 100 to 1,500 guests and offers four VIP suites, box seating, and more than 1,100 balcony seats. In addition to the new accommodations and meeting space, Harrah's Cherokee has also opened several new restaurants as part of the expansion including Guy Fieri's Cherokee Kitchen + Bar which includes the chef's award-winning burgers and barbeque on the menu. Another celebrity chef has also made their mark on the resort with the opening of Gordon Ramsay Food Market which features eight dining concepts ranging from sushi to New York-style deli sandwiches and classic fine-dining fare. Longtime Asheville favorite, Wicked Weed Brewing Pub has also debuted a new location next to Harrah's Cherokee Event Center creating the perfect after-event center with its bright and bold design, over thirty different beers, and live music on weekends. An easy drive from many of the largest cities in the Southeast, Harrah's Cherokee provides the perfect blend of majestic mountainscapes, luxurious new accommodations, and authentic Native American culture.