People News: Visit Seattle, Main Light, IAAPA and More Announce New Leadership, Key Promotions
April 11, 2022
Event-related organizations throughout the U.S. and abroad are continuing to scoop up new team members and elevate executives as the industry-wide hiring and promoting frenzy continues unabated. Check them out!
Visit Seattle 
Following a nationwide search, Visit Seattle and its board of directors have tapped hospitality veteran Tammy Blount-Canavan to be its president and CEO, starting May 9. As Visit Seattle's first female CEO, she replaces 15-year leader Tom Norwalk, who retired earlier this spring.
With a rich leadership history spanning two countries and three decades, first in the hotel industry in her hometown of Vancouver, B.C., to a previous role as president and CEO of the Monterey County Convention and Visitors Bureau, Blount-Canavan has strong ties to the Puget Sound area, having served as president and CEO of the Tacoma Regional Convention and Visitors Bureau from 2008-2012. During her time at the Tacoma CVB, she also worked to establish and was the first chair for the Washington Tourism Alliance, now State of Washington Tourism. 
Most recently, the widely recognized and award-winning industry leader served as executive vice president, principal at Fired-Up! Culture, a business management consulting firm focused on leadership and culture development. She is also a past-chair of Destinations International and worked at Tourism Vancouver in senior management for over a decade. 
Main Light
Leading dry hire entertainment technology equipment rental partner Main Light, LLC has promoted General Manager Randy Mullican to CEO. An employee of Main Light for 27 years, Mullican possesses a deep understanding of the company and has worked closely with Main Light Owner and Chairman Michael Cannon over the past year as the company has made adjustments to its operations and expanded into three locations in Wilmington, Del., Las Vegas and Nashville. 
As CEO, Mullican takes the reins of Main Light aware of the need to find the balance of its expanded national presence while maintaining its reputation for efficient, responsive and cost-effective customer service.  
IAAPA
IAAPA, the global association for the attractions industry, has appointed Peter van der Schans executive director and vice president of the IAAPA Europe, Middle East and Africa (EMEA) region. Based in the association's regional office in Brussels, van der Schans will lead IAAPA's efforts to grow membership, enhance member services in the region and increase participation in IAAPA events including IAAPA Expo Europe. 
Bringing more than 15 years of leisure industry experience from a number of attractions including theme parks, zoos and theaters, van der Schans most recently served as general manager of Dierenrijk, a family zoo in Mierlo, Netherlands after holding the role of manager at the Pathé Theatre in Nijmegen, Netherlands, where he helped to grow attendance from 180,000 to 600,000 visitors annually. Prior to that, he was the park manager of Attractiepark Toverland in Sevenum, Netherlands, where he contributed to the strategic expansion of the organization with Avalon and The Magical Valley. 
Fern 

 
Exhibition and event services provider Fern has made two new hires and a promotion on its management team: Stuart Stapp as general manager of the Kansas City branch; Jason Axtman as general manager in Portland; and Mary Fryer as director, exhibitor services, respectively. 
Bringing more than 30 years of experience in the trade show and convention industry to his new position, Stapp has held a variety of roles in the service contractor space. He was the founder of EVNTMGT LLC, where he helped clients in the hospitality, association, event and trade show management industries create positive improvements via streamlined processes and engaging change management. 
Also an industry veteran, Axtman has held management roles for a variety of companies in the Portland and Seattle areas. Most recently, he served as the tour and event coordinator for Kenworth Truck Co and prior to that as an assistant general manager for Edlen Electrical Exhibition Services.  
Boasting a long background in customer service, Fryer has been leading Fern's exhibitor services team as interim director for several months and has officially taken on the role. She will lead the company's efforts to continually improve its level of service and best deliver it to clients and their exhibitors.
ASM Global 
Venue, event strategy and management leader ASM Global has been undergoing a flurry of hiring activity lately, announcing key appointments and executive promotions.
As part of the divisional restructuring reflecting his division's robust growth, Bob McClintock, ASM Global's executive vice president, convention centers, has elevated two executives who have made a strong impact on the venues they have managed: Kelvin Moore as regional vice president and John Page as regional general manager.
A 30-year industry veteran, Moore currently serves as the regional general manager of the Pennsylvania Convention Center, a position he has held since 2018. Since joining the company in 2008, he has served as a regional general manager and general manager for Navy Pier in Chicago, the Jackson Convention Complex in Mississippi and the Lynnwood Convention Complex in Washington. 
John Page has been appointed regional general manager. A 24-year-ASM Global veteran who has served two leadership stints in Columbus, Ohio, along with seven years at the Savannah International Trade and Convention Center in Georgia, Page has served as the general manager of the Greater Columbus Convention Center since 2013.
In their new roles, both Moore and Page will work more closely with venue clients and municipal partners across the region to provide customized solutions and innovations while working to solidify and advance ASM Global's leading position in the industry.
The company has also added two key executives to its rapidly expanding national partnership management team: Carl A. Thomas as senior vice president, sales and platform development and Meg Little as vice president, marketing solutions.
A seasoned and accomplished sales and business development executive, Thomas brings an extensive background to his new role, including senior positions with Universal Studios, Tickets.com and Hookit, and the founding of his own company, CAT Sports, as well as creating the popular podcast, "The Best Boss Ever."
An entrepreneurial leader with more than 20 years of experience connecting C-level direction to the overall organizational mission through pragmatic, forward-thinking leadership, Little brings a deep expertise creating operational efficiencies and empowering teams to deliver excellence in fast-paced environments within sports and entertainment. She most recently served as managing director, marketing and operations for Raycom Sports, where she worked with global brands including Hyundai, Allstate, State Farm and Old Navy.  
Mayo Civic Center 
One of ASM Global's venue clients, the Mayo Civic Center in Rochester, Minn., has appointed Paul Jansen as the facility's new general manager. A service-driven professional with a proven track record in live event entertainment and hospitality, he will work alongside Experience Rochester in driving business to and delivering exceptional customer experiences at the venue.
Bringing more than 25 years of facility management and event execution experience to his new role, Jansen has spent the majority of his career with the Bradley Center Sports & Entertainment Corporation in Milwaukee, where he served in roles including general manager and senior vice president of sales, marketing and business development. 
Impact XM 

  
Global experiential marketing agency Impact XM has appointed David Ratcliffe to director of event production, tasked with leading the experiential production and meetings and events teams. Focused on evolving, elevating and expanding event management and production capabilities, he will work to build the agency's proprietary events niche and drive collaboration between its event production, digital and creative solutions across all client verticals.
Ratcliffe brings more than 25 years of experience in live event production from creative and experiential angles spanning a vast array of industries and sectors, including healthcare, finance and telecommunications. His past roles have included head of event solutions and global director for experiential marketing and event agencies including WRG Live and Touch Associates.
Exhibit Concepts, Inc.

 
Exhibit Concepts, Inc. has promoted Karimey Berbach to marketing director, responsible for overseeing the company's marketing efforts, including strategic marketing planning, brand development and awareness, demand generation efforts, sales support and competitive bid efforts across all lines of business. 
Before joining Exhibit Concepts, Berbach was a client for many years, assisting in managing a 100+ annual corporate trade show event program. Since joining Exhibit Concepts in 2016, she has served as marketing manager and in 2021 was promoted to senior marketing manager, tasked with overseeing the growth of the marketing department to include content marketing, brand guidelines, sales enablement and association relationships.
Have any People News to share? Please send announcements and high-resolution headshots to lpsavas@tsnn.com.
Don't miss any event-related news: Sign up for our weekly e-newsletter HERE and engage with us on Twitter, Facebook, LinkedIn and Instagram!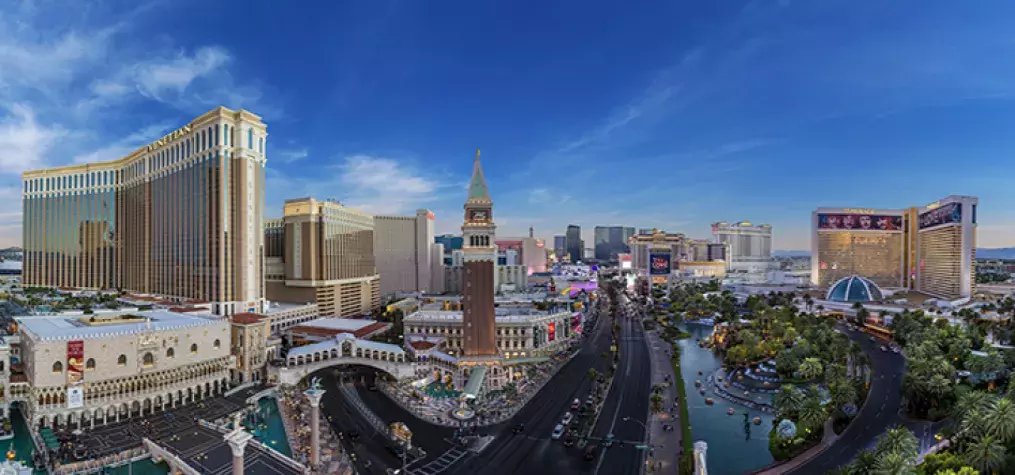 Less than six months ago, Lisa Messina joined the Las Vegas Convention and Visitors Authority (LVCVA) as the first-ever chief sales officer after leading the sales team at Caesars Entertainment. A 12-year Las Vegas resident, Messina is a graduate of Cornell University's School of Hotel Administration and serves on MPI International's board of directors. TSNN had a chance to catch up with this dynamic leader and talk to her about her vision for the new role, current shifts in the trade show industry, creating more diversity and equity within the organization, and advice to future female leaders. Lisa Messina, Chief Sales Officer, LVCVA With Las Vegas becoming The Greatest Arena on EarthTM, what are some of the things you're most excited about in your role? Our team was at The Big Game's handoff ceremony earlier this month, and I couldn't help but think, "We're going to crush it next year!" These high-profile events and venues not only drive excitement, but also provide unmatched opportunities for event planners. Allegiant Stadium hosts events from 10 to 65,000 people and offers on-field experiences. Formula 1 Grand Prix will take place in Las Vegas in November, after the year-one F1 race, the four-story paddock building will be available for buyouts and will also offer daily ride-along experiences that will be available for groups. And, of course, the MSG Sphere officially announced that it will open in September, ahead of schedule, with a U2 residency. It's going to be the most technologically advanced venue as far as lighting, sound, feel, and even scent, and it will be available for buyouts and next-level sponsorships inside and outside. There's no ceiling to what you can do when you're doing events in Las Vegas. Allegiant Stadium As the trade show and convention business returns to the pre-pandemic levels, what shifts are you noticing and how do you think they will impact the industry going forward? Our trade show organizers are very focused on driving customer experience. Most of our organizers are reporting stronger exhibitor numbers and increased numbers of new exhibitors, with trade shows proving to be almost or above 2019 levels. Now our organizers are really doubling down on driving attendance and focusing on the data to provide that individualized, customized experience to help attendees meet their goals and get the best value. Some companies continue to be cautiously optimistic with their organizational spend when it comes to sending attendees, but I think it will continue to improve. As the U.S. Travel Association makes more progress on the U.S. visa situation, we also expect a growing influx of international attendees. What are some innovative ways the LVCVA helps trade show and convention organizers deliver the most value for their events? We focus on customer experience in the same way that trade show organizers are thinking about it. We got rave reviews with the West Hall Expansion of the Las Vegas Convention Center (LVCC), so over the next two years, we will be renovating the North and the Central halls, which will include not just the same look and feel, but also the digital experiences that can be leveraged for branding and sponsorship opportunities. Vegas Loop, the underground transportation system designed by The Boring Company, is also a way we have enhanced the customer experience. Vegas Loop at the LVCC has transported more than 900,000 convention attendees across the campus since its 2021 launch. Last summer, Resorts World and The Boring Company opened the first resort stop at the Resorts World Las Vegas , with plans to expand throughout the resort corridor, including downtown Las Vegas, Allegiant Stadium and Harry Reid International Airport. The LVCVA also purchased the Las Vegas Monorail in 2020, the 3.9-mile-long elevated transportation system that connects eight resorts directly to the convention center campus. This is the only rail system in the world that integrates fares directly into show badges and registration. For trade show organizers, these transportation options mean saving time, money and effort when it comes to moving groups from the hotels to LVCC and around the city. Also, the more we can focus on building the infrastructure around the convention center, the more it supports the customer experience and ultimately supports our trade show organizers. Scheduled to debut in Q4, Fontainebleau Las Vegas will offer 3,700 hotel rooms and 550,000 square feet of meeting and convention space next to LVCC. What are some of the plans for advancing DEI (diversity, equity and inclusion) within your organization? We're currently partnering with instead of working with a leading consulting firm, to lay the foundation and create a solid DEI plan and be the leader when it comes to DEI initiatives. The heart of that journey with the consulting firm is also talking to our customers about their strategic approaches to DEI and driving innovation in this space. What are your favorite ways to recharge? My husband and I have an RV and we're outdoorsy people. So, while we have over 150,000 world-class hotel rooms and renowned restaurants right outside our doorstep, one of my favorite things to do is get out to Red Rock Canyon, the Valley of Fire, and Lake Mead. Five of the top national parks are within a three-hour drive from Las Vegas, so there's a lot you can do. We love balancing the energy of Las Vegas with nature, and we're noticing that a lot of attendees add activities off the Strip when they come here. Valley of Fire What advice would you give to women following leadership paths in destination marketing? I think it's about being laser-focused on what you want to accomplish; building a team around you that lifts you and helps you achieve your goals; and being humble and realizing that you do it as a group. No one gets this done alone. Thankfully, there are a lot of women in leadership in this organization, in our customers' organizations, and in this city that we can be really proud of. We're a formidable force that is making things happen. This interview has been edited and condensed. This article is exclusively sponsored by the Las Vegas Convention & Visitors Authority. For more information, visit HERE.