Event Tech News: Bizzabo Certification, Notified Benchmarking Report and ETA Call for Submissions
December 29, 2022
The event tech landscape continues to evolve as the industry approaches a new year. From security and trust certification to a virtual event and webinar benchmarking report to the opening of award submissions, check out the latest happenings with Bizzabo, Notified and the Event Tech Awards.
Bizzabo
Bizzabo, the Event Experience Operating System (OS), has achieved Service Organization Control (SOC) 2® Type 2 compliance, which recognizes the company as a secure, trusted industry leader. The accomplishment demonstrates Bizzabo's ongoing commitment to information security and signals that its comprehensive open platform is among the industry's most secure event management technology. 
"SOC 2 compliance is a milestone validating Bizzabo as a trusted partner for our customers and their data assets," said Boaz Katz, chief data officer and cofounder of Bizzabo. "Customers already depend on our platform for an unmatched event experience, and now they can be assured our Event Experience OS is highly secure as well."
The validation of Bizzabo's event data security practices is a testament to its entire organization's dedication to security and data management, according to Katz.
"Maturing our information security posture is continuous, and we're committed to maintaining these standards as we move forward," he said.
SOC 2® Type 2 compliance is an industry standard among third-party service organizations that deal with client data. Set by the American Institute of Certified Public Accountants (AICPA), successful fulfillment of these standards asserts that an organization's internal systems and controls effectively meet audit standards continuously while ensuring the protection of existing and potential customers' assets. 
Bizzabo's SOC 2 examinations were conducted by PwC during the audit period of Jan. 1 to June 30, 2022. 
Notified
Event communications cloud provider Notified unveiled its 2022 Benchmark Report for Webinars and Virtual Events, which analyzed customer data from the company's leading technology.

Utilizing a subset of customer webinars and virtual events taking place between June 2021 and June 2022, the report provides data-driven insights and best practices alongside real-world examples, and ideas from industry experts. The annual report is intended to help event planners and marketers design impactful experiences optimized to meet and exceed attendee expectations.

"With the widespread adoption of event technology over the past several years, some norms and best practices around conducting webinars and virtual events have been persistent and some new trends have started to emerge," said Dan Lotzof, chief revenue officer of Notified. "As we analyzed this year's data, the two core themes that stood out are agility and optimization—as marketers and event planners continue to evaluate their strategies and budgets for 2022 and beyond, they're seeking ways to keep audiences highly engaged through meaningful experiences and formats."
Topics covered in depth in the report include:
Registration and attendance data
 
Content and engagement data
 
Most popular days to host a webinar or virtual event
 
Emerging viewing trends, including video usage
 
Best practices and practical tips for event planning and executions, based on these emerging trends
 
Following are highlights from the 2022 report.

Webinars:

• Wednesday and Thursday are the most popular days to host a webinar.

• 77% of webinars include video compared to just 61% in 2019.

• Live attendance for webinars is up approximately 66% in the last two years.

Virtual Events:
78% of events are less than three days long.
 
Tuesday and Wednesday are the most popular days to run a virtual event.
 
20 is the average number of speakers per event compared to just 6 in 2019.
 
The addition of gamification to virtual events increases attendee engagement. Approximately 112 million minutes were spent playing in-event games during the study period.
 
Event Technology Awards
Event Technology Awards (ETA) opened submissions for its new people-focused offshoot, ETA–The People, which took place for the first time this year.
ETA–The People celebrates the individuals and teams who bring tech to the table, helping to foster solutions, better practices and new ways around traditional problems. Seventeen awards are included for both suppliers and organizations, from Best Start-Up Founder to Outstanding Contribution.
There can never be too much attention on event technology, according to Adam Parry, co-founder of brand at ETA.
"It's behind the revolution in data capture, sound distribution, LED screen design—everything—and the individuals and teams behind the tech deserve much recognition," Perry said. "That was our motivation in launching ETA–The People this year, and it's first turn met with fantastic response. We're delighted to link the awards with Event Tech Live Vegas next spring."
A full list of judges will be unveiled shortly.
The deadline to submit entries for ETA–The People is Feb. 10, 2023. See the list of categories here. Finalists will be announced on Feb. 23, 2023.
The awards ceremony will take place in Las Vegas immediately following Event Tech Live, Las Vegas, which is set for April 26-27, 2023, at The Expo at World Market Center, Meanwhile, Event Tech Live, London is set for Nov. 15-16, 2023, at ExCeL, London. Each annual event is dedicated to bringing global event professionals together to experience and discuss the latest advances in event tech, champion thought leadership and engage its community year-round.  
Don't miss any event-related news: Sign up for our weekly e-newsletter HERE and engage with us on Twitter, Facebook and LinkedIn!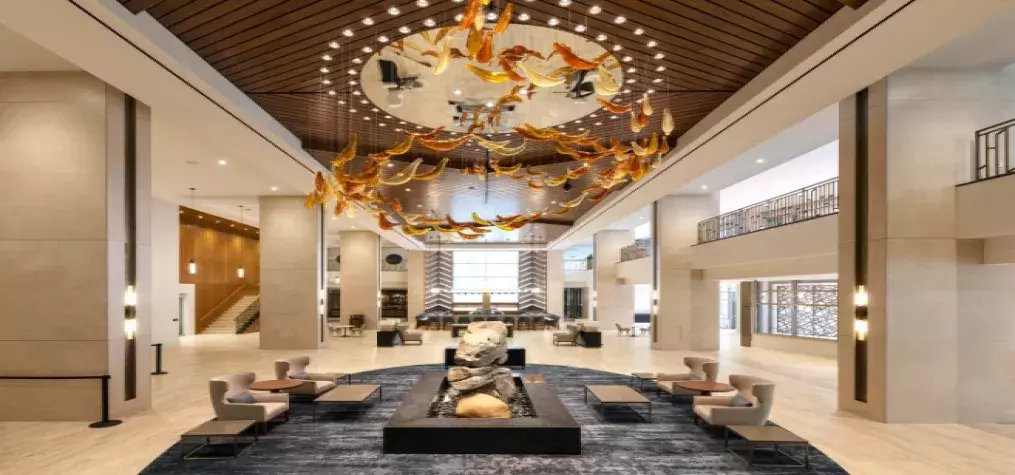 Located in beautiful North Carolina, Harrah's Cherokee is the perfect mountain getaway with breathtaking views of the Great Smoky Mountains and new additions to its resort and conference spaces sure to elevate any meetings or event. Completed in 2021, Harrah's Cherokee's latest $330 million expansion project introduced an entirely new fourth hotel tower, The Cherokee, as well as an additional 83,000 square feet of meeting space with the Cherokee Convention Center. The Cherokee tower brings with it 725 rooms and 70 luxurious suites spread out over 19 floors for a grand total of 1,800 rooms across the entire resort. The new rooms feature a sleek design with an earth-toned color palette and modern amenities. In addition to the new rooms, the expansion also brought with it a luxurious new lobby and lobby bar, a fitness center, a coffee & pastry bar, and a second pool. Conventions, trade shows, banquets, receptions, and even the smallest, most intimate gatherings can find the perfect arrangement at Harrah's Cherokee with its 130,000 square feet of flexible meeting space – including the Cherokee Convention Center. The resort offers a myriad of different spaces and configuration options for events, but the largest spaces include the following: 32,000-sq-ft Cherokee Convention Center ballroom with 22 meeting spaces 11,100-sq-ft Cherokee Convention Center ballroom pre-function space 33,000-sq-ft Cherokee Exhibit Hall 6,000-sq-ft Cherokee Exhibit Hall Pre-Function 13,801-sq-ft Council Fire Ballroom able to be reconfigured into as many as four ballrooms from 3,100 to 3,529-sq-ft each 16,815-sq-ft Event Center able to be configured in six different ways to accommodate 100 to 1,500 guests and offers four VIP suites, box seating, and more than 1,100 balcony seats. In addition to the new accommodations and meeting space, Harrah's Cherokee has also opened several new restaurants as part of the expansion including Guy Fieri's Cherokee Kitchen + Bar which includes the chef's award-winning burgers and barbeque on the menu. Another celebrity chef has also made their mark on the resort with the opening of Gordon Ramsay Food Market which features eight dining concepts ranging from sushi to New York-style deli sandwiches and classic fine-dining fare. Longtime Asheville favorite, Wicked Weed Brewing Pub has also debuted a new location next to Harrah's Cherokee Event Center creating the perfect after-event center with its bright and bold design, over thirty different beers, and live music on weekends. An easy drive from many of the largest cities in the Southeast, Harrah's Cherokee provides the perfect blend of majestic mountainscapes, luxurious new accommodations, and authentic Native American culture.