ExpoPlatform Releases Event Tech Forecast 2023
January 13, 2023
ExpoPlatform, which uses AI-powered solutions to build events, communities and marketplaces across in-person, virtual and hybrid channels, unveiled the Event Tech Forecast 2023. The report focuses on how the digital evolution of the industry will shape businesses this year and features exclusive findings from professionals and expert insights from top contributors.
The four sections of the report include:
The amount of annual revenue expected to come from digital channels


 

The biggest windows of opportunity for event technology


 
The most important challenges facing event professionals
 

The key ways event tech is helping the industry
The Event Tech Forecast 2023 comes amid a huge return to live events over the last 12 months, with many organizers now recognizing digital as a key part of their offerings, according to Conor Riordan, content editor at ExpoPlatform.
"The events industry is going through a digital renaissance, with participants in live shows now expecting their experiences to be fueled by technology," Riordan said. "The [report's] findings reveal that organizers too are seeing this as crucial to their business models as a way to increase revenue and reach and improve offerings."
He added, "Our study highlights some of the challenges planners will face in getting to grips with this new landscape, while also giving advice from an expert panel about how to make the most of any opportunities."
Digital Revenue
Half of event professionals surveyed for the study now expect between 10% and 29% of their annual revenue in 2023 to come from digital channels, an increase of more than 10% compared with ExpoPlatform's previous research in July 2022. Additionally, 9% of respondents believe digital channels will account for 70% or more of revenue, and 9% expect it to be between 50% and 69%.
Meanwhile, more than have of respondents predict digital revenue to increase in 2023, 32% believe it will remain the same, and 5% think it will decrease.
Windows of Opportunity for Event Tech
The study revealed several areas where event tech will play a key role, with community nurturing for engagement, revenue and reach at the top of the list, according to 64% of respondents. Other areas include providing exhibitor ROI (50%), digital monetization (50%) behavioral metrics (36%), mass personalization (36%) and product discovery (14%).
Key Challenges
The survey includes the top challenges facing event professionals, with a seamless experience across platforms as the biggest, according to 59% of respondents, followed by good exhibitor ROI (55%), integration between suppliers (55%) and lack of skilled resources (55%). Other obstacles reported include smooth exhibitor onboarding (36%) and audience levels (32%).
Top Uses for Event Tech
Event professionals surveyed chimed in on 10 key ways they are using event tech, including:
Event mobile app (64%)


 

AI matchmaking (50%)


 

Lead retrieval (50%)


 

Community and marketplace (45%)


 

Interactive floorplan (45%)


 

On-demand content for post-event (41%)


 

Simultaneous hybrid streaming (32%)


 

Self-service exhibitor stands (28%)


 

Hosted buyer meetings (23%)


 

Location-based notifications and analysis (18%)


 
For more details on the report's findings and to receive insights and advice from industry experts, click  here to download a free copy of the Event Tech Forecast 2023.  
Don't miss any event-related news: Sign up for our weekly e-newsletter HERE, listen to our latest podcast HERE and engage with us on Twitter, Facebook, LinkedIn and Instagram!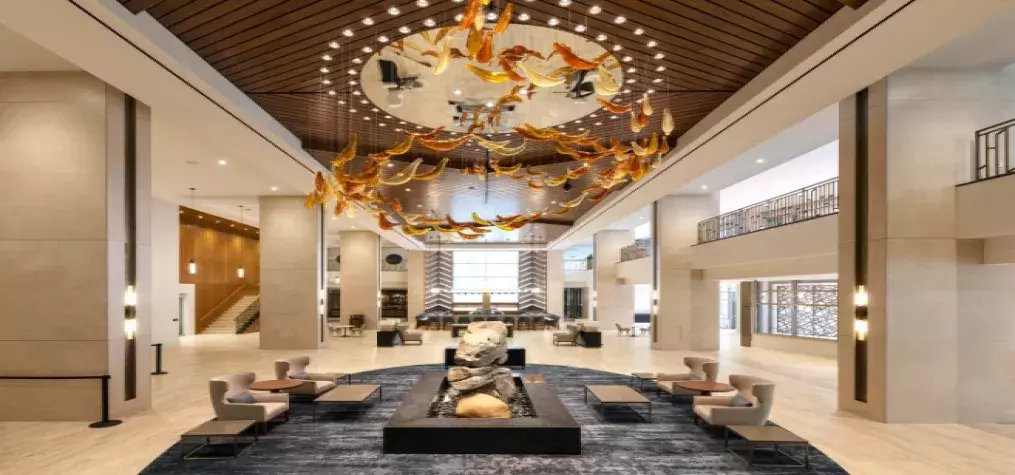 Located in beautiful North Carolina, Harrah's Cherokee is the perfect mountain getaway with breathtaking views of the Great Smoky Mountains and new additions to its resort and conference spaces sure to elevate any meetings or event. Completed in 2021, Harrah's Cherokee's latest $330 million expansion project introduced an entirely new fourth hotel tower, The Cherokee, as well as an additional 83,000 square feet of meeting space with the Cherokee Convention Center. The Cherokee tower brings with it 725 rooms and 70 luxurious suites spread out over 19 floors for a grand total of 1,800 rooms across the entire resort. The new rooms feature a sleek design with an earth-toned color palette and modern amenities. In addition to the new rooms, the expansion also brought with it a luxurious new lobby and lobby bar, a fitness center, a coffee & pastry bar, and a second pool. Conventions, trade shows, banquets, receptions, and even the smallest, most intimate gatherings can find the perfect arrangement at Harrah's Cherokee with its 130,000 square feet of flexible meeting space – including the Cherokee Convention Center. The resort offers a myriad of different spaces and configuration options for events, but the largest spaces include the following: 32,000-sq-ft Cherokee Convention Center ballroom with 22 meeting spaces 11,100-sq-ft Cherokee Convention Center ballroom pre-function space 33,000-sq-ft Cherokee Exhibit Hall 6,000-sq-ft Cherokee Exhibit Hall Pre-Function 13,801-sq-ft Council Fire Ballroom able to be reconfigured into as many as four ballrooms from 3,100 to 3,529-sq-ft each 16,815-sq-ft Event Center able to be configured in six different ways to accommodate 100 to 1,500 guests and offers four VIP suites, box seating, and more than 1,100 balcony seats. In addition to the new accommodations and meeting space, Harrah's Cherokee has also opened several new restaurants as part of the expansion including Guy Fieri's Cherokee Kitchen + Bar which includes the chef's award-winning burgers and barbeque on the menu. Another celebrity chef has also made their mark on the resort with the opening of Gordon Ramsay Food Market which features eight dining concepts ranging from sushi to New York-style deli sandwiches and classic fine-dining fare. Longtime Asheville favorite, Wicked Weed Brewing Pub has also debuted a new location next to Harrah's Cherokee Event Center creating the perfect after-event center with its bright and bold design, over thirty different beers, and live music on weekends. An easy drive from many of the largest cities in the Southeast, Harrah's Cherokee provides the perfect blend of majestic mountainscapes, luxurious new accommodations, and authentic Native American culture.