Grip Launches Innovate Tool to Help Event Organizers Monetize Buyer-Supplier Meetings and Boost ROI
December 16, 2022
Grip, a leading artificial intelligence (AI)-powered event platform, unveiled MustMeet, a robust meeting scheduler for event organizers, in response to a surge in demand for more valuable and impactful interactions between buyers and suppliers at events.
MustMeet uses AI to help organizers increase revenue and demonstrate ROI by easily adding transformational meetings to their events with automated meeting schedules. They can now automatically schedule, manage and host a range of meetings for participants at their in-person and virtual events with ease. 
The benefits to buyers and suppliers include being able to conduct months' worth of meetings in only a few days (or less), accelerate their buying and selling processes by only connecting the right people, and learn from leading industry experts and peers.
As the economic downturn worsens, Grip has seen a record 80% increase in demand for events where meetings are a core part of the experience. The company attributes that increase to attendees, sponsors and exhibitors demanding more value from events they commit to and organizers wanting new ways to grow. To meet this demand, Grip is now seeing organizers offering more facilitated meeting programs, such as hosted buyer events, to deliver ROI and increase revenue. 
"The way meetings are scheduled today at events is ad hoc and unplanned, resulting in a poor experience for participants," said Tim Groot, founder and CEO of Grip. "For example, many event organizers hope to connect the right participants at their events, but they're not very deliberate about ensuring the right people meet one another."
He added, "But now, as a result of the global economic slowdown, event organizers are focusing more on 'interaction-led events' to deliver greater ROI."
In Grip's experience, the reason is that most sponsors and exhibitors are looking to have more valuable meetings at events, according to Groot.
"It's their main reason for participating in the first place," he said. They want to quickly discover and then meet potential new customers at events they invest in."
Complex meeting formats can now be deployed by event organizers automatically with MustMeet. Previously this would have taken several hundred post-it notes, spreadsheets and hours of manual work, and last-minute dropouts would have thrown carefully planned schedules into disarray. Additional hours would also be spent distributing, collecting and analyzing participants' paper feedback forms post-event to assess the effectiveness and quality of meeting programs. 
MustMeet, enables organizers to deliver the following meeting formats with intuitive, automated scheduling.
One-to-one meetings: Two mutually beneficial sides (buyer and supplier) are matched by Grip's AI (as part of a hosted buyer event). MustMeet automatically confirms the meeting, puts it in participants' event schedules (plus work calendars), books the location where they'll meet (a booth, table or meeting room at the event), and enables both parties to rate the meeting easily.  


 

One-to-many meetings: This meeting format is where one participant wants to meet various people at once. For example, a CEO connects with three different investors during one meeting. 


 

Many-to-many meetings: Numerous Grip customers use MustMeet to host roundtables where 10-plus participants join a 90-minute meeting to discuss a hot topic. An example is where 10 CIOs and two enterprise technology vendor reps meet to discuss hot industry issues. 
Through MustMeet, the event organizer's strategy is executed with a meeting program, where meeting formats are agreed, implemented and made an integral part of their events, according to Groot.
"Crucially, organizers we work with see meetings as a valuable component that creates new revenue streams, important during this difficult economic period," he said. "It also allows them to prove the ROI of their shows to exhibitors and sponsors with robust metrics, like the number and quality of the meetings that took place during the event." 
Specific benefits of MustMeet include:
An increase of as much as 20% in event revenue, as more valuable sponsor packages with meetings can be sold.


 

A reduction of up to 95% of time spent arranging meetings, compared to traditional manual matchmaking solutions.


 

Achieving record-breaking NPS scores, thanks to an improvement in participant meeting quality.


 

A dramatic increase in exhibitor re-bookings, as organizers are now able to demonstrate the ROI by showing them the number of meetings they scheduled before, during and after the event. 
MustMeet's first customers include the organizers of large events such as the Professional Convention Management Association (PCMA) and the National Retail Federation, as well as smaller, more intimate events like MIP Cancun, Female Founders Office Hours and m&i Healthcare Europe. 
Following are examples of how MustMeet is being used by participants at these leading industry events.
Hundreds of souvenir manufacturers in the U.S. met with airports, zoos and museum gift shops to win new orders and increase revenue.


 

Over 2,000 meetings were booked between TV executives and TV producers looking to sell their programs to streaming providers, resulting in millions seeing their shows.


 

Over 400 female founders met investors to secure funding over the course of 1,800 meetings.
All these meetings resulted in vital new opportunities created, thousands in additional revenue generated and hundreds of hours saved, according to Groot.
Don't miss any event-related news: Sign up for our weekly e-newsletter HERE, listen to our latest podcast HERE and engage with us on Twitter, Facebook, LinkedIn and Instagram!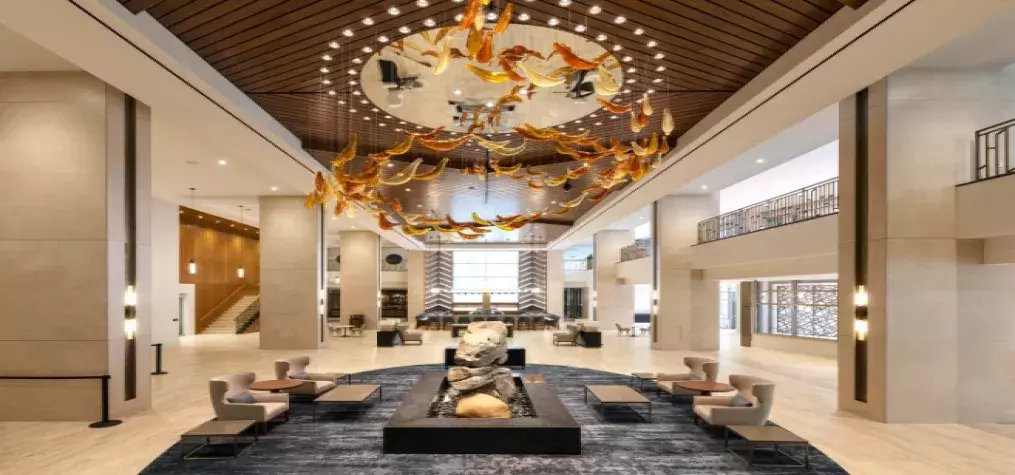 Located in beautiful North Carolina, Harrah's Cherokee is the perfect mountain getaway with breathtaking views of the Great Smoky Mountains and new additions to its resort and conference spaces sure to elevate any meetings or event. Completed in 2021, Harrah's Cherokee's latest $330 million expansion project introduced an entirely new fourth hotel tower, The Cherokee, as well as an additional 83,000 square feet of meeting space with the Cherokee Convention Center. The Cherokee tower brings with it 725 rooms and 70 luxurious suites spread out over 19 floors for a grand total of 1,800 rooms across the entire resort. The new rooms feature a sleek design with an earth-toned color palette and modern amenities. In addition to the new rooms, the expansion also brought with it a luxurious new lobby and lobby bar, a fitness center, a coffee & pastry bar, and a second pool. Conventions, trade shows, banquets, receptions, and even the smallest, most intimate gatherings can find the perfect arrangement at Harrah's Cherokee with its 130,000 square feet of flexible meeting space – including the Cherokee Convention Center. The resort offers a myriad of different spaces and configuration options for events, but the largest spaces include the following: 32,000-sq-ft Cherokee Convention Center ballroom with 22 meeting spaces 11,100-sq-ft Cherokee Convention Center ballroom pre-function space 33,000-sq-ft Cherokee Exhibit Hall 6,000-sq-ft Cherokee Exhibit Hall Pre-Function 13,801-sq-ft Council Fire Ballroom able to be reconfigured into as many as four ballrooms from 3,100 to 3,529-sq-ft each 16,815-sq-ft Event Center able to be configured in six different ways to accommodate 100 to 1,500 guests and offers four VIP suites, box seating, and more than 1,100 balcony seats. In addition to the new accommodations and meeting space, Harrah's Cherokee has also opened several new restaurants as part of the expansion including Guy Fieri's Cherokee Kitchen + Bar which includes the chef's award-winning burgers and barbeque on the menu. Another celebrity chef has also made their mark on the resort with the opening of Gordon Ramsay Food Market which features eight dining concepts ranging from sushi to New York-style deli sandwiches and classic fine-dining fare. Longtime Asheville favorite, Wicked Weed Brewing Pub has also debuted a new location next to Harrah's Cherokee Event Center creating the perfect after-event center with its bright and bold design, over thirty different beers, and live music on weekends. An easy drive from many of the largest cities in the Southeast, Harrah's Cherokee provides the perfect blend of majestic mountainscapes, luxurious new accommodations, and authentic Native American culture.