Pennsylvania Convention Center and Labor Partners Launch Innovative Training Program to Enhance Customer Experience
January 6, 2023
Philadelphia's Pennsylvania Convention Center (PCC), managed by ASM Global, and its trade show labor partners unveiled "Safety, Skills and Smiles," a workforce training initiative—believed to be the first of its kind in the country—to further solidify the already strong working relationship between all parties and further enrich the client experience. The joint management program is dedicated to expanding and building upon existing training programs in three areas: safety, technical skills and customer service and hospitality.
The program will be financed through the new Hospitality Industry Advancement Trust (HIAT) Fund, representing a partnership between the management of the PCC and the organizations responsible for providing show floor labor to the facility's customers. The HIAT Fund will support enhanced training opportunities in three ways:
Safety programs will provide participants with opportunities to obtain general and specialized Occupational Safety and Health Administration (OSHA) safety certifications.

Skills training will be coordinated with contractors in the convention and meeting industry, such as installation & dismantle (I&D) and decorator companies to provide the workforce with the latest technical training so they can offer the most efficient and economical builds possible.

Hospitality 1.0 and 2.0 programs will focus on providing customers and guests with memory-making experiences that consistently exceed expectations through prioritizing customers, positive attitude and engagement, and a commitment to success.
"The signatory labor unions of the Pennsylvania Convention Center are proud to be participating in the new Hospitality Industry Advancement Trust," said Michael J. Barnes, first international vice president of the International Alliance of Theatrical & Stage Employees (IATSE) and chair of the HIAT Fund Board. "This innovative joint initiative between convention center labor and management will improve workplace safety, provide additional skills training to enable the center to offer customers the most economical build-outs possible, and provide all guests with so many wonderful memories that they'll want to return, again and again.
Barnes thanked John McNichol, president and CEO of the Pennsylvania Convention Center Authority (PCCA), for his spirit of partnership with the signatory unions and forward-thinking leadership.
"We are fortunate to have a team of labor partners that appreciate and understand the importance of delivering the best possible experience to our trade show, event, convention and meeting customers," McNichol said. "They are making a long-term commitment to ensuring the labor personnel who work in our facility not only have the latest safety and skills training but also a high-level of hospitality-focused training.
McNichol commended the "remarkable" partnership and cooperative relationship between management and its show floor labor workforce, which he said is having a real, substantive impact on the customer experience.
"In fact, customer satisfaction survey scores at the Pennsylvania Convention Center demonstrate the results, with an 87.2% overall rating and an outstanding score of 95.5% for utility services," McNichol said.
According to Martin J. Sobol, a member of the PCCA's Board of Directors and chair of the board's Customer Satisfaction Committee, the new program is another illustration of management and labor at the center working together to deliver to meeting planners, exhibitors and attendees the best possible experience and value.
"We are a united team that understands that strong customer service improves our competitiveness, puts us in a position to make every customer a repeat customer, and ensures Philadelphia will remain one of the country's most desirable convention destinations for many years to come," Sobol said.
The PCC and its trade show labor partners have established a method of ensuring the trust receives consistent funding—approximately $250,000 to $400,000 per year—to meet the ongoing and evolving training needs of its workforce. The trade show labor unions will make a donation to the fund for every hour worked with a union member, an amount that will then be matched by the PCC's management. The PCC's four trade show labor partners include Laborers' International Local 332, IATSE Local 8 (Stagehands), International Brotherhood of Electrical Workers (IBEW) Local 98 and Iron Workers Local 405.
The ongoing cooperative working relationship between management and labor was further solidified last year with the extension of the facility's labor agreement, known as the Customer Satisfaction Agreement (CSA), an additional five years until 2034. That additional five-year commitment is designed to provide customers with an added level of predictability and stability for their long-term event planning.
Don't miss any event-related news: Sign up for our weekly e-newsletter HERE, listen to our latest podcast HERE and engage with us on Twitter, Facebook, LinkedIn and Instagram!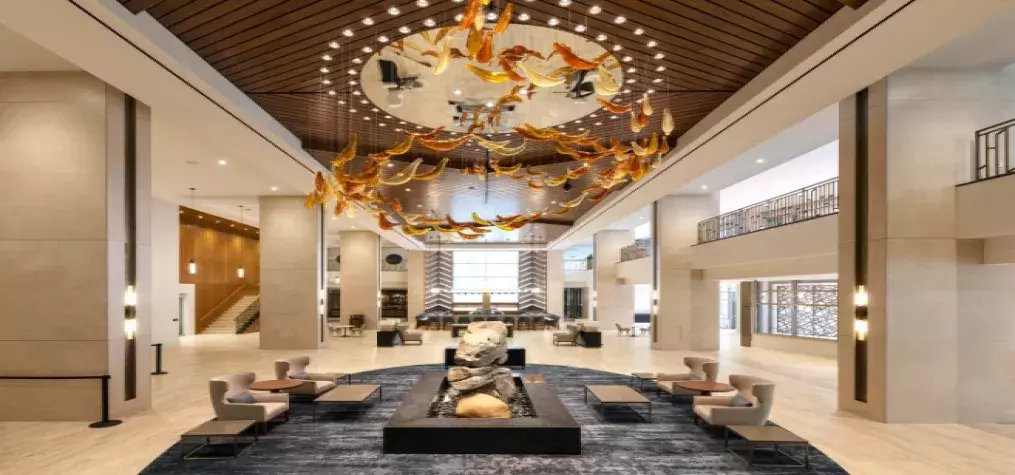 Located in beautiful North Carolina, Harrah's Cherokee is the perfect mountain getaway with breathtaking views of the Great Smoky Mountains and new additions to its resort and conference spaces sure to elevate any meetings or event. Completed in 2021, Harrah's Cherokee's latest $330 million expansion project introduced an entirely new fourth hotel tower, The Cherokee, as well as an additional 83,000 square feet of meeting space with the Cherokee Convention Center. The Cherokee tower brings with it 725 rooms and 70 luxurious suites spread out over 19 floors for a grand total of 1,800 rooms across the entire resort. The new rooms feature a sleek design with an earth-toned color palette and modern amenities. In addition to the new rooms, the expansion also brought with it a luxurious new lobby and lobby bar, a fitness center, a coffee & pastry bar, and a second pool. Conventions, trade shows, banquets, receptions, and even the smallest, most intimate gatherings can find the perfect arrangement at Harrah's Cherokee with its 130,000 square feet of flexible meeting space – including the Cherokee Convention Center. The resort offers a myriad of different spaces and configuration options for events, but the largest spaces include the following: 32,000-sq-ft Cherokee Convention Center ballroom with 22 meeting spaces 11,100-sq-ft Cherokee Convention Center ballroom pre-function space 33,000-sq-ft Cherokee Exhibit Hall 6,000-sq-ft Cherokee Exhibit Hall Pre-Function 13,801-sq-ft Council Fire Ballroom able to be reconfigured into as many as four ballrooms from 3,100 to 3,529-sq-ft each 16,815-sq-ft Event Center able to be configured in six different ways to accommodate 100 to 1,500 guests and offers four VIP suites, box seating, and more than 1,100 balcony seats. In addition to the new accommodations and meeting space, Harrah's Cherokee has also opened several new restaurants as part of the expansion including Guy Fieri's Cherokee Kitchen + Bar which includes the chef's award-winning burgers and barbeque on the menu. Another celebrity chef has also made their mark on the resort with the opening of Gordon Ramsay Food Market which features eight dining concepts ranging from sushi to New York-style deli sandwiches and classic fine-dining fare. Longtime Asheville favorite, Wicked Weed Brewing Pub has also debuted a new location next to Harrah's Cherokee Event Center creating the perfect after-event center with its bright and bold design, over thirty different beers, and live music on weekends. An easy drive from many of the largest cities in the Southeast, Harrah's Cherokee provides the perfect blend of majestic mountainscapes, luxurious new accommodations, and authentic Native American culture.