VSef Makes New Versions of Standards Guides for Event Data Available for Download and Implementation
December 30, 2022
Responding to the event industry's need for a standardized data structure and communications protocol for digital, in-person and hybrid events, global assurance provider BPA Worldwide announced that versions 2.0 of the VSef (Virtual Standard Export Format) Standards Guide and VSef API Standards Guide are now available to download, review and implement. 
VSef, which was acquired by BPA Worldwide in September 2022, is a data file reporting format designed to streamline the collection and exchange of data within the events industry by establishing standard data structures and common naming conventions across event technology platforms. BPA has oversight of the VSef standards and certifies organizations' compliance with the guidelines.
Once the VSef standards have been successfully implemented and validated, participating platforms will receive the VSef Compliance seal that can be used in sales and marketing materials, as well as a listing on the VSef website.
"The consistency that the VSef Standards provide will allow for efficient data acquisition, aggregation, processing, sharing and reporting within companies and across the industry," said Richard Murphy, president and CEO of BPA Worldwide. "VSef establishes the standards for a range of key event metrics and engagement KPIs, and how those data points should be formatted for easy transfer between systems."
VSef data is made up of three core data types:
Metadata: Aggregate data about the event 
 
Individual participant data:  Data about the event experience of individual participants of all types including (but not limited to) delegates, speakers, exhibitors, sponsors and any other individual users present at the event 
 

Individual company data:  Collective data about the experience of sponsors and exhibitors in relation to the event (sponsor is used to refer to both sponsoring and exhibiting companies)
To download the Vsef Standards Guide 2.0, click here.
In addition, the VSef API Standards Guide provides requirements, formatting specifications, naming conventions and a template outline for event platforms to create VSef-compliant API endpoints, as well as setting rules on how to implement these endpoints. The VSef API Standards Guide is designed to ensure efficient and consistent data access and sharing across all VSef-compliant virtual event platforms.
To download the VSef API Standards Guide 2.0, click here.
Don't miss any event-related news: Sign up for our weekly e-newsletter HERE, listen to our latest podcast HERE and engage with us on Twitter, Facebook, LinkedIn and Instagram!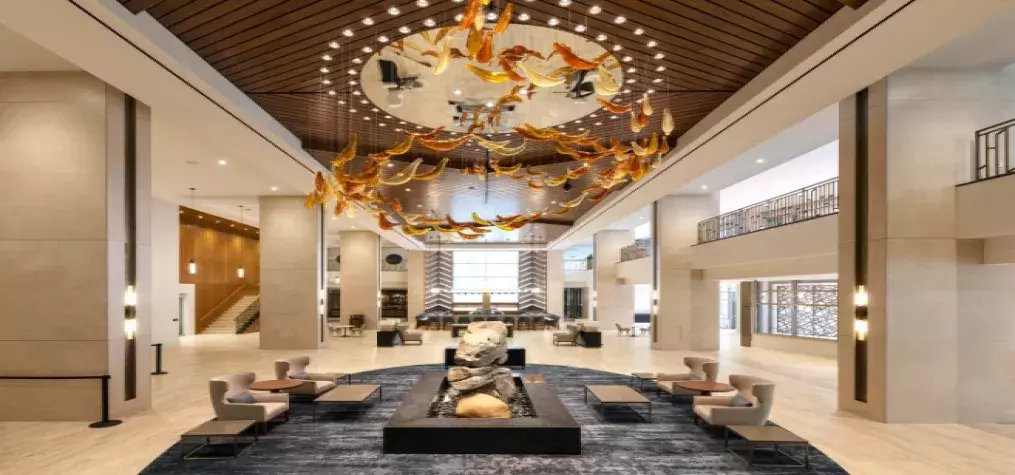 Located in beautiful North Carolina, Harrah's Cherokee is the perfect mountain getaway with breathtaking views of the Great Smoky Mountains and new additions to its resort and conference spaces sure to elevate any meetings or event. Completed in 2021, Harrah's Cherokee's latest $330 million expansion project introduced an entirely new fourth hotel tower, The Cherokee, as well as an additional 83,000 square feet of meeting space with the Cherokee Convention Center. The Cherokee tower brings with it 725 rooms and 70 luxurious suites spread out over 19 floors for a grand total of 1,800 rooms across the entire resort. The new rooms feature a sleek design with an earth-toned color palette and modern amenities. In addition to the new rooms, the expansion also brought with it a luxurious new lobby and lobby bar, a fitness center, a coffee & pastry bar, and a second pool. Conventions, trade shows, banquets, receptions, and even the smallest, most intimate gatherings can find the perfect arrangement at Harrah's Cherokee with its 130,000 square feet of flexible meeting space – including the Cherokee Convention Center. The resort offers a myriad of different spaces and configuration options for events, but the largest spaces include the following: 32,000-sq-ft Cherokee Convention Center ballroom with 22 meeting spaces 11,100-sq-ft Cherokee Convention Center ballroom pre-function space 33,000-sq-ft Cherokee Exhibit Hall 6,000-sq-ft Cherokee Exhibit Hall Pre-Function 13,801-sq-ft Council Fire Ballroom able to be reconfigured into as many as four ballrooms from 3,100 to 3,529-sq-ft each 16,815-sq-ft Event Center able to be configured in six different ways to accommodate 100 to 1,500 guests and offers four VIP suites, box seating, and more than 1,100 balcony seats. In addition to the new accommodations and meeting space, Harrah's Cherokee has also opened several new restaurants as part of the expansion including Guy Fieri's Cherokee Kitchen + Bar which includes the chef's award-winning burgers and barbeque on the menu. Another celebrity chef has also made their mark on the resort with the opening of Gordon Ramsay Food Market which features eight dining concepts ranging from sushi to New York-style deli sandwiches and classic fine-dining fare. Longtime Asheville favorite, Wicked Weed Brewing Pub has also debuted a new location next to Harrah's Cherokee Event Center creating the perfect after-event center with its bright and bold design, over thirty different beers, and live music on weekends. An easy drive from many of the largest cities in the Southeast, Harrah's Cherokee provides the perfect blend of majestic mountainscapes, luxurious new accommodations, and authentic Native American culture.