IAEE Hosts Successful Women's Leadership Forum, Celebrates 2022 Woman of Achievement Award Winner
April 19, 2022
As an annual education and networking event for female exhibitions and events industry professionals at all stages of their careers, IAEE's signature Women's Leadership Forum convened 184 attendees for two days of knowledge, inspiration, resources and strategies for career success. Held March 23-24 at the Gaylord National Resort and Convention Center in National Harbor, Md., the 10th annual conference also celebrated the 2022 Woman of Achievement Award winner, Lenay Gore, former senior director of meetings and trade shows with the American Public Transportation Association (APTA). 
"The energy, enthusiasm and engagement among the attendees at this year's program was exciting to experience," said IAEE Executive Vice President and COO Cathy Breden. "This program provides attendees with a broad range of impactful information that can be applied immediately to their career, regardless of where they may be in their career path." 
Sessions presented, along with "Afterthought" roundtable discussions on each subject, included the following: 
From Frustrated to Focused: Mindset Strategies for Career and Business Growth

, presented by Debbie Peterson, president and keynote speaker, Getting to Clarity

Navigating Behaviors & Emotions in Uncertain Times: Tips and Tools for Improving Interactions and Emotional Wellbeing

, presented by Claudia St. John, founder and president, Affinity HR Group

Come Alive: The Power of Purpose and Reinvention

, presented by Yvette R. Simpson, Esq., founder and CEO, Yvette Simpson, executive strategist, consultant and media contributor

Ignite Your Shift: Overcoming the Discomfort of Change

, presented by Anne Bonney, speaker, author and podcaster, Different Shoe Enterprises

 
"What a great lineup [of speakers], and the way you complimented each other and wove other pieces of earlier presentations into your own was fantastic," said Mary Becton, an attendee and founder and principal consultant with Dogwood Event Strategies. "My cup is filled today after listening to the four [speakers] yesterday!" 
At the luncheon on the second day of the lively event, IAEE announced Gore as the recipient of the 2022 Woman of Achievement Award, which recognizes a woman who has led the way in the advancement of women in the exhibitions and events industry, exhibited outstanding leadership and made significant contributions to the industry and her community. 
"I am honored and humbled to receive the IAEE Woman of Achievement Award," Gore said. "I have been fortunate to have an extraordinary career, and I am grateful for the involvement with this wonderful industry. To my friends and colleagues in the trade show industry, I thank you all and IAEE for the support over the years. What a great way to start my retirement!" 
After serving on the supplier side of the events industry for more than 25 years, the 30-year industry veteran started at APTA in 2008 as the director of meetings and conventions, where she led a team responsible for six major meetings with exhibits and more than 35 smaller meetings annually (APTA's triennial EXPO and annual meeting attracts more than 15,000 attendees spanning more than 285,000 net square feet of exhibit space). Prior to APTA, she worked for the San Diego Convention Center, IEP (now PRG), GES, the Washington D.C. Convention and Tourism Corporation and both Renaissance and Hilton Hotels. 
A dedicated IAEE member for 25 years, Gore has served on almost every committee the association has to offer on both the national and chapter levels, and also served on the IAEE Services Board of Directors for many years, including a term as chairperson, according to IAEE officials. She is also in the HSMAI DC Hall of Fame and won IAEE's Distinguished Service Award in 2009. 
"I've worked with Lenay in her volunteer leadership roles over the past 20 years and have always been impressed with how she can hone in on what's being discussed and provide her perspective," Breden said. "When she agrees to do something, she is all-in. She is deserving of this award and I wish her all the best as she transitions into retirement." 
Besides empowering educational sessions and plentiful peer-to-peer networking opportunities, each year, the event also features a social giving activity to help the local community. This year, the women of IAEE came together to raise $2,600 for The SOFEI Group (Starting Over for Economic Independence), a nonprofit organization committed to helping women throughout the Washington, D.C., region emerge from economic instability through education, training and development. 
"This year's [Women's Leadership Forum focused] on clarity of purpose and taking ownership of the role we play in our own success and delivered a palpable energy among participants and an amazing synergy from our speakers," said IAEE Women's Leadership Committee Chairperson Shauna Peters, vice president and marketing strategist for mdg, A Freeman Company. "I am grateful to IAEE and the Women's Leadership Committee for their time and thoughtful intention in developing this program."
Check out a CNTV video recap of the 2022 IAEE Women's Leadership Forum here. 
Don't miss any event-related news: Sign up for our weekly e-newsletter HERE and engage with us on Twitter, Facebook, LinkedIn and Instagram!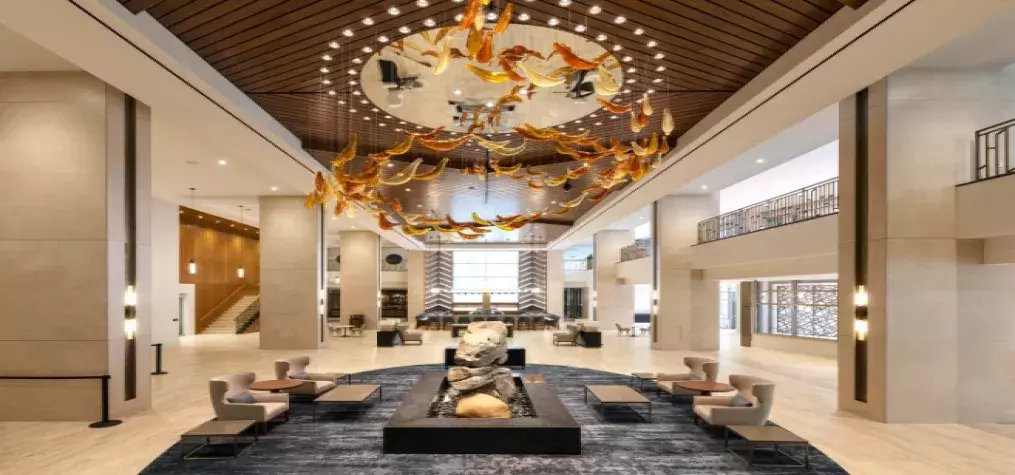 Located in beautiful North Carolina, Harrah's Cherokee is the perfect mountain getaway with breathtaking views of the Great Smoky Mountains and new additions to its resort and conference spaces sure to elevate any meetings or event. Completed in 2021, Harrah's Cherokee's latest $330 million expansion project introduced an entirely new fourth hotel tower, The Cherokee, as well as an additional 83,000 square feet of meeting space with the Cherokee Convention Center. The Cherokee tower brings with it 725 rooms and 70 luxurious suites spread out over 19 floors for a grand total of 1,800 rooms across the entire resort. The new rooms feature a sleek design with an earth-toned color palette and modern amenities. In addition to the new rooms, the expansion also brought with it a luxurious new lobby and lobby bar, a fitness center, a coffee & pastry bar, and a second pool. Conventions, trade shows, banquets, receptions, and even the smallest, most intimate gatherings can find the perfect arrangement at Harrah's Cherokee with its 130,000 square feet of flexible meeting space – including the Cherokee Convention Center. The resort offers a myriad of different spaces and configuration options for events, but the largest spaces include the following: 32,000-sq-ft Cherokee Convention Center ballroom with 22 meeting spaces 11,100-sq-ft Cherokee Convention Center ballroom pre-function space 33,000-sq-ft Cherokee Exhibit Hall 6,000-sq-ft Cherokee Exhibit Hall Pre-Function 13,801-sq-ft Council Fire Ballroom able to be reconfigured into as many as four ballrooms from 3,100 to 3,529-sq-ft each 16,815-sq-ft Event Center able to be configured in six different ways to accommodate 100 to 1,500 guests and offers four VIP suites, box seating, and more than 1,100 balcony seats. In addition to the new accommodations and meeting space, Harrah's Cherokee has also opened several new restaurants as part of the expansion including Guy Fieri's Cherokee Kitchen + Bar which includes the chef's award-winning burgers and barbeque on the menu. Another celebrity chef has also made their mark on the resort with the opening of Gordon Ramsay Food Market which features eight dining concepts ranging from sushi to New York-style deli sandwiches and classic fine-dining fare. Longtime Asheville favorite, Wicked Weed Brewing Pub has also debuted a new location next to Harrah's Cherokee Event Center creating the perfect after-event center with its bright and bold design, over thirty different beers, and live music on weekends. An easy drive from many of the largest cities in the Southeast, Harrah's Cherokee provides the perfect blend of majestic mountainscapes, luxurious new accommodations, and authentic Native American culture.