Orange County Convention Center Event Clients Work to Combat Hunger During the Holiday Season
December 20, 2022
Over the course of each year, the Orange County Convention Center (OCCC) in Orlando, Fla., routinely works with sustainably minded clients to help them donate leftover food and unwanted materials after their events. With food and event waste still a glaring problem at many trade shows and conferences, this charitable effort not only helps keep leftover food and event items out of landfill, but also helps positively impact local community nonprofits working to combat hunger and assist those in need. 
Most recently, the venue worked with two major event clients to collectively donate nearly 200,000 pounds of food to Second Harvest Food Bank of Central Florida (SHFBCF), which secures and distributes food and grocery products to more than 625 local nonprofit feeding partners throughout Central Florida. 
SHFBCF volunteers were able to collect 3,588 pounds of nonperishable, wrapped and canned food from exhibitors at the Academy of Nutrition and Dietetics' Food & Nutrition Conference & Expo (FNCE) and 196,285 pounds of fresh food items from exhibitors at the International Fresh Produce Association (IFPA)'s Global Produce and Floral Show.  
"As one of the largest convention centers in the U.S., we continuously encourage and empower our clients to implement sustainable initiatives during their event," said OCCC Executive Director Mark Tester. "We greatly appreciate the efforts of IFPA and FNCE to prioritize these food donations that have created a significant impact on our local community."
During the center's 2020-2021 fiscal year, nearly $220,000 worth of food and merchandise, including approximately 13,725 pounds of food, were donated to local organizations including the SHFBCF, Great Oaks Village, Libby's Legacy, United Against Poverty, One Heart for Women and Children, and Orange County Public Schools. 
In January, the NAFEM Show is expected to gather one to two pallets of food donations for SHFBCF, and several other event clients have expressed interest in setting up food donations after the holidays, as well as incorporating other sustainable initiatives at their events, according to OCCC officials.
As a member of Feeding America, the largest charitable domestic hunger-relief organization in the U.S., SHFBCF distributes approximately 300,000 meals every day to a seven-county service area including Brevard, Lake, Orange, Osceola, Seminole, Volusia and Marion. With the help of food and financial donors, volunteers and a caring and committed community, SHFBCF works to solve the root causes of hunger while helping its neighbors thrive via job training programs, advocating for access to nutritious foods and inspiring community involvement. To learn more, go here. 
Want to minimize food waste at your meetings and events? Learn some best practices here!
Don't miss any event-related news: Sign up for our weekly e-newsletter HERE, listen to our latest podcast HERE and engage with us on Twitter, Facebook, LinkedIn and Instagram!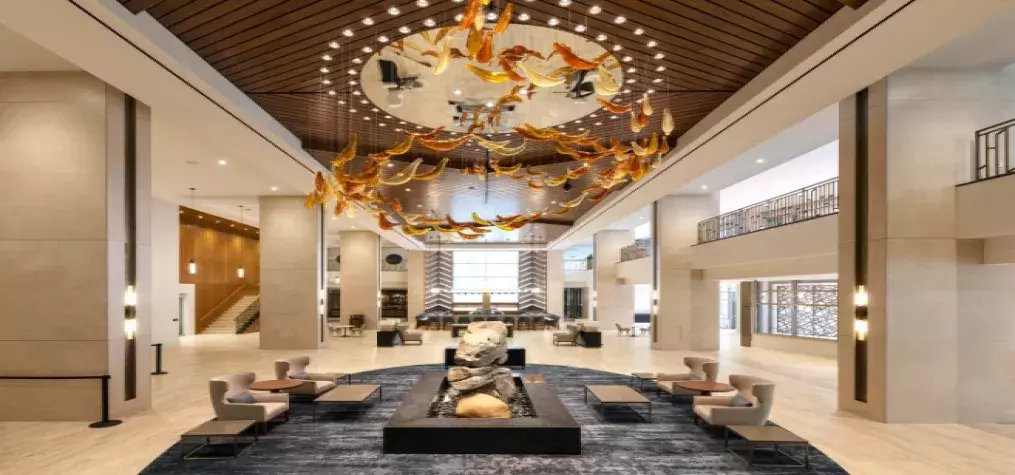 Located in beautiful North Carolina, Harrah's Cherokee is the perfect mountain getaway with breathtaking views of the Great Smoky Mountains and new additions to its resort and conference spaces sure to elevate any meetings or event. Completed in 2021, Harrah's Cherokee's latest $330 million expansion project introduced an entirely new fourth hotel tower, The Cherokee, as well as an additional 83,000 square feet of meeting space with the Cherokee Convention Center. The Cherokee tower brings with it 725 rooms and 70 luxurious suites spread out over 19 floors for a grand total of 1,800 rooms across the entire resort. The new rooms feature a sleek design with an earth-toned color palette and modern amenities. In addition to the new rooms, the expansion also brought with it a luxurious new lobby and lobby bar, a fitness center, a coffee & pastry bar, and a second pool. Conventions, trade shows, banquets, receptions, and even the smallest, most intimate gatherings can find the perfect arrangement at Harrah's Cherokee with its 130,000 square feet of flexible meeting space – including the Cherokee Convention Center. The resort offers a myriad of different spaces and configuration options for events, but the largest spaces include the following: 32,000-sq-ft Cherokee Convention Center ballroom with 22 meeting spaces 11,100-sq-ft Cherokee Convention Center ballroom pre-function space 33,000-sq-ft Cherokee Exhibit Hall 6,000-sq-ft Cherokee Exhibit Hall Pre-Function 13,801-sq-ft Council Fire Ballroom able to be reconfigured into as many as four ballrooms from 3,100 to 3,529-sq-ft each 16,815-sq-ft Event Center able to be configured in six different ways to accommodate 100 to 1,500 guests and offers four VIP suites, box seating, and more than 1,100 balcony seats. In addition to the new accommodations and meeting space, Harrah's Cherokee has also opened several new restaurants as part of the expansion including Guy Fieri's Cherokee Kitchen + Bar which includes the chef's award-winning burgers and barbeque on the menu. Another celebrity chef has also made their mark on the resort with the opening of Gordon Ramsay Food Market which features eight dining concepts ranging from sushi to New York-style deli sandwiches and classic fine-dining fare. Longtime Asheville favorite, Wicked Weed Brewing Pub has also debuted a new location next to Harrah's Cherokee Event Center creating the perfect after-event center with its bright and bold design, over thirty different beers, and live music on weekends. An easy drive from many of the largest cities in the Southeast, Harrah's Cherokee provides the perfect blend of majestic mountainscapes, luxurious new accommodations, and authentic Native American culture.