Pump the Oil: 3 Ways to Power Your Virtual Event Via Data Analytics
April 20, 2022
Famed British mathematician and data science entrepreneur Clive Humby said it best: "Data is the new oil. (Just as oil) has to be changed into gas, plastic, chemicals, etc., to create a valuable entity that drives profitable activity, so data must be broken down and analyzed for it to have value." 
As the world embraces virtual events to cope with the disruption caused by the pandemic, there's an opportunity for event professionals to leverage data. And one of the best things about virtual events is that they generate a goldmine of data — granular details that can help you pinpoint exactly how your event fared. There are quite a few ways you can harness the power of these numbers, but three of them stand out.  
Know what your attendees want — and what they don't 
Virtual event data helps you understand your attendees better, both individually and as a whole. For instance, by charting weekly registrations, you can gain insight into what content your attendees deem most useful, audience demographics, and derive trends. Or you can review which ticket types performed best at your previous events and build an appropriate pricing strategy. You can also discover which sessions, speakers, and booths were liked more, the most popular contest formats, and even the preferred mode of networking among attendees.
Are your attendees enjoying the event? Which session had the maximum attendance? Are the attendees participating in polls? Instead of wondering, use event data and analytics to help you get answers to these questions and so much more.
Show sponsors they've invested in the right place 
Sponsorships are a significant contributor to the overall event revenue, which is why you should provide your exhibitors and sponsors with relevant metrics to showcase the value your event offers. To do this, your virtual event platform must provide you with relevant insights like metrics on sponsored banner ads, unique impressions, clicks garnered for ads placed at different locations, and attendee details.  
Another useful metric is booth traffic data. How many attendees visited? What actions did they perform? Did they request a product demo? All this helps shed light on the amount of visibility and lead generation opportunities your sponsors received at your event. This enables you to build a convincing case for why they should continue sponsoring your events.
Estimate the 'real' event ROI
Virtual event Return on Investment (ROI) isn't just about what you gain from a monetary point of view. While expenditure vs. revenue can offer a good starting point to calculate your financial ROI, the real ROI varies according to your event goals. Say you're selling burgers. Your ROI is not just the profit you earn, but also any word-of-mouth marketing that happens for your burgers. 
Similarly, when you define your event's Key Performance Indicators (KPIs), look at what it is that you want to achieve. Is it a specific profit figure? Is it high audience engagement? Is it increasing discussion around a specific topic or gathering membership for your association? A virtual event platform will enable you to track each data point and provide you with detailed insights. You can then chart this against your ROI goals and measure what the event helped you achieve. 
And this is only the tip of the iceberg. To keep drilling for oil, book a demo with us and explore all that's possible with an event analytics platform.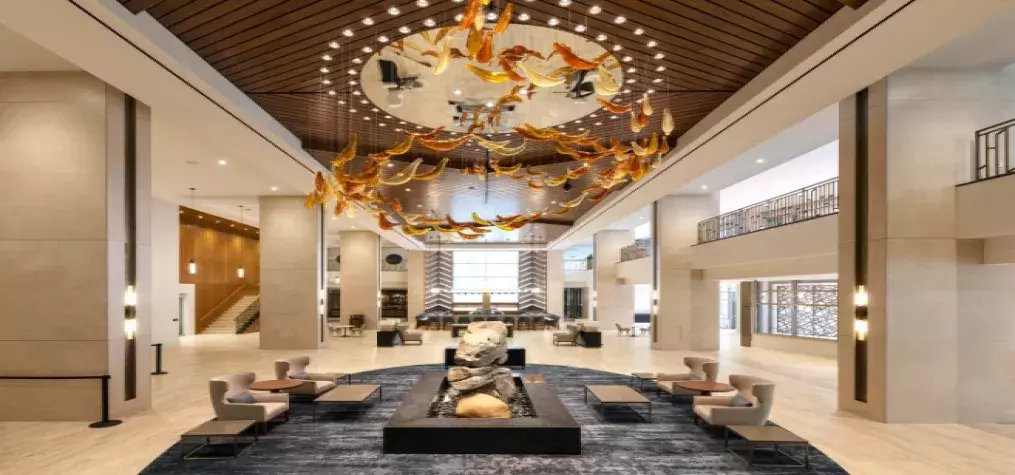 Located in beautiful North Carolina, Harrah's Cherokee is the perfect mountain getaway with breathtaking views of the Great Smoky Mountains and new additions to its resort and conference spaces sure to elevate any meetings or event. Completed in 2021, Harrah's Cherokee's latest $330 million expansion project introduced an entirely new fourth hotel tower, The Cherokee, as well as an additional 83,000 square feet of meeting space with the Cherokee Convention Center. The Cherokee tower brings with it 725 rooms and 70 luxurious suites spread out over 19 floors for a grand total of 1,800 rooms across the entire resort. The new rooms feature a sleek design with an earth-toned color palette and modern amenities. In addition to the new rooms, the expansion also brought with it a luxurious new lobby and lobby bar, a fitness center, a coffee & pastry bar, and a second pool. Conventions, trade shows, banquets, receptions, and even the smallest, most intimate gatherings can find the perfect arrangement at Harrah's Cherokee with its 130,000 square feet of flexible meeting space – including the Cherokee Convention Center. The resort offers a myriad of different spaces and configuration options for events, but the largest spaces include the following: 32,000-sq-ft Cherokee Convention Center ballroom with 22 meeting spaces 11,100-sq-ft Cherokee Convention Center ballroom pre-function space 33,000-sq-ft Cherokee Exhibit Hall 6,000-sq-ft Cherokee Exhibit Hall Pre-Function 13,801-sq-ft Council Fire Ballroom able to be reconfigured into as many as four ballrooms from 3,100 to 3,529-sq-ft each 16,815-sq-ft Event Center able to be configured in six different ways to accommodate 100 to 1,500 guests and offers four VIP suites, box seating, and more than 1,100 balcony seats. In addition to the new accommodations and meeting space, Harrah's Cherokee has also opened several new restaurants as part of the expansion including Guy Fieri's Cherokee Kitchen + Bar which includes the chef's award-winning burgers and barbeque on the menu. Another celebrity chef has also made their mark on the resort with the opening of Gordon Ramsay Food Market which features eight dining concepts ranging from sushi to New York-style deli sandwiches and classic fine-dining fare. Longtime Asheville favorite, Wicked Weed Brewing Pub has also debuted a new location next to Harrah's Cherokee Event Center creating the perfect after-event center with its bright and bold design, over thirty different beers, and live music on weekends. An easy drive from many of the largest cities in the Southeast, Harrah's Cherokee provides the perfect blend of majestic mountainscapes, luxurious new accommodations, and authentic Native American culture.