Straight Talk: Cathy Breden, CEO, CEIR
March 10, 2022
Growing up, Cathy Breden thought she would one day pursue a career in medicine, an aspiration her father hoped she would one day fulfill. But while putting herself through college, the Tampa, Florida native realized her life was meant to take a different path, one she would shape through trial and error.
"I did not have the stereotypical college experience many students have because I was focused on keeping my head above water," Breden says. "My grades reflected how stretched I was. I was carrying a full load of classes [at Florida State University] and working part-time at the Florida Retail Federation, a part-time job that turned into a 30-hour job when I was promoted from an assistant to director of information, while still carrying a full load. I learned a lot from my time [there], primarily that I did not enjoy government relations." 
While in her last year at FSU, Breden began taking classes in a new nonprofit management program put on by the Florida Society of Association Executives and was awarded a scholarship. This led to her graduating with a Business Administration degree in Association Management, which helped her land a job at the Florida Medical Association in Jacksonville, where she and her college sweetheart and future husband had recently re-located post-graduation.  
"It was with the FMA that I found my niche: working for an association that made a difference in people's lives," she says. "I worked with the public health directors around the state, and I found the work rewarding."
Since then, Breden has never strayed from her dedication to the association industry, working at the New Jersey Academy of Family Physicians, then at the International Association of Exhibitions and Events (IAEE), where she has worked for almost two decades and currently serves as its executive vice president and COO, alongside her leadership role at the Center for Exhibition Industry Research (CEIR), as its CEO.
TSNN had the chance to sit down with Breden to see how she and her teams have been navigating the past couple of years, what's next on the horizon for CEIR, and what she believes will be essential for associations and trade shows as they continue their journey toward a full comeback.
What have been the biggest challenges CEIR has had to navigate during the past two years? 
CEIR is a research foundation that exists through donations and pledges, and its purpose is to conduct primary research on the B2B exhibitions industry. We halted all fundraising activities in 2020 and have just recently begun soliciting again. Fortunately, CEIR had a healthy reserve fund that got us through. We were also fortunate that we had pandemic coverage for the 2020 CEIR Predict Conference.  
How did your organization change during COVID and what have been the most valuable lessons/takeaways from the experience?
CEIR normally publishes the CEIR Index Report in the March/April timeframe each year, providing a look at the previous year's performance, along with a three-year forecast. We did not publish it in 2021 for obvious reasons. The research calendar that had been created by our research council was set aside and the council quickly pivoted, just like everyone else. We adapted and quickly started conducting COVID Pulse Polls. In fact, one was just released on Feb. 16, along with a webinar revealing the results.  
How will CEIR's annual Predict Conference look different going forward?
Post-COVID, I hope we can get past the mask and vaccine requirements. The content for Predict – looking out 3-5 years at trends that may impact exhibitions and bringing a unique learning experience – won't change.
How do you think the industry will be most changed moving out of the pandemic?
That's the big question. Most shows are experiencing lower attendance, but high scores from exhibitors for the quality of buyer. CEIR's Omnichannel Marketing Study revealed that 94% of exhibitors who responded have plans to exhibit in 2021/2022. Of attendees who responded, 87% indicated they have plans to return. 
Will attendees return at the same rate pre-COVID? How will organizers adapt, if they don't return? Associations especially will need to adapt, as a large portion of the revenue comes not just from the show, but from attendees, as well. This is where the content strategy, and digital strategy, come into play. Everyone needs to have a strategy for both. 
What did you learn most about yourself during this challenging time? 
I love to travel. My visits to other countries opened my eyes to other cultures and the importance of building business relationships and partnerships. If we understand and care for one another, and work together, the world will be a safer place. 
What kind of self-care has been key for your mental health during these past two years and why?
I started doing Reformer Pilates the year before the pandemic. Exercise has kept me sane, and more healthy than I would have been otherwise. This is "my" time and I guard it to the extent I that can.
What do you like most about working in the associations and events industries?
I enjoy working for associations where I believe in their core mission. I enjoy being a small part of fulfilling their missions, including at IAEE and CEIR. What I love is the people and the friendships I've made that will be with me regardless of where I work. 
Don't miss any event-related news: Sign up for our weekly e-newsletter HERE and engage with us on Twitter, Facebook, LinkedIn and Instagram!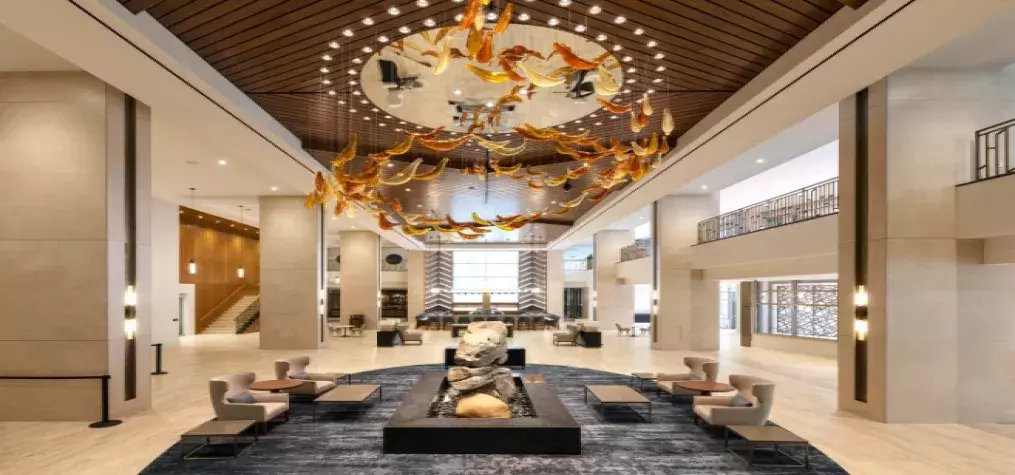 Located in beautiful North Carolina, Harrah's Cherokee is the perfect mountain getaway with breathtaking views of the Great Smoky Mountains and new additions to its resort and conference spaces sure to elevate any meetings or event. Completed in 2021, Harrah's Cherokee's latest $330 million expansion project introduced an entirely new fourth hotel tower, The Cherokee, as well as an additional 83,000 square feet of meeting space with the Cherokee Convention Center. The Cherokee tower brings with it 725 rooms and 70 luxurious suites spread out over 19 floors for a grand total of 1,800 rooms across the entire resort. The new rooms feature a sleek design with an earth-toned color palette and modern amenities. In addition to the new rooms, the expansion also brought with it a luxurious new lobby and lobby bar, a fitness center, a coffee & pastry bar, and a second pool. Conventions, trade shows, banquets, receptions, and even the smallest, most intimate gatherings can find the perfect arrangement at Harrah's Cherokee with its 130,000 square feet of flexible meeting space – including the Cherokee Convention Center. The resort offers a myriad of different spaces and configuration options for events, but the largest spaces include the following: 32,000-sq-ft Cherokee Convention Center ballroom with 22 meeting spaces 11,100-sq-ft Cherokee Convention Center ballroom pre-function space 33,000-sq-ft Cherokee Exhibit Hall 6,000-sq-ft Cherokee Exhibit Hall Pre-Function 13,801-sq-ft Council Fire Ballroom able to be reconfigured into as many as four ballrooms from 3,100 to 3,529-sq-ft each 16,815-sq-ft Event Center able to be configured in six different ways to accommodate 100 to 1,500 guests and offers four VIP suites, box seating, and more than 1,100 balcony seats. In addition to the new accommodations and meeting space, Harrah's Cherokee has also opened several new restaurants as part of the expansion including Guy Fieri's Cherokee Kitchen + Bar which includes the chef's award-winning burgers and barbeque on the menu. Another celebrity chef has also made their mark on the resort with the opening of Gordon Ramsay Food Market which features eight dining concepts ranging from sushi to New York-style deli sandwiches and classic fine-dining fare. Longtime Asheville favorite, Wicked Weed Brewing Pub has also debuted a new location next to Harrah's Cherokee Event Center creating the perfect after-event center with its bright and bold design, over thirty different beers, and live music on weekends. An easy drive from many of the largest cities in the Southeast, Harrah's Cherokee provides the perfect blend of majestic mountainscapes, luxurious new accommodations, and authentic Native American culture.