5 Amazing Things to Do at the Golden Gate Bridge
May 20, 2022
Sponsored Exclusively by Visit California
With its gently curved cables and deep orange hue, the Golden Gate Bridge is a total showstopper. Yes, it's beautiful to behold, but the bridge's charms are more than skin (or a coat of paint?) deep. On your next trip to San Francisco, try these creative ways to enjoy the bridge and the surrounding area.
Stay at Cavallo Point
The story of Cavallo Point is even older than the Golden Gate. Before the bridge's construction, the army established Fort Baker as a military base in an effort to fortify the bay. Today, the lovely colonial revival buildings have been transformed into a resort replete with understated luxury. Guests can enjoy morning yoga, evening wine receptions, guided hikes, cooking classes—and, of course, the stunning views.
Cruise San Francisco Bay
The poet Dylan Thomas once wrote, "You wouldn't think such a place as San Francisco could exist. The wonderful sunlight...the great bridges, the Pacific at your shoes." Experience all three wonders at once with a boat tour around the bay. The Red and White Fleet is great for a simple voyage, while San Francisco Bay Boat Cruises hosts the area's only floating wine tasting. Hornblower Cruises, meanwhile, hosts a variety of seated dinners, brunch buffets, and glamorous parties. During spring and summer, take one of the company's Alive After Five happy-hour cruises, which offer up cocktails and small plates as the ship glides past the bridge, Alcatraz, and other city sights
Explore the Golden Gate Recreational Area
Standing in bustling Union Square, it's hard to imagine that expansive, untouched public lands are a few short miles away. The Golden Gate Recreational Area protects an astonishing 82,027 acres of land stretching from Silicon Valley to Tomales Bay, and some of its most beautiful spots are right around the Golden Gate. Hike to a hidden beach by way of the 1.7-mile Tennessee Valley Trail, see ruins of the Sutro Baths at Lands End, or get your heart rate up with a hike through the hilly headlands.
Recharge at the Round House Café
The Round House Café makes good on the promise of its name with 360-degree views from the wheel-shaped restaurant's window walls. (Ed. note: The Round House Café is now an Equator Coffees location.) The Art Deco building, which opened in 1938, is your very last chance to grab a bite on the city side of the San Francisco Bay. Fill up on the massive hot dogs covered in slaw, California-style salads, or the ever-popular chowder in a bread bowl, which sells out nearly every afternoon.
Ride over the Golden Gate Bridge
Just shy of two miles long, the bridge makes for a thrilling but super-manageable bicycle ride. If you're coming from the city, Golden Gate Bridge Bike Rentals and Blazing Saddles both offer rentals and tours for every size cyclist, while Sausalito Bike Rentals is your best bet if you're coming from Marin. Wheel Fun Rentals (which has two locations in Fisherman's Wharf) offers an audio-guided bike tour that uses GPS technology to give you info on your exact location. Whichever way you travel, make sure to stop at Fort Point for the ultimate bridge selfie.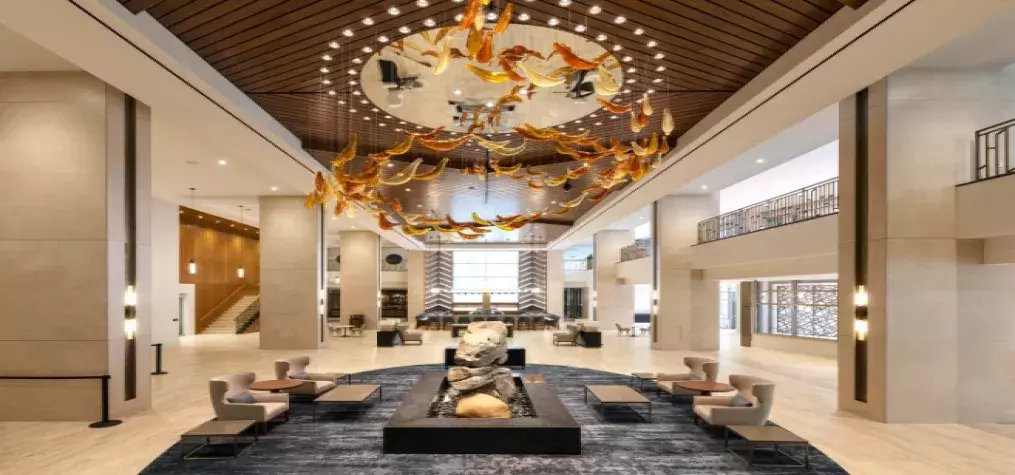 Located in beautiful North Carolina, Harrah's Cherokee is the perfect mountain getaway with breathtaking views of the Great Smoky Mountains and new additions to its resort and conference spaces sure to elevate any meetings or event. Completed in 2021, Harrah's Cherokee's latest $330 million expansion project introduced an entirely new fourth hotel tower, The Cherokee, as well as an additional 83,000 square feet of meeting space with the Cherokee Convention Center. The Cherokee tower brings with it 725 rooms and 70 luxurious suites spread out over 19 floors for a grand total of 1,800 rooms across the entire resort. The new rooms feature a sleek design with an earth-toned color palette and modern amenities. In addition to the new rooms, the expansion also brought with it a luxurious new lobby and lobby bar, a fitness center, a coffee & pastry bar, and a second pool. Conventions, trade shows, banquets, receptions, and even the smallest, most intimate gatherings can find the perfect arrangement at Harrah's Cherokee with its 130,000 square feet of flexible meeting space – including the Cherokee Convention Center. The resort offers a myriad of different spaces and configuration options for events, but the largest spaces include the following: 32,000-sq-ft Cherokee Convention Center ballroom with 22 meeting spaces 11,100-sq-ft Cherokee Convention Center ballroom pre-function space 33,000-sq-ft Cherokee Exhibit Hall 6,000-sq-ft Cherokee Exhibit Hall Pre-Function 13,801-sq-ft Council Fire Ballroom able to be reconfigured into as many as four ballrooms from 3,100 to 3,529-sq-ft each 16,815-sq-ft Event Center able to be configured in six different ways to accommodate 100 to 1,500 guests and offers four VIP suites, box seating, and more than 1,100 balcony seats. In addition to the new accommodations and meeting space, Harrah's Cherokee has also opened several new restaurants as part of the expansion including Guy Fieri's Cherokee Kitchen + Bar which includes the chef's award-winning burgers and barbeque on the menu. Another celebrity chef has also made their mark on the resort with the opening of Gordon Ramsay Food Market which features eight dining concepts ranging from sushi to New York-style deli sandwiches and classic fine-dining fare. Longtime Asheville favorite, Wicked Weed Brewing Pub has also debuted a new location next to Harrah's Cherokee Event Center creating the perfect after-event center with its bright and bold design, over thirty different beers, and live music on weekends. An easy drive from many of the largest cities in the Southeast, Harrah's Cherokee provides the perfect blend of majestic mountainscapes, luxurious new accommodations, and authentic Native American culture.