5 Amazing Things to Do in San Francisco
May 20, 2022
Sponsored Exclusively by Visit California
A lifetime in San Francisco wouldn't be enough to see the city's countless wonders. That's why we've selected experiences that everyone from the first-time traveler to the frequent visitor will love. Here's where to shop, eat, stay, and explore in the Golden City. 
Stay at The Fairmont San Francisco
Named for the railroad barons ("Nobs") who built their mansions in the area, Nob Hill is one of the most high-end neighborhoods in San Francisco. At its pinnacle sits the historic Fairmont San Francisco, a stunning expression of early 20th-century opulence. Channel your inner blueblood and relax among marble columns, crystal chandeliers, and giant gilded mirrors. The penthouse suite, which takes up the entire eighth floor, boasts a two-story circular library, a vaulted billiards room, and even a secret staircase that once facilitated dalliances between President John F. Kennedy and Marilyn Monroe. 
Explore SFMOMA
It's easy to get lost in the SFMOMA in a wonderful sort of way. The largest modern art museum in the world houses more than 33,000 pieces by the likes of Jackson Pollock, Paul Klee, and Andy Warhol. The space itself is impressive—most notably, in the way the rippling white fiberglass exterior invokes rolling fog—but every inch of the structure is in a sense an exhibition.
Shop in the Mission District
The Mission District is worth a visit if only to see this artsy neighborhood's vibrant outdoor murals. Once you're there, stop inside any of the dozens of independent boutiques and eateries. Fuel up with a banana cream cupcake from Wholesome Bakery before browsing for creative gifts at the women-owned design collective Gravel & Gold.
Discover the Ferry Building
Beaux arts–inspired grandeur, locally sourced food, creative merchants, and killer views of San Francisco Bay—the Ferry Building is like a microcosm of the city itself. Stroll through the Great Nave to explore outposts of some of the Bay Area's most interesting vendors. Be sure to sample some Mt. Tam cheese from Cowgirl Creamery, try a few bluepoints on the half shell at San Francisco Fish Company, recharge with a siphon pour from Blue Bottle Coffee, and shop for handcrafted tableware at Heath Ceramics. 
Eat at The Slanted Door
A meal at The Slanted Door is really all about the windows. Floor-to-ceiling walls of glass showcase sweeping views of the bay. Chef Charles Phan's take on contemporary Vietnamese cuisine has made this restaurant one of the city's most popular for more than two decades. Try favorites like shaking beef, cellophane noodles, and imperial rolls. (Ed. note: This restaurant is closed until further notice.)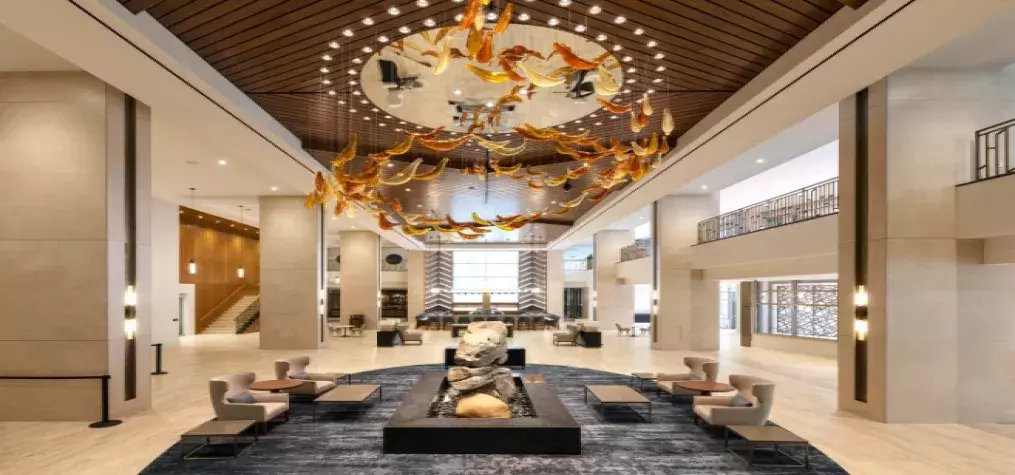 Located in beautiful North Carolina, Harrah's Cherokee is the perfect mountain getaway with breathtaking views of the Great Smoky Mountains and new additions to its resort and conference spaces sure to elevate any meetings or event. Completed in 2021, Harrah's Cherokee's latest $330 million expansion project introduced an entirely new fourth hotel tower, The Cherokee, as well as an additional 83,000 square feet of meeting space with the Cherokee Convention Center. The Cherokee tower brings with it 725 rooms and 70 luxurious suites spread out over 19 floors for a grand total of 1,800 rooms across the entire resort. The new rooms feature a sleek design with an earth-toned color palette and modern amenities. In addition to the new rooms, the expansion also brought with it a luxurious new lobby and lobby bar, a fitness center, a coffee & pastry bar, and a second pool. Conventions, trade shows, banquets, receptions, and even the smallest, most intimate gatherings can find the perfect arrangement at Harrah's Cherokee with its 130,000 square feet of flexible meeting space – including the Cherokee Convention Center. The resort offers a myriad of different spaces and configuration options for events, but the largest spaces include the following: 32,000-sq-ft Cherokee Convention Center ballroom with 22 meeting spaces 11,100-sq-ft Cherokee Convention Center ballroom pre-function space 33,000-sq-ft Cherokee Exhibit Hall 6,000-sq-ft Cherokee Exhibit Hall Pre-Function 13,801-sq-ft Council Fire Ballroom able to be reconfigured into as many as four ballrooms from 3,100 to 3,529-sq-ft each 16,815-sq-ft Event Center able to be configured in six different ways to accommodate 100 to 1,500 guests and offers four VIP suites, box seating, and more than 1,100 balcony seats. In addition to the new accommodations and meeting space, Harrah's Cherokee has also opened several new restaurants as part of the expansion including Guy Fieri's Cherokee Kitchen + Bar which includes the chef's award-winning burgers and barbeque on the menu. Another celebrity chef has also made their mark on the resort with the opening of Gordon Ramsay Food Market which features eight dining concepts ranging from sushi to New York-style deli sandwiches and classic fine-dining fare. Longtime Asheville favorite, Wicked Weed Brewing Pub has also debuted a new location next to Harrah's Cherokee Event Center creating the perfect after-event center with its bright and bold design, over thirty different beers, and live music on weekends. An easy drive from many of the largest cities in the Southeast, Harrah's Cherokee provides the perfect blend of majestic mountainscapes, luxurious new accommodations, and authentic Native American culture.