Belinda Oakley Takes the Helm of Sodexo Live! North America, IAEE Welcomes New Chairperson Dennis Smith
January 16, 2023
A leading hospitality partner and a top exhibition industry organization announced some major leadership changes recently.
Sodexo Live!
Sodexo Live! tapped proven international business leader Belinda Oakley as its new CEO, North America. Bringing two decades of foodservice management experience to her new role, Oakley is responsible for leading more than 20,000 team members at more than 150 partner venues throughout the U.S. and Canada.  
Oakley replaces outgoing CEO Steve Pangburn, who will stay on with the company to help with the transition in an advisory capacity through the end of March 2023. Pangburn is stepping down in order to spend more time with his family in France, where he will continue working with Sodexo. 
A native Australian, Oakley has led organizations on three continents, successfully leading enterprise growth strategies through operational excellence, innovation and the development of high-performing teams, according to Sodexo officials. 
"It is impossible to put into words the level of excitement I have for this new role," Oakley said. "This is a sector and industry I have admired for years now. We are just getting started and I look forward to serving the organization and bringing a new perspective to the organization."
As an integral part of Sodexo's Global Executive Committee, Oakley will report to Global CEO Nathalie Bellon-Szabo, who expressed her excitement in welcoming her to the team as the company doubles down on pursuing its ambitious growth goals.
"[Belinda] has an outstanding track record in commercial and business development," Bellon-Szabo said. "With [her] leadership and capabilities, the talents and engagement of the North America team and the strong positive momentum of our business, I am confident we will be successful in accelerating our growth in North America." 
Most recently, Oakley was the CEO of Chartwells K12, a $1B business where she led 16,000 employees serving 2 million meals daily at 4,400 schools across the U.S. She has also held leadership roles for Famous Brands International, Brumby's Bakeries and Benugo. She is also an honors graduate of the Executive MBA program at the University of Denver, where she still serves as an Adjunct Professor for the Daniels College of Business.
According to Sodexo officials, this evolution in leadership comes as a natural next step in the continued growth trajectory of Sodexo Live!, as it prepares for a milestone year in North America, from hosting the Formula One Miami Grand Prix at Hard Rock Stadium and the 2023 MLB All-Star Game at Seattle's T-Mobile Park to an anticipated high-volume calendar of meetings and events at convention centers and cultural attractions. Its airport lounge business is also preparing to open multiple new premium lounge spaces with British Airways, as global travel continues its momentum toward pre-pandemic levels. 
When asked what she will be focusing on first as she settles into her new role, Oakley said she will be spending as much face time as she can with the company's various teams.
"The most important thing in the first few months is meeting with as many of our teams as possible in order to gain a complete appreciation for what makes us special, and then, with that understanding in place, it's my role to help make it better than it is," she said. "This could mean doubling down on our fantastic culinary team and empowering our people even further, so we can truly invest in our workforce better than any of our competitors."
She added, "We have to always be anticipating what's next, and I'm looking forward to ensuring we get ourselves and our venue partners there."
IAEE
The International Association of Exhibitions and Events (IAEE) announced the election results of its 2023 Board of Directors and welcomed new Chairperson Dennis Smith. The announcement took place last month during Expo! Expo! IAEE's Annual Meeting & Exhibition 2022 in Louisville, Ky.
As the vice president of business development for the Asian American Hotel Owners Association (AAHOA), Smith is an industry veteran who previously served as senior director for exposition sales and business development at AVIXA, the global trade association for the pro AV and integrated experiences industry. He began his trade show career in Europe and spent close to 18 years living in the continent working for some of the top global trade show organizations.
"Dennis has served in many roles throughout the association across his years of involvement with IAEE," said IAEE President and CEO David DuBois. "We are pleased to welcome him as the 2023 IAEE chairperson and look forward to a productive year ahead with our new and continuing board members." 
Apart from launching his own trade show company in 1997, Smith has held several executive-level positions and has been directly responsible for organizing more than 250 international events in more than 30 countries serving myriad industries, including textiles, automotive, manufacturing, technology, food and construction.
A Colorado native who served in the U.S. Army, Smith has an MBA in international business and is highly experienced in global strategy for events around the globe. 
"I look forward to supporting IAEE's three key pillars of Membership, Learning and Advocacy in 2023," Smith said. "It is also my goal to help develop strategies IAEE members can use to grow their events, deliver increased ROI to stakeholders and make an impact to ongoing efforts in areas of workforce development, sustainability and DE&I initiatives."
New 2023 IAEE board of directors members include:
Director Michael Clarke

,

director, global sales B2B marketing and events, Americas, Marriott International.

Director Michelle Edmonson

, vice president, exhibitions, AMT, The Association for Manufacturing Technology

Director Mary Pat Heftman

, president, MPH LLC

Director Nichapa (Nikki) Yoswee

, senior vice president, Thailand Convention & Exhibition Bureau (TCEB)
Continuing board of directors include:
Chairperson-Elect Marie Browne

, group vice president, RX

Secretary/Treasurer Janet Sperstad

, faculty director, event management business solutions, Madison College

Immediate Past Chairperson Carrie Ferenac

, president, CNTV (Convention News Television)

Director Bilal Al Barmawi

, CEO, 1st Arabia Company Exhibitions and Conferences Organizers

Director Mary Bender

, vice president of sales and operations, Taffy Event Strategies

Director Mark Bogdansky

, vice president, meetings and events

,

Auto Care Association

Director Chuck Grouzard

, executive vice president, business development, GES

Director Anytra Lowe

, senior vice president, client services, Freeman

Director Justine L. McVaney

, senior vice president of event planning and operations, National Association of Broadcasters

Director Brian Pagel

, executive vice president, EmeraldX

Director Necoya Tyson

, director of meeting operations, CASSS–An International Separation Science Society
 Ex-officio directors are:
Representing the Chapter Leaders Council: Sarah Kokernot

, director of meetings and events, Veterinary Emergency & Critical Care Society

Representing the IAEE Asia Council: Xuebin Gu

, founder and CEO, WeMeet

Representing the IAEE MATSO Council: John Rozum

, senior director, ag and utility exhibitions and events, Association of Equipment Manufacturers

Representing the Past Chairpersons' Advisory Group: Julie Smith

, senior vice president, exhibition sales, GES

Representing the IAEE Consumer Events Council: Michelle Metter

, partner, Fast Forward Event Productions
 Members of IAEE's Board of Directors are elected on an annual basis by the official voting member of each IAEE member company. All officers serve a term of one year, except the secretary/treasurer who may hold the office for two years. The directors each serve three years in staggered terms to ensure continuity in the governance of the association, according to IAEE officials.
Don't miss any event-related news: Sign up for our weekly e-newsletter HERE, listen to our latest podcast HERE and engage with us on Twitter, Facebook, LinkedIn and Instagram!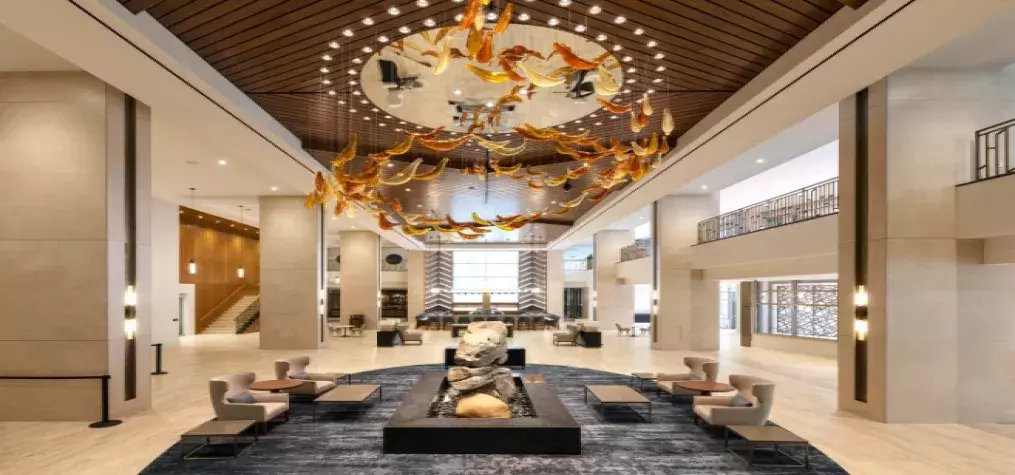 Located in beautiful North Carolina, Harrah's Cherokee is the perfect mountain getaway with breathtaking views of the Great Smoky Mountains and new additions to its resort and conference spaces sure to elevate any meetings or event. Completed in 2021, Harrah's Cherokee's latest $330 million expansion project introduced an entirely new fourth hotel tower, The Cherokee, as well as an additional 83,000 square feet of meeting space with the Cherokee Convention Center. The Cherokee tower brings with it 725 rooms and 70 luxurious suites spread out over 19 floors for a grand total of 1,800 rooms across the entire resort. The new rooms feature a sleek design with an earth-toned color palette and modern amenities. In addition to the new rooms, the expansion also brought with it a luxurious new lobby and lobby bar, a fitness center, a coffee & pastry bar, and a second pool. Conventions, trade shows, banquets, receptions, and even the smallest, most intimate gatherings can find the perfect arrangement at Harrah's Cherokee with its 130,000 square feet of flexible meeting space – including the Cherokee Convention Center. The resort offers a myriad of different spaces and configuration options for events, but the largest spaces include the following: 32,000-sq-ft Cherokee Convention Center ballroom with 22 meeting spaces 11,100-sq-ft Cherokee Convention Center ballroom pre-function space 33,000-sq-ft Cherokee Exhibit Hall 6,000-sq-ft Cherokee Exhibit Hall Pre-Function 13,801-sq-ft Council Fire Ballroom able to be reconfigured into as many as four ballrooms from 3,100 to 3,529-sq-ft each 16,815-sq-ft Event Center able to be configured in six different ways to accommodate 100 to 1,500 guests and offers four VIP suites, box seating, and more than 1,100 balcony seats. In addition to the new accommodations and meeting space, Harrah's Cherokee has also opened several new restaurants as part of the expansion including Guy Fieri's Cherokee Kitchen + Bar which includes the chef's award-winning burgers and barbeque on the menu. Another celebrity chef has also made their mark on the resort with the opening of Gordon Ramsay Food Market which features eight dining concepts ranging from sushi to New York-style deli sandwiches and classic fine-dining fare. Longtime Asheville favorite, Wicked Weed Brewing Pub has also debuted a new location next to Harrah's Cherokee Event Center creating the perfect after-event center with its bright and bold design, over thirty different beers, and live music on weekends. An easy drive from many of the largest cities in the Southeast, Harrah's Cherokee provides the perfect blend of majestic mountainscapes, luxurious new accommodations, and authentic Native American culture.