Check Out These 5 Fun Experiences in Anaheim
May 20, 2022
If you haven't taken the time to fully explore Anaheim, you have all sorts of fun discoveries ahead.
Eat at the Packing District
Dining doesn't get much cooler than this. Just a few miles from Disneyland, three historic landmarks—a 1919 Sunkist orange packing house, a 1925 Packard car dealership, and a 1917 orange marmalade factory—got new leases on life in 2013 as the Anaheim Packing District. The airy renovated warehouse spaces now house Anaheim Brewery, Umami Burger, Unsung Brewing Company, Pali Wine Company, plus the Packing House Food Hall—more than 30 food stalls and restaurants selling everything you could ever want to eat.
Explore Little Saigon
Hundreds of bustling Vietnamese-owned businesses and restaurants pack a three-square-mile area of Westminster and Garden Grove, home to almost 200,000 Vietnamese Americans and one of the largest Vietnamese communities outside of Vietnam. Get a taste of this fascinating area by browsing the Asian Garden Mall (aka Phuoc Loc Tho), a colorful two-story indoor shopping center filled with baked goods, jewelry, clothes, cosmetics, home goods, and ephemera.
Soar Above the Clouds
Take your friends to the Flightdeck Flight Simulation Center to experience the thrill of competing in air-to-air combat while flying at 600 knots. The action happens in simulators, not actual airplanes, but the sensation is astoundingly real. You'll dress up in a genuine military-issue flight suit, attend ground school, then hop into one of Flightdeck's eight F-16 fighter jet simulators and show off your best Top Gun maneuvers. Your goal is to blow the other jets out of the sky—and not get hit.
Taste at Noble Ale Works
Close to Angel Stadium and the Honda Center, Noble Ale Works is a fun-loving hub for beer connoisseurs. Find your bliss with Nobility—a national-award-winning IPA—or an array of light pilsners, or maybe a Naughty Sauce coffee stout. An industrial warehouse setting and sleek stool-and-barrel seating speak to Noble's beer-centric focus. For food, hit up the food trucks parked outside.
Play at The Ranch
Get out your shiniest silver belt buckle and pointy-toed boots and make an evening of it. Start with dinner at The Ranch, where grand cedar beams and flagstone floors set the stage for upscale cowboy cuisine: Kobe beef carpaccio, bone-in rib-eye, Castroville artichokes, and a wine cellar stocked with more than 10,000 bottles. Then sidle over to The Ranch Saloon to work off your dinner by two-stepping and line dancing. Don't know how to do the quick-quick-slow? Free dance lessons are offered Wednesday to Sunday evenings.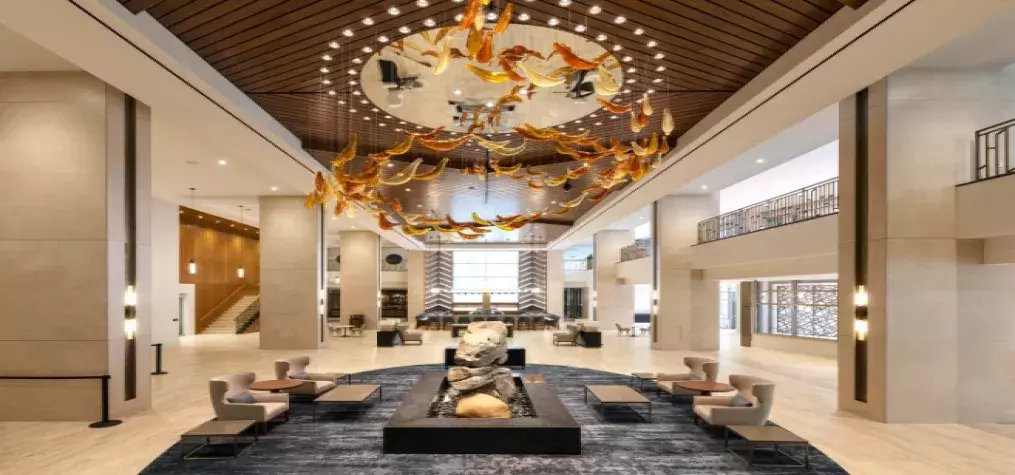 Located in beautiful North Carolina, Harrah's Cherokee is the perfect mountain getaway with breathtaking views of the Great Smoky Mountains and new additions to its resort and conference spaces sure to elevate any meetings or event. Completed in 2021, Harrah's Cherokee's latest $330 million expansion project introduced an entirely new fourth hotel tower, The Cherokee, as well as an additional 83,000 square feet of meeting space with the Cherokee Convention Center. The Cherokee tower brings with it 725 rooms and 70 luxurious suites spread out over 19 floors for a grand total of 1,800 rooms across the entire resort. The new rooms feature a sleek design with an earth-toned color palette and modern amenities. In addition to the new rooms, the expansion also brought with it a luxurious new lobby and lobby bar, a fitness center, a coffee & pastry bar, and a second pool. Conventions, trade shows, banquets, receptions, and even the smallest, most intimate gatherings can find the perfect arrangement at Harrah's Cherokee with its 130,000 square feet of flexible meeting space – including the Cherokee Convention Center. The resort offers a myriad of different spaces and configuration options for events, but the largest spaces include the following: 32,000-sq-ft Cherokee Convention Center ballroom with 22 meeting spaces 11,100-sq-ft Cherokee Convention Center ballroom pre-function space 33,000-sq-ft Cherokee Exhibit Hall 6,000-sq-ft Cherokee Exhibit Hall Pre-Function 13,801-sq-ft Council Fire Ballroom able to be reconfigured into as many as four ballrooms from 3,100 to 3,529-sq-ft each 16,815-sq-ft Event Center able to be configured in six different ways to accommodate 100 to 1,500 guests and offers four VIP suites, box seating, and more than 1,100 balcony seats. In addition to the new accommodations and meeting space, Harrah's Cherokee has also opened several new restaurants as part of the expansion including Guy Fieri's Cherokee Kitchen + Bar which includes the chef's award-winning burgers and barbeque on the menu. Another celebrity chef has also made their mark on the resort with the opening of Gordon Ramsay Food Market which features eight dining concepts ranging from sushi to New York-style deli sandwiches and classic fine-dining fare. Longtime Asheville favorite, Wicked Weed Brewing Pub has also debuted a new location next to Harrah's Cherokee Event Center creating the perfect after-event center with its bright and bold design, over thirty different beers, and live music on weekends. An easy drive from many of the largest cities in the Southeast, Harrah's Cherokee provides the perfect blend of majestic mountainscapes, luxurious new accommodations, and authentic Native American culture.