Event Tech Live Opens Registration for First In-Person U.S. Show; Unveils Awards Judges, New Competition and Call for Speakers
January 19, 2023
Event Tech Live (ETL), which was founded 10 years ago and has been held annually in London, is revving up for its grand in-person entrance in the U.S. with a Las Vegas edition this spring—the only conference and exhibition in the country focused exclusively on event technology.
Registration is now open for Event Tech Live, Las Vegas, which will take place April 26-27 at The Expo at World Market Center. As with Event Tech Live, London, which this year is set for Nov. 15-16 at ExCeL, London, the Las Vegas edition is dedicated to bringing global event professionals together to experience and discuss the latest advances in event tech, champion thought leadership and engage its community year-round.  
Adam Parry, co-founder of ETL, encouraged the industry to get registered, get involved and invite colleagues to the free-to-attend show.
"I've said it before, but technology—in any shape, in any sector—can't stand still," Parry said. "That energy infects ETL and makes it a sure fit with Las Vegas in 2023."
He added, "A jam-packed agenda is taking shape, and all the high rollers will be there."
The show is set to be replete with all the brand's celebrated hallmarks, including compelling content, international exhibitors such as AccessLoop, Entegy, Glisser, Hubilo and Klay, and non-stop innovation, according to Parry.
In common with ETL, London, STOVA, which promotes itself as "the definitive event technology eco-system" and is a product of the companies formerly known as MeetingPlay, Aventri and eventcore, is the registration partner for the Las Vegas event.
To register for ETL, Las Vegas, click here.
Judges Announced for New People-Centric Awards
Meanwhile, the Event Technology Awards (ETA), which take place at the London event, opened submissions for its new people-focused offshoot, ETA–The People, which took place for the first time in 2022 in London and is also slated for Las Vegas.
ETA–The People celebrates the individuals and teams who bring tech to the table, helping to foster solutions, better practices and new ways around traditional problems. Seventeen awards are included for both suppliers and organizations, from Best Start-Up Founder to Outstanding Contribution.
There can never be too much attention on event technology, according to Parry, who is also co-founder of brand at ETA.
"It's behind the revolution in data capture, sound distribution, LED screen design—everything—and the individuals and teams behind the tech deserve much recognition," Perry said. "That was our motivation in launching ETA–The People [in 2022], and it's first turn met with fantastic response. We're delighted to link the awards with ETL, Las Vegas."
The deadline to submit entries for ETA–The People is Feb. 10. See the list of categories here. Finalists will be announced Feb. 23. The awards ceremony will take place in Las Vegas immediately following the show.
Meanwhile, ETA announced the list of selected judges for ETA–The People in Las Vegas, some of whom will also be among the judges for the ETA Awards 2023 in London.
"A whole lot of responsibility and hard work comes with the judge's handle and, once again, we have assembled some of the best in the tech business, Parry said. "My thanks to them and to all the companies and individuals taking part this year."
The full list of judges includes:
Allison Crooker, director of event content, vmware


 

Courtney McNeese, director, head of corporate events, Blackrock


 

Dahlia El Gazzar, idea igniteur + tech evangelist, Dahlia+Agency


 

Grant Dudson, creative director, Chorus


 

Jason Scott, founder, Kopus


 

Joshua Sinclair, head of technology, Informa Connect


 

Julieanna Gray, executive director of live strategy, Forbes


 

Kathryn Frankson, global director of marketing, Money 20/20


 

Ksenija Polla, regional director, North America, International Congress and Convention Association (ICCA)


 

Mahoganey Jones, founder and CEO, EventSpecialists


 

Matt Coyne, copywriter, event host, content creator, Waves Connects


 

RJ Crowder-Schaefer, head of event technology and product, Bloomberg


 

Samuel O'Connell, head of marketing and intelligence, Easyfairs


 

Tess Vismale, chief event rescuer, iSocialx
ETL Launchpad Competition
ETL Launchpad for event tech startups will make its stateside debut at ETL, Las Vegas along with the globally acclaimed Launchpad Competition. The competition is open exclusively to Launchpad exhibitors at the show and has triggered countless success stories at ETL, London.
To enter the competition, companies must exhibit within the ETL, Las Vegas 2023 Launchpad, and incorporation or trading start date must be less than three years.
Launchpad Competition companies will be shortlisted by an industry vote starting March 6, with the top three announced on April 26, the first day of ETL, Las Vegas. On the second day of the show, these companies will have the opportunity to deliver a presentation in front of a live audience and an expert panel of judges.
The winning startups will be awarded bronze, silver or gold, with significant prizes for each winner, including an £5,000 marketing credit with Event Industry News. 
"Presenting our social media walls in the competition was a blast, and winning the competition was the cherry on top," said Michael Kamleitner, founder and CEO of Walls.io and winner of the ETL, London 2022 Launchpad Competition.

He added, "For startups who want to break into the event tech scene, ETL Launchpad is an easy recommendation—an affordable, turn-key booth and industry exposure make it a must-have for everyone!"
 Launchpad spaces are limited and can be booked with ETL by contacting sales@eventtechlive.com.
To enter the 2023 Launchpad Competition, click here. Entries must be received by Feb. 28
Call for Speakers
ETL is looking for qualified speakers at ETL, Las Vegas as it finalizes the show's content plan.
ETL, Las Vegas promises inspiring educational sessions, leading event tech companies and attendees from around the world, according to Parry.
"In terms of the content we're looking for, it's about technology rather than geography," Parry said. "Wherever you are, if you're a good speaker with a forward-thinking system, solution or idea you would like to talk to the industry about, get in touch."
To apply to speak at ETL, Las Vegas, click here. The deadline is Jan. 31.
Don't miss any event-related news: Sign up for our weekly e-newsletter HERE, listen to our latest podcast HERE and engage with us on Twitter, Facebook, LinkedIn and Instagram!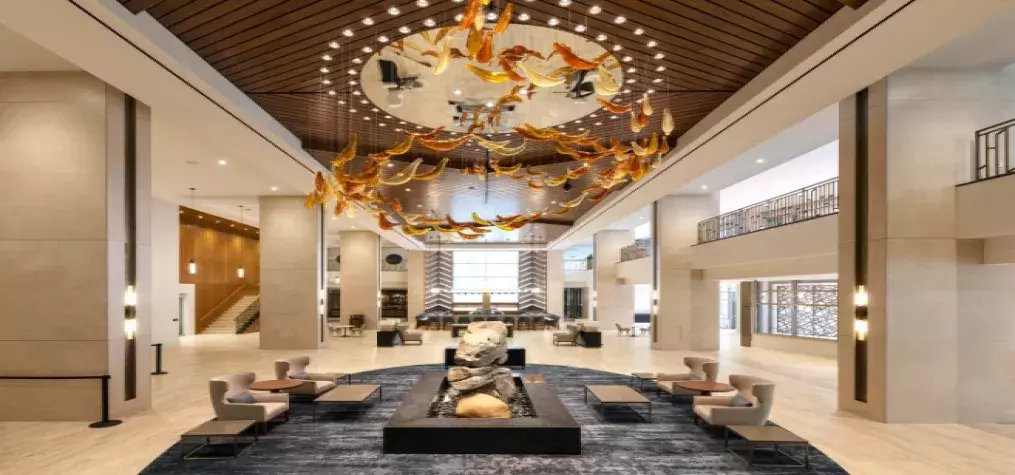 Located in beautiful North Carolina, Harrah's Cherokee is the perfect mountain getaway with breathtaking views of the Great Smoky Mountains and new additions to its resort and conference spaces sure to elevate any meetings or event. Completed in 2021, Harrah's Cherokee's latest $330 million expansion project introduced an entirely new fourth hotel tower, The Cherokee, as well as an additional 83,000 square feet of meeting space with the Cherokee Convention Center. The Cherokee tower brings with it 725 rooms and 70 luxurious suites spread out over 19 floors for a grand total of 1,800 rooms across the entire resort. The new rooms feature a sleek design with an earth-toned color palette and modern amenities. In addition to the new rooms, the expansion also brought with it a luxurious new lobby and lobby bar, a fitness center, a coffee & pastry bar, and a second pool. Conventions, trade shows, banquets, receptions, and even the smallest, most intimate gatherings can find the perfect arrangement at Harrah's Cherokee with its 130,000 square feet of flexible meeting space – including the Cherokee Convention Center. The resort offers a myriad of different spaces and configuration options for events, but the largest spaces include the following: 32,000-sq-ft Cherokee Convention Center ballroom with 22 meeting spaces 11,100-sq-ft Cherokee Convention Center ballroom pre-function space 33,000-sq-ft Cherokee Exhibit Hall 6,000-sq-ft Cherokee Exhibit Hall Pre-Function 13,801-sq-ft Council Fire Ballroom able to be reconfigured into as many as four ballrooms from 3,100 to 3,529-sq-ft each 16,815-sq-ft Event Center able to be configured in six different ways to accommodate 100 to 1,500 guests and offers four VIP suites, box seating, and more than 1,100 balcony seats. In addition to the new accommodations and meeting space, Harrah's Cherokee has also opened several new restaurants as part of the expansion including Guy Fieri's Cherokee Kitchen + Bar which includes the chef's award-winning burgers and barbeque on the menu. Another celebrity chef has also made their mark on the resort with the opening of Gordon Ramsay Food Market which features eight dining concepts ranging from sushi to New York-style deli sandwiches and classic fine-dining fare. Longtime Asheville favorite, Wicked Weed Brewing Pub has also debuted a new location next to Harrah's Cherokee Event Center creating the perfect after-event center with its bright and bold design, over thirty different beers, and live music on weekends. An easy drive from many of the largest cities in the Southeast, Harrah's Cherokee provides the perfect blend of majestic mountainscapes, luxurious new accommodations, and authentic Native American culture.