So You Think You Know San Diego?
May 20, 2022
Beaches, fish tacos, and beer. San Diego could have nothing but those three things and still be a crowd-pleaser any day of the week. But this laid-back Southern California city has plenty of other layers—including world-class art, architecture, hiking trails, and even an under-the-radar wine scene.
Explore these gems, hidden in plain sight around San Diego County, starting in downtown and heading both north and east. And worry not: You might also sample a few new tacos and beers along the way.
Animae, Downtown
Top Chef alum Brian Malarkey has turned up the volume in multiple ways for his latest restaurant: Animae's menu highlights Southeast Asian cuisine (including a raw bar cuisine, seafood platters, and Wagyu beef) and the setting is luxe even by Malarkey's standards, with plush banquettes, blingy decor, and the novelty of carpet, to encourage intimate conversations. Don't overlook the bar menu, with its solid selection of Japanese whisky and sake.
Border X Brewing, Barrio Logan
San Diego's beer scene has a new nerve center in Border X Brewing, located just outside downtown in the heart of the city's Mexican-American community. The Latin-owned brewery—a first for the city—recently earned a James Beard Award nomination. Choose from a selection that includes Horchata Golden Stout, the Gran Jefe wheat beer, and a Blood Saison that gets its red hue from hibiscus.
The Pearl Hotel, Point Loma
This 23-room hotel embraces its 1960s beginnings with mid-century modern furnishings—a mix of new and vintage—and an oyster-shaped pool alongside contemporary comforts such as custom bathrobes and walk-in rain-showers. Its locally sourced restaurant, Charles + Dinorah, tips its hat to the hotel's original owners, when it was called The Sportsman's Lodge. Bonus: Guests here are just a short hop from Liberty Station and Sunset Cliffs.
7 Bridges Hike, Downtown
Take this 5.5-mile "city hike" that combines a medley of natural settings with architectural marvels around downtown, Balboa Park, and Hillcrest. It starts at the Park Boulevard Bridge, near the rose garden in Balboa Park, and includes a suspension bridge across Kate Sessions Canyon, a wooden trestle bridge from 1905, and the city's only steel arch bridge.
Flemish Masterpieces at the Timken Museum, Balboa Park
The compact Timken Museum may not possess the majestic scale of some of its neighboring museums, but it's absolutely worth a visit if you appreciate the Old Masters. Peruse its small but potent collection of Dutch and Flemish masterpieces, world-class even compared to much bigger museums. Striking pieces include Rembrandt's Saint Bartholomew, Pieter Bruegel the Elder's The Parable of the Sower, and Death of the Virgin by Petrus Christus.
Cape Fynbos Habitat, San Diego Zoo
The penguins in this under-the-radar habitat like to live on the edge—as in, they're from the rocky coastline of southern Africa. These beach-loving, flightless birds also love swimming in their lagoon, which they share amicably with leopard sharks, colorful protea blossoms, and ancient boulders indicative of their African origins.
Pigment, North Park
What started as a boutique to support local artists expanded to include design pieces and jewelry—plus two more locations, in Liberty Station and Del Mar. But Pigment ups the ante from the typical funky boutique with its array of irresistible little plants and pots, including compact succulents that look like works of arts themselves. Don't miss the Plant Bar, where you can create your own terrarium with colored sand, rocks, and more succulents or cacti.
Wayfarer Bread & Pastry, La Jolla
The low-key Wayfarer Bread & Pastry in Bird Rock has serious bakery street cred: It's helmed by a veteran of Tartine in San Francisco. Indulge in savory goodies such as sourdough loaves, English muffins, or jalapeño cheese croissants, or sweets such as cinnamon buns, fruit scones, and caramel macadamia nut cookies. Add a coffee, made with beans from Encinitas' Ironsmith Coffee Roasters.
Mid-Century Modern Driving Tour, Clairemont
San Diego's Clairemont area sits right next to the Asian cuisine hotbed of Convoy Street. On your way to dinner, take a driving tour of the "village within the city," which features a striking array of mid-century architecture by way of a library, school, a bank building, gas stations, and more.
Waterfall Hike, Los Penasquitos Canyon County Preserve
Plenty of shady trails and creeks crisscross this hiker-friendly preserve in Rancho Penasquitos area. On your way to the waterfall—the water typically only flows during the spring—keep an eye out for nesting hawks, great blue herons, and tree frogs.
Alta Vista Botanical Gardens, Vista
Explore 16 ecologically distinctive gardens spread across 13 acres at the Alta Vista Botanical Gardens, with highlights such as the Pan Asian Garden, Rare Fruits, and a Prehistoric Cycad Garden. At the latter, you can see Four Dinosaurs by Ricardo Breceda, the sculptor known for his fanciful public art in Borrego Springs.
Warner Carillo Ranch House, Warner Springs
East of the Cleveland National Forest and Palomar Mountain, San Diego County still embraces its Old West ambience at the Warner Carillo Ranch House. This unassuming adobe house, built in 1857, was once a Butterfield Stage Stop. It was also witness to a number of historic moments, including the Gold Rush and the ranching era. Note some of its original features, such as the fireplace mantle and ceiling beams. (Word has it that it could be haunted, too.) Afterward, stop at Dudley's Bakery in Santa Ysabel.
Dulzura Vineyard & Winery, Dulzura
Set on an old ranch, the Dulzura Vineyard & Winery was established in 1885 to grow figs and olives. Today it's an excellent excuse to check out the emerging wine scene along Highway 94 between Jamul and Campo, near the Tecate border crossing. The family-owned winery makes Cabernet Sauvignon, Viognier, and Chardonnay from its own grapes, and sources more grapes from neighboring vineyards. You can even stay the night: its Guest House is part of the former ranch's "Pickle House," which was built in 1906 to make a confection called "Clark's Pickleized Figs."
Before you explore, be sure to visit our Responsible Travel Hub, which includes helpful Travel Updates.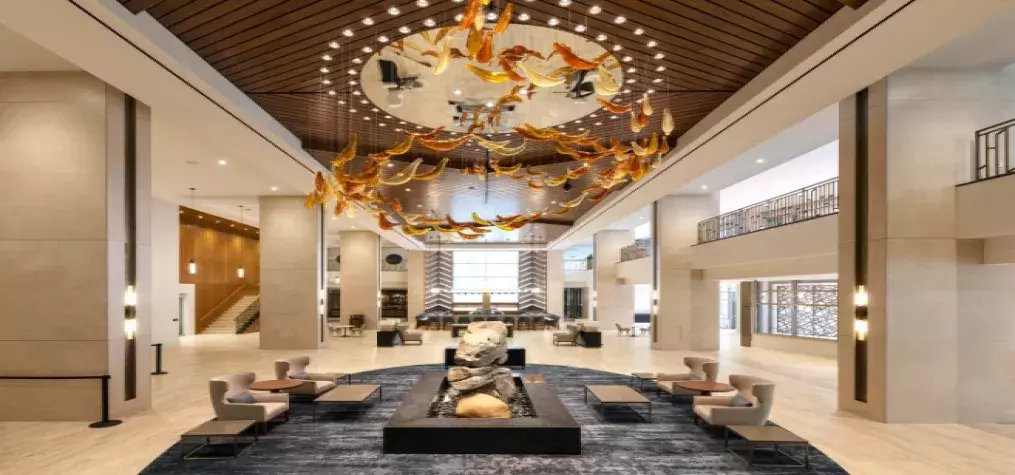 Located in beautiful North Carolina, Harrah's Cherokee is the perfect mountain getaway with breathtaking views of the Great Smoky Mountains and new additions to its resort and conference spaces sure to elevate any meetings or event. Completed in 2021, Harrah's Cherokee's latest $330 million expansion project introduced an entirely new fourth hotel tower, The Cherokee, as well as an additional 83,000 square feet of meeting space with the Cherokee Convention Center. The Cherokee tower brings with it 725 rooms and 70 luxurious suites spread out over 19 floors for a grand total of 1,800 rooms across the entire resort. The new rooms feature a sleek design with an earth-toned color palette and modern amenities. In addition to the new rooms, the expansion also brought with it a luxurious new lobby and lobby bar, a fitness center, a coffee & pastry bar, and a second pool. Conventions, trade shows, banquets, receptions, and even the smallest, most intimate gatherings can find the perfect arrangement at Harrah's Cherokee with its 130,000 square feet of flexible meeting space – including the Cherokee Convention Center. The resort offers a myriad of different spaces and configuration options for events, but the largest spaces include the following: 32,000-sq-ft Cherokee Convention Center ballroom with 22 meeting spaces 11,100-sq-ft Cherokee Convention Center ballroom pre-function space 33,000-sq-ft Cherokee Exhibit Hall 6,000-sq-ft Cherokee Exhibit Hall Pre-Function 13,801-sq-ft Council Fire Ballroom able to be reconfigured into as many as four ballrooms from 3,100 to 3,529-sq-ft each 16,815-sq-ft Event Center able to be configured in six different ways to accommodate 100 to 1,500 guests and offers four VIP suites, box seating, and more than 1,100 balcony seats. In addition to the new accommodations and meeting space, Harrah's Cherokee has also opened several new restaurants as part of the expansion including Guy Fieri's Cherokee Kitchen + Bar which includes the chef's award-winning burgers and barbeque on the menu. Another celebrity chef has also made their mark on the resort with the opening of Gordon Ramsay Food Market which features eight dining concepts ranging from sushi to New York-style deli sandwiches and classic fine-dining fare. Longtime Asheville favorite, Wicked Weed Brewing Pub has also debuted a new location next to Harrah's Cherokee Event Center creating the perfect after-event center with its bright and bold design, over thirty different beers, and live music on weekends. An easy drive from many of the largest cities in the Southeast, Harrah's Cherokee provides the perfect blend of majestic mountainscapes, luxurious new accommodations, and authentic Native American culture.