Tech Giants: Metavent's Anna Marie Rembold on Connection, Leadership, the Evolution of Events and Sustainable Balance  
November 18, 2022
Ever since she can remember, Anna Marie Rembold has been gathering people—starting with being the wrangler and organizer of friends as a kid, to organizing large groups of youth, to applying that passion to the corporate world.
"I absolutely love people, and I love—like it's new every time—seeing the power of people gather and make connections," Rembold said. "Those connections power the world, and that's inspiring."
Nowadays, that includes virtual world connections as founder and CEO of San Francisco-based Metavent, a virtual events software platform designed to deliver unparalleled cinematic audience experiences that drive maximum attendee engagement and robust, real-time data and analytics.
Rembold's launch of Metavent in 2021 followed eight successful years as founder and president of Anna Marie Events (AME), a nationally recognized strategic event planning agency delivering branded solutions for companies. Under her leadership, AME was named an "Inc. 5000 Fastest-Growing Company" in 2019 and in 2018 recognized as a "Top 100 Women-Owned Business" and fourth fastest-growing private company in the Bay Area under the San Francisco Business Times "Fast List." Meanwhile, she is past president of the Society for Sustainable Events (formerly the Green Meeting Industry Council).
What drives this prolific events industry leader, and why did she parlay her passion into event tech?   
"We incorporated event tech into our events since the earliest days of the company [AME], and having worked in tech from 1999 to 2000, I've been fascinated with the power of technology for many years," Rembold said. "As we build Metavent, I often flash to the hilarity of watching people in VR headsets at massive trade shows many years ago. We've come so far!"
We checked in with Rembold to talk about her love of the industry, the lessons she has learned as a female event tech leader, what sets Metavent apart, pain points facing event profs, predictions for the evolution of events post-pandemic and how the industry can prepare.
What do you enjoy most about the events industry?
What I love is the raw creativity, humility, calm, adaptability and intelligence of the individuals that make up the industry. We have a unique ability to find solutions under pressure, to adapt to changing conditions, to visualize and build something from nothing, and to create [events] that impact people's lives by providing once-in-a-lifetime experiences they will never forget. And we have so much fun doing it! There is nothing like it!

What prompted the launch of Metavent? 
During the spring of 2020 with the rise Zoom calls and the decline in live meetings, the problem of company culture became apparent. This spurred the idea for Metavent, which was incorporated in February 2021. With the demand for both virtual and live events nowadays, we're serving both sides of the business with a fully thriving live events agency and an event tech platform. This allows us to best serve clients and all events in their portfolio.
How has the experience been thus far, and what are some of the biggest lessons you've learned, particularly as a female founder and CEO in the male-dominated event tech space? 
The experience has been so invigorating. Much like live events, we get the opportunity to build something from the ground up, only this time, we don't have to send the build to the landfill or storage. We can use it over and over again. That's very exciting! Some of the biggest lessons have been understanding the unique project and design timelines when building technology. In live events, we're used to moving so fast and using "MacGyver" techniques on-site to fix any oversights. It's an entirely different approach to building technology. You can't just throw duct tape on at the 11th hour.
Being a female founder is frankly no different than being a male founder. We experience all of the same business challenges and ups and downs. The journey itself is remarkably similar. There is, however, great disparity on the fundraising side. A lot of work has yet to be done to balance the playing field in regard to funding female and diverse founders. As a founder, I focus on building the best solution for our customers and being the best leader I can—gender is irrelevant in those efforts. That said, I am aware that being a female tech founder, I am in the minority. A woman recently said to me that what I am doing is important because I'm "doing it for all women, setting an example of what's possible."  That was a great reminder and highly inspiring.

What are some of the aspects of your extensive background in events that have contributed to the success of Metavent, and can you give us a few of your biggest accomplishments since its launch?
We've produced hundreds of events over the years, which has given us a deep understanding of the attendee experience. For an event to have lasting impact, it's so important to design a creative sense of place with engaging elements beyond the content and networking. Also, my background in fine art helps me visualize beyond the ordinary experiences.
Our biggest accomplishment with Metavent has been completing an operational beta and having customers within less than two years. I am hugely proud of the team. This took remarkable focus and dedication.

What truly sets Metavent apart in an industry where so many virtual and hybrid event platforms have rushed to the market in the past few years?
Fundamentally, we are thinking about online meetings and events in a unique way. In live events, much of the impact is in the conversations that are sparked by inspiring speakers or content. These conversations happen immediately after a session, when you're walking down the hall or gathering in a session room. Metavent provides the opportunity for easy and immediate brainstorming, collaboration and connection in a fun, organic way. Attendees get to control this journey, with hosts putting a timeline around the activities. This can completely transform an attendee's experience and their relationship to an event. 
What are some of the biggest pain points event profs are facing nowadays when it comes to event tech, and how is Metavent providing trendsetting solutions? 
We hear two things consistently: People want something that is more engaging than the typical 2D solution, and they want a reliable solution that won't fail. We are highly focused on leveraging our collective 120-plus years of experience to deliver a distinctly different, beautiful experience for our customers at a friendly price. With our track record of 6-star service, we are focused on reliability and ease of use as a top priority.
Can you give us an example of one of the most successful and engaging 'Metavents' you've created?
One of our early projects was a sales kick-off for a publicly traded tech company. At the close of the event, the president said, "This was the best event we've ever had, live or virtual. It actually felt like we were at a live kick-off." We were thrilled to have given our virtual attendees such an exciting experience—they didn't feel like they were missing out. 
What are your predictions for the evolution of virtual, hybrid and in-person events in a post-pandemic world?
Virtual, hybrid and in-person events are all here to stay. Virtual gatherings are a viable, sustainable alternative and compliment to live events. I absolutely believe that [as] live events return, they will be different, and event tech will continue to play a bigger part in events. We are seeing a move to hyper-local for both sustainability and cost reasons. Some events simply do not translate to an online experience, like incentives and annual networking events for industry groups and associations. But many events do translate to virtual, and we have a huge opportunity to make great strides in upleveling the experience for attendees and brands. Going virtual significantly reduces our carbon footprint, and I believe we should all strive to find the right balance.
How can event profs prepare themselves?
I think constant education and keeping up on industry trends is a must. Keeping up on news in industry publications like TSNN and joining organizations like MPI, EDPA, ILEA, CEMA, PCMA and SFSE are great ways to stay educated and build networks of like-minded industry professionals. And getting certifications like the Digital Event Strategist (DES), Sustainable Event Professional Certificate (SEPC), CMP and CSEP is a great way to test and validate your knowledge. Experimenting with new technologies, stepping into a beta launch for smaller, lower-stakes events, for instance, and allowing yourself to play with new event tech/inventions is a great way to expand your knowledge.

What are Metavent's next steps—big or small? 
We have exciting features on the horizon. However we do not discuss unannounced products or features. Stay tuned for exciting new announcements to come!
Don't miss any event-related news: Sign up for our weekly e-newsletter HERE, listen to our latest podcast HERE and engage with us on Twitter, Facebook, LinkedIn and Instagram!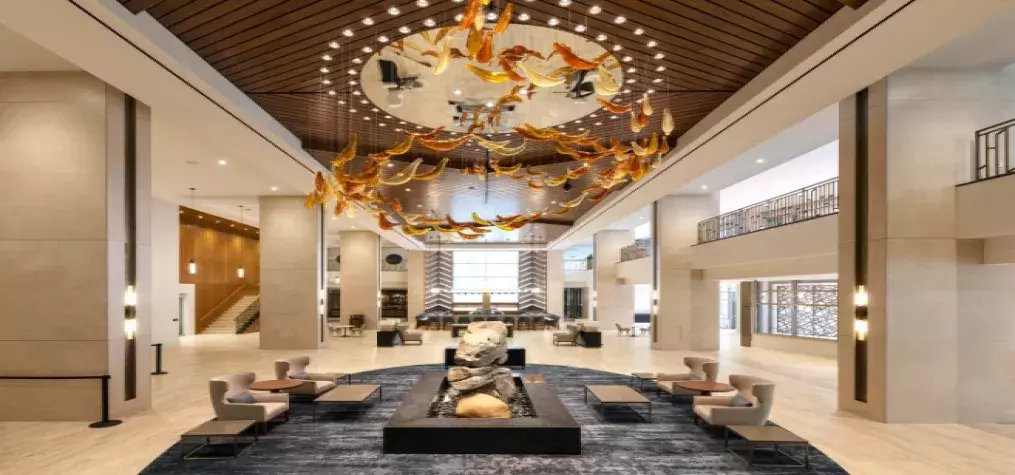 Located in beautiful North Carolina, Harrah's Cherokee is the perfect mountain getaway with breathtaking views of the Great Smoky Mountains and new additions to its resort and conference spaces sure to elevate any meetings or event. Completed in 2021, Harrah's Cherokee's latest $330 million expansion project introduced an entirely new fourth hotel tower, The Cherokee, as well as an additional 83,000 square feet of meeting space with the Cherokee Convention Center. The Cherokee tower brings with it 725 rooms and 70 luxurious suites spread out over 19 floors for a grand total of 1,800 rooms across the entire resort. The new rooms feature a sleek design with an earth-toned color palette and modern amenities. In addition to the new rooms, the expansion also brought with it a luxurious new lobby and lobby bar, a fitness center, a coffee & pastry bar, and a second pool. Conventions, trade shows, banquets, receptions, and even the smallest, most intimate gatherings can find the perfect arrangement at Harrah's Cherokee with its 130,000 square feet of flexible meeting space – including the Cherokee Convention Center. The resort offers a myriad of different spaces and configuration options for events, but the largest spaces include the following: 32,000-sq-ft Cherokee Convention Center ballroom with 22 meeting spaces 11,100-sq-ft Cherokee Convention Center ballroom pre-function space 33,000-sq-ft Cherokee Exhibit Hall 6,000-sq-ft Cherokee Exhibit Hall Pre-Function 13,801-sq-ft Council Fire Ballroom able to be reconfigured into as many as four ballrooms from 3,100 to 3,529-sq-ft each 16,815-sq-ft Event Center able to be configured in six different ways to accommodate 100 to 1,500 guests and offers four VIP suites, box seating, and more than 1,100 balcony seats. In addition to the new accommodations and meeting space, Harrah's Cherokee has also opened several new restaurants as part of the expansion including Guy Fieri's Cherokee Kitchen + Bar which includes the chef's award-winning burgers and barbeque on the menu. Another celebrity chef has also made their mark on the resort with the opening of Gordon Ramsay Food Market which features eight dining concepts ranging from sushi to New York-style deli sandwiches and classic fine-dining fare. Longtime Asheville favorite, Wicked Weed Brewing Pub has also debuted a new location next to Harrah's Cherokee Event Center creating the perfect after-event center with its bright and bold design, over thirty different beers, and live music on weekends. An easy drive from many of the largest cities in the Southeast, Harrah's Cherokee provides the perfect blend of majestic mountainscapes, luxurious new accommodations, and authentic Native American culture.