Waterfront Activities in Long Beach
May 20, 2022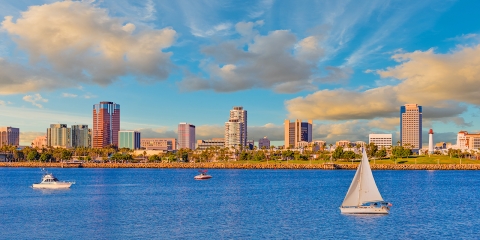 Sponsored Exclusively by Visit California
With more than 11 miles of sandy shorelines and sparkling bays, Long Beach is the perfect place to enjoy time both in and on the water. From standup paddleboards to sailboats, harbor cruises to romantic gondola rides, Long Beach offers waterfront activities for everyone.
Family-Friendly Beaches
Thanks to a protective breakwater built by the U.S. Navy during World War II, Long Beach's sandy shores are a great choice for families. Protected from major waves and without riptides, shorelines like Alamitos Beach, Marine Park (aka Mother's Beach), and Belmont Shore Beach provide plenty of space for sunbathing or sand castle building and calm waters for families with small children to enjoy the beach without the worry of wipe-out.
Water Sports and Tours
Always wanted to learn how to kitesurf? That same breakwater that makes the shoreline safe for little ones also makes Long Beach's Belmont Shores one of the best places for beginners to learn the sport. Try out a 90-minute Discovery lesson with SoCal Kitesurfing or jump into a three-hour group lesson with Captain Kirks. Visitors can also rent standup paddleboards, kayaks, Aqua bikes, Duffy electric boats, and other watercraft in Rainbow Marina.
If being on the water is more your vacationing style, a guided 45-minute harbor tour from Harbor Breeze Cruises will help you get your bearings in town and learn about the history and marine life of the Long Beach waterfront. Or choose one of Hornblower's three-hour whale-watching tours. Look for gray whales December through April, the mighty blue whales June through October, and an endless supply of dolphins, sea lions, and other marine life all year. Make reservations online for the best deal. Looking for something even grander? Charter a sailboat through the Harbor Yacht Club or Los Angeles Yacht Charter for a day or overnight trip to Catalina Island.
Also along the waterfront, sign up for the annual Aquarium of the Pacific 5K in October to run (or walk) past Rainbow Harbor and Queensway Bridge on a flat, scenic course. Bonus: All participants get a $5 voucher for admission to the aquarium.
Aquarium of the Pacific
No visit to Long Beach is complete without at least an afternoon spent at the Aquarium of the Pacific.  This world-class aquarium, with its indoor and outdoor spaces filled with interactive exhibits and more than 11,000 animals and 500 species, is perfect for the sea-curious of any age. Don't miss the June Keyes Penguin Habitat, where you can watch twenty Magellanic penguins playing in and out of the water; the Shark Lagoon, home to more than 150 of its namesake predators, is a must-visit too. The aquarium's most recent expansion, Pacific Visions, is a state-of-the-art immersive theater that employs interactive art installations, engaging multimedia displays, and live habitats to explore topics such as sustainability and future possibilities.
Waterfront Dining
Few locations in California offer the variety of ocean-view dining that one can choose from while exploring Long Beach's waterfront areas. A few standouts are Gladstone's Long Beach and the red-roofed Parkers' Lighthouse, both of which have gorgeous views of the marina, Lion's Lighthouse, and the Queen Mary moored permanently just across the water in Queensway Bay. (Though seafood is always top of mind at waterfront spots, it's the Garlic Cheese Bread Burger at Parkers' that was named one of Long Beach's most iconic dishes.) About 5 miles further east is another one of the city's waterfront areas with lots of on-the-water dining options, Alamitos Bay and the 2nd & PCH neighborhood. Drop by the 10,000-square-foot San Pedro Fish Market for one of the seafood trays they are known for, and of course, the views.
Kayaking & Boat Rentals
For a more DIY on-the-water experience, Long Beach offers plenty of different watercraft to rent, like the easy-to-navigate 21-foot, 8-passenger boats from London Boat Rentals (top speed: 5mph; Wave Runners also available) and 6-passenger sailboats, captain included, at Jolly Sailing. Kayaks can be rented by the hour at Kayaks on the Water, and stand-up paddleboards (including instruction, if needed) at Stand-Up Rentals.
Romantic Getaway
For a little romance on your visit, take a Venetian gondola ride with Gondola Getaway. The one-hour gondola rides take groups of two to six passengers through the canals of Naples with views of million-dollar homes, luxurious yachts, and bridges arching over the canals. Pack your own appetizers and wine to enjoy on the boat (they'll provide glasses and an ice bucket!) or book a wine tasting where a new bottle is opened with each of the five bridges you pass under. Larger groups in town for weddings and other events can hire multiple boats at once or the larger "Carolina" that holds up to 15 people. If you're lucky, you might even get serenaded by your gondolier.
Get Around Town
The Long Beach waterways are also a great way to get around the city without getting in your car. From Rainbow Harbor, visitors can hop on the Aquabus, a 49-passenger boat that travels between Rainbow Harbor, the Queen Mary, Hotel Maya, and the Catalina Landing, or the AquaLink, a 79-passenger high-speed catamaran that travels between Rainbow Harbor, the Queen Mary, Vet's Pier, and Alamitos Bay. Click here for the latest scheduling information for both.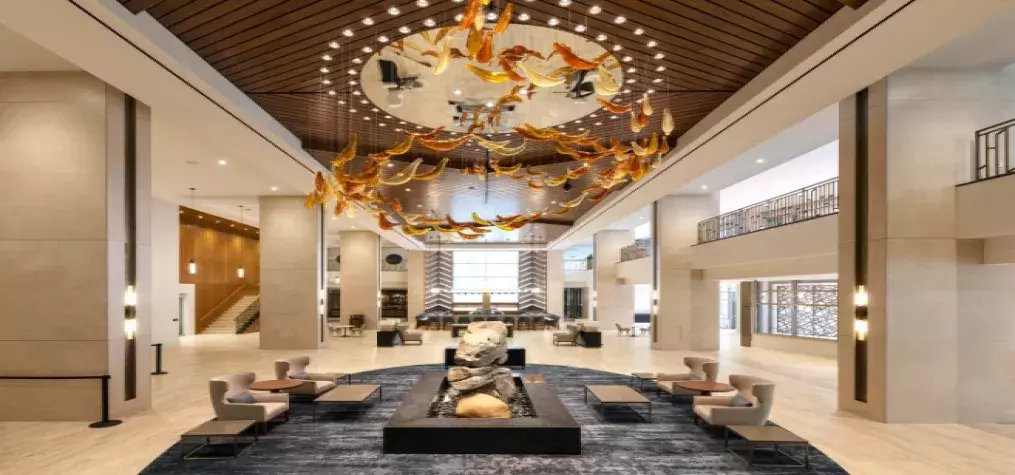 Located in beautiful North Carolina, Harrah's Cherokee is the perfect mountain getaway with breathtaking views of the Great Smoky Mountains and new additions to its resort and conference spaces sure to elevate any meetings or event. Completed in 2021, Harrah's Cherokee's latest $330 million expansion project introduced an entirely new fourth hotel tower, The Cherokee, as well as an additional 83,000 square feet of meeting space with the Cherokee Convention Center. The Cherokee tower brings with it 725 rooms and 70 luxurious suites spread out over 19 floors for a grand total of 1,800 rooms across the entire resort. The new rooms feature a sleek design with an earth-toned color palette and modern amenities. In addition to the new rooms, the expansion also brought with it a luxurious new lobby and lobby bar, a fitness center, a coffee & pastry bar, and a second pool. Conventions, trade shows, banquets, receptions, and even the smallest, most intimate gatherings can find the perfect arrangement at Harrah's Cherokee with its 130,000 square feet of flexible meeting space – including the Cherokee Convention Center. The resort offers a myriad of different spaces and configuration options for events, but the largest spaces include the following: 32,000-sq-ft Cherokee Convention Center ballroom with 22 meeting spaces 11,100-sq-ft Cherokee Convention Center ballroom pre-function space 33,000-sq-ft Cherokee Exhibit Hall 6,000-sq-ft Cherokee Exhibit Hall Pre-Function 13,801-sq-ft Council Fire Ballroom able to be reconfigured into as many as four ballrooms from 3,100 to 3,529-sq-ft each 16,815-sq-ft Event Center able to be configured in six different ways to accommodate 100 to 1,500 guests and offers four VIP suites, box seating, and more than 1,100 balcony seats. In addition to the new accommodations and meeting space, Harrah's Cherokee has also opened several new restaurants as part of the expansion including Guy Fieri's Cherokee Kitchen + Bar which includes the chef's award-winning burgers and barbeque on the menu. Another celebrity chef has also made their mark on the resort with the opening of Gordon Ramsay Food Market which features eight dining concepts ranging from sushi to New York-style deli sandwiches and classic fine-dining fare. Longtime Asheville favorite, Wicked Weed Brewing Pub has also debuted a new location next to Harrah's Cherokee Event Center creating the perfect after-event center with its bright and bold design, over thirty different beers, and live music on weekends. An easy drive from many of the largest cities in the Southeast, Harrah's Cherokee provides the perfect blend of majestic mountainscapes, luxurious new accommodations, and authentic Native American culture.