Winning With Webinars in 2023
November 15, 2022
Events are always evolving. Whether through the twists and turns of pandemics, or highs and lows of the latest event tech, events are a constant rollercoaster. No surprise that a huge goal of event marketers and planners is to make sure their event rollercoaster has the longest line of people waiting to ride their experience.
One event format, however, is constantly struggling to get up those hills to provide a thrill at the summit: webinars. They're a necessity for just about every business, yet hosts and attendees alike find them to be a bit of a slog compared to other types of events they can participate in.
To help your business webinars into the new year, Hubilo gathered creative webinar ideas to get your efforts and your attendees to the top of that rollercoaster. Let's dive into a few below.
The brawn of brainstorming
Everyone loves to share what they know when given the opportunity. You see it happen in chat sidebars and hands raised to come onto camera when attendees are itching to drop their knowledge to the entire audience.
One way to channel that energy is to host a brainstorming webinar. Now, instead of a one-way firehose of information you're presenting to an audience, your attendees' ideas become the content. Whether you use a mindmap tool like Miro (where everyone can collaboratively add and move around ideas to a collective theme) or breakout rooms to allow attendees to join smaller focus groups for a set time to hack a problem, the energy literally lifts the webinar into new heights and creates core memories for your audience.
The unexpected is underused
We're all super familiar with the typical webinar agenda: introduction by a talking head, share presentation slides to the screen, talk/click through each slide, open it up for questions at the end. Your result is a very produced, yet very formulaic, business webinar.
Considering your audience likely ingests shows and social media, try to replicate that experience. Kick off the webinar with a person walking and talking from their phone. Add a little low, fun music in the background. Plot in some casual get-to-know-you questions and polls. Refer to something that's trending or in pop culture (though avoid anything too polarizing).
These are just a couple of ideas for your webinars, and there's more where those came from in Hubilo's blog.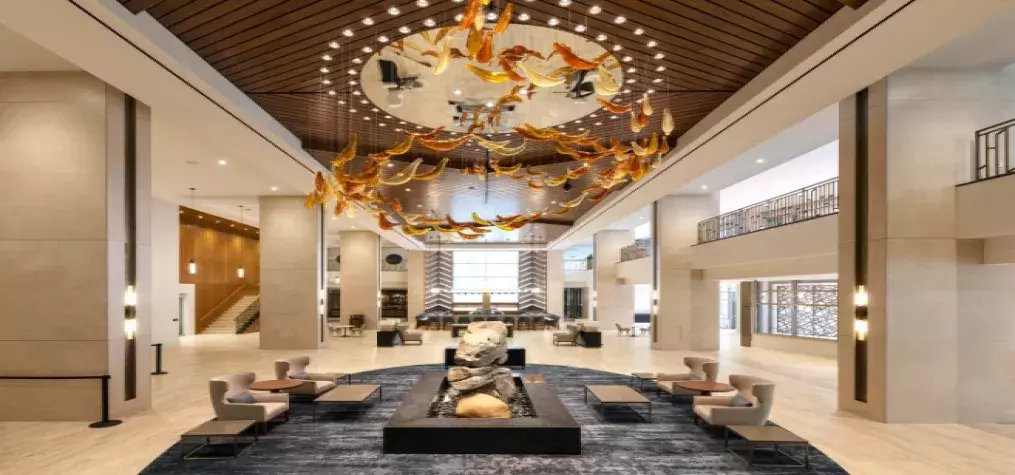 Located in beautiful North Carolina, Harrah's Cherokee is the perfect mountain getaway with breathtaking views of the Great Smoky Mountains and new additions to its resort and conference spaces sure to elevate any meetings or event. Completed in 2021, Harrah's Cherokee's latest $330 million expansion project introduced an entirely new fourth hotel tower, The Cherokee, as well as an additional 83,000 square feet of meeting space with the Cherokee Convention Center. The Cherokee tower brings with it 725 rooms and 70 luxurious suites spread out over 19 floors for a grand total of 1,800 rooms across the entire resort. The new rooms feature a sleek design with an earth-toned color palette and modern amenities. In addition to the new rooms, the expansion also brought with it a luxurious new lobby and lobby bar, a fitness center, a coffee & pastry bar, and a second pool. Conventions, trade shows, banquets, receptions, and even the smallest, most intimate gatherings can find the perfect arrangement at Harrah's Cherokee with its 130,000 square feet of flexible meeting space – including the Cherokee Convention Center. The resort offers a myriad of different spaces and configuration options for events, but the largest spaces include the following: 32,000-sq-ft Cherokee Convention Center ballroom with 22 meeting spaces 11,100-sq-ft Cherokee Convention Center ballroom pre-function space 33,000-sq-ft Cherokee Exhibit Hall 6,000-sq-ft Cherokee Exhibit Hall Pre-Function 13,801-sq-ft Council Fire Ballroom able to be reconfigured into as many as four ballrooms from 3,100 to 3,529-sq-ft each 16,815-sq-ft Event Center able to be configured in six different ways to accommodate 100 to 1,500 guests and offers four VIP suites, box seating, and more than 1,100 balcony seats. In addition to the new accommodations and meeting space, Harrah's Cherokee has also opened several new restaurants as part of the expansion including Guy Fieri's Cherokee Kitchen + Bar which includes the chef's award-winning burgers and barbeque on the menu. Another celebrity chef has also made their mark on the resort with the opening of Gordon Ramsay Food Market which features eight dining concepts ranging from sushi to New York-style deli sandwiches and classic fine-dining fare. Longtime Asheville favorite, Wicked Weed Brewing Pub has also debuted a new location next to Harrah's Cherokee Event Center creating the perfect after-event center with its bright and bold design, over thirty different beers, and live music on weekends. An easy drive from many of the largest cities in the Southeast, Harrah's Cherokee provides the perfect blend of majestic mountainscapes, luxurious new accommodations, and authentic Native American culture.